Putin's Jubilee Finds Him Clueless, Isolated and Ridiculed
Publication: Eurasia Daily Monitor Volume: 9 Issue: 184
By: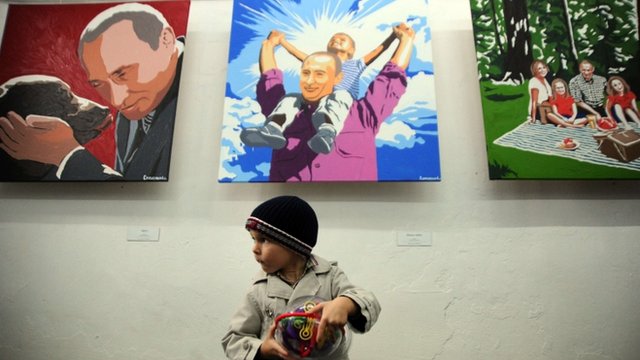 President Vladimir Putin quietly celebrated his 60th birthday on October 7 behind the high walls of one of his residences. But his minions, viceroys and oligarchs across the country are trying to outdo one another with gifts and other manifestations of loyalty (RBC Daily, October 5). It is up to the super-boss to decide whether the huge banner across the River Don can score higher than a special exhibition of children's drawings, or whether the large contract signed by the defense ministry on building 39 transport planes Il-76MD makes the best present. Yet, he has few reasons to savor the joy of his seemingly unlimited power (Nezavisimaya Gazeta, Kommersant, October 5). For one thing, this round figure signifies that Putin has reached pensioner age, which is a highly sensitive issue in Russia. As a result, he has had to initiate legislation that would allow high-level state officials to stay in their posts until the age of 70 (Nezavisimaya Gazeta, September 5).
More importantly, Putin cannot fail to see—through the splendor and sycophancy that surrounds him—that public opinion has changed drastically. The adoration has evaporated and even respect for his achievements cannot be taken for granted. All the efforts of state propaganda (and the TV is duly granting prime time to flattering documentaries) cannot check the decline of his approval ratings: only 15 percent of respondents are satisfied with social and anti-corruption policies, while 50 percent are not (Levada.ru, October 5). The usual apathy has given way to a new interest in and engagement with political processes, but it is the "non-systemic" opposition that is riding this wave, challenging the official candidates in regional and local elections and staging its own elections to the Coordination Council (Moscow Echo, October 5). The "thinking classes" are seriously fed up with the autocratic features of Putinism and use inventive ridicule to counter the bureaucratic zeal with which the Kremlin has been building a new "personality cult" for Putin (Forbes.ru, October 5).
The Russian president cannot hope to win back the respect of urban professionals and students who fill the ranks of the "white opposition," so he seeks to energize his core support group of "working class" Russians and tries to make religion into a key instrument of this mobilization. The trial that convicted three young women of the punk rock group Pussy Riot provided an opportunity to demonstrate the unity between the Kremlin and the Orthodox Church and to consolidate a new pro-Putin majority against the "blasphemous" liberals (New Times, October 1). This cynical politicization of religion has offended many believers and illuminated the ideological poverty of Putinism, which cannot advance any convincing aims aside from keeping the power in the hands of the ruling camarilla (Grani.ru, October 1). The effusive piety and the fervor in protecting the sanctity of the Orthodox Church correspond poorly with the shameless corruption and lavish lifestyle of Putin's "class," and the attempts to claim a high moral ground only add irritants to the discontent of the "have-nots."
The fragmentation of elites—parts of which are highly exposed to the Moscow protests—and feuds between predatory clans deny Putin the privilege of presiding over a disciplined bureaucracy in his mature age, and his position of arbiter looks as precarious as Leonid Brezhnev's was on his 75th birthday in 1981 (Grani.ru, October 5). Putin's colleagues from the security services and St. Petersburg—such as Sergei Ivanov, Nikolai Patrushev or Igor Sechin, who are also pushing 60—have grown distant and have developed particular business interests centered mostly on skimming the state budget. The younger economists that Putin used to patronize, like German Gref or Alexei Kudrin, are openly disappointed in his curtailing of the modernization program, deficient as it was. His relations with Prime Minister Dmitry Medvedev are awkward and uneasy, and each of Medvedev's hints on a possible return to the top position prompts Putin to cut him yet again down to size. Medvedev was such a pitiful president that the Russian blogosphere awarded him the Twitter hash-tag #zhalky (pathetic). Whereas Putin probably has not noticed that his own urge to show-off as a vigorous leader with hands-on solutions to every problem makes him equally pathetic—only without access to the Internet.
On the eve of his jubilee, Putin paid a visit to Tajikistan where President Emomalii Rahmon was also celebrating his own 60th birthday, and the two masters of their respective realms cordially agreed on prolonging the presence of the Russian military base in Tajikistan for 30 more years (Kommersant, October 6). The most unexpected "present" to Putin, however, happened in Georgia, where the opposition "Georgian Dream" party scored a decisive victory in the parliamentary elections (New Times, Novaya Gazeta, October 2). President Mikheil Saakashvili is such a personal "evil" for Putin that the result appears to his sycophants to be a "Russian dream" come true (Lenta.ru, October 5). In fact, however, by accepting the bitterly disappointing outcome, Saakashvili scored a hugely important moral victory, leaving Putin puzzled about normalizing relations with the confidently democratic Georgia, which insists on an Atlantic orientation (Kommersant, October 3). Many things might still go wrong in Georgia with its acrimonious squabbles between unruly coalitions of proto-parties, but Tbilisi's success in exterminating corruption flies in the face of Putin's cronies.
There is probably a sour taste to Putin's birthday cake because the candles illuminate for him only intrigues of the treacherous courtiers and thinning rows of former admirers. He cannot count on new economic miracles and petro-fortunes; hence the disappointment in his rudderless leadership is set to grow. He is so alone at the top of the bureaucratic pyramid. Consequently, the angst over shrinking bonuses and the anger about falling incomes inevitably focus on him and cannot be diverted to greedy boyars. He can ignore the shadows of Anna Politkovskaya, murdered six years ago, and Vasily Aleksanyan, who died a year ago because his health was destroyed in prison, but it is hard not to notice the thick smell of decay that hangs over the ageing Kremlin court. He has won ugly the third presidency, and hangs on to it even uglier, but there is no nice ending for it on the horizon, which keeps coming closer.