Kazakhstan Investment, Part 1: Europeans Dominate Inward Foreign Direct Investment
Publication: Eurasia Daily Monitor Volume: 10 Issue: 10
By: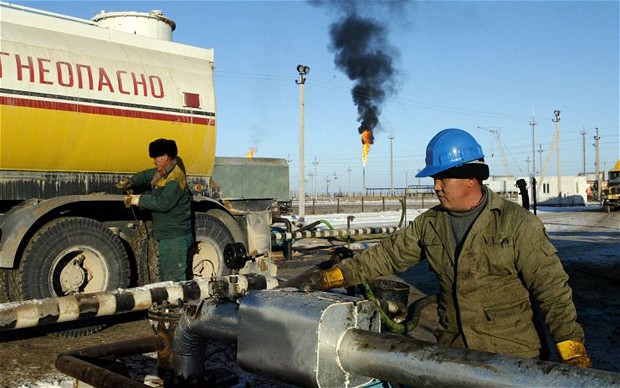 Despite common perceptions that China and Russia are the main external influences on Kazakhstan's economy, newly released information from the National Bank of Kazakhstan shows that, as of the end of September 2012, Western countries topped the charts as the main sources of foreign direct investment (FDI) in the Central Asian republic. The Netherlands alone was responsible for $49 billion, or one third of all the country's FDI. The United Kingdom came second with $24.7 billion. US FDI amounted to $17.9 billion, placing the United States fourth in national rankings. Companies from France, the Virgin Islands, Japan, Switzerland and Austria also ranked among the top ten. The People's Republic of China (PRC), with $18.2 billion, and the Russian Federation, with $5.3 billion, were the two main non-Western FDI sources (National Bank of Kazakhstan, January 2013).
More than half of this FDI goes to Kazakhstan's energy and mining sectors. Thanks to its natural riches and its wise economic policies, Kazakhstan has achieved the strongest economy in Central Asia. Kazakhstan's extraordinary economic growth resulted in it becoming the first former Soviet republic to receive (in 2002) an investment-grade rating from a major international credit rating agency. Despite its post-2007 financial crisis, Kazakhstan is the only former Soviet republic besides Russia whose bonds remain at investment grade.
The European Union has become Kazakhstan's main trade and investment partner. Together, EU firms account for almost half of the $177.7 billion FDI in Kazakhstan (European Commission, October 23, 2012). The EU is negotiating its first ever "Enhanced Partnership Agreement" with Kazakhstan. If adopted, it would replace the current Partnership and Cooperation Agreement in force since 1999 and increase the presence of EU companies in Kazakhstan even further.
Although Royal Dutch Shell is a key member of the multinational consortium developing the giant Kashagan oil field, the exceptionally high figure for Dutch FDI is misleading in that the provisions of a 1997 tax and investment treaty make it easy for multinationals to invest in Kazakhstan through Dutch holding companies. Coca Cola, ENI, and Lukoil use this "Dutch holding construction" though they are normally considered US, Italian, and Russian companies, respectively. Other major Dutch companies active in Kazakhstan include ABN AMRO Bank N.V., Agip Caspian Sea B.V., Lucarco B.V. and Floodgate Holding. Smaller companies engage in mining, agricultural development, engineering, dredging and transport.
BG Group and Shell secure a large British presence in Kazakhstan's energy sector. The AMEC engineering and the Invensys technology firms are major contractors. British educational and financial institutions (HSBC; RBS, Ernst & Young, PWC, Deloitte, March Group, KPMG and SNR Denton) also have a major presence in Kazakhstan, while many small British service and supply companies have partnered with Kazakhstani firms
Prominent French companies active in Kazakhstan include EADS in aeronautics, Alstom in transportation, as well as Areva, Bouygues, Lactalis, Thales, Vinci and Vika. The most important French firm remains Total, which is operating in the Kashagan oil field as well as in the production of natural gas in the Caspian Sea alongside GDF-Suez, a French gas company. More than 100 joint ventures are engaged in some two dozen large projects. Many of these companies belong to the Kazakhstani-French Business Council. Established in 2008, the Council has become the leading private business association joining the two countries.
US corporations took a bold gamble in the 1990s and conducted pioneering investments in Kazakhstan's oil and gas sectors. The major US energy companies active in Kazakhstan today include Chevron, Exxon Mobil and ConocoPhillips. US firms also have a major presence in Kazakhstan's financial services, movies and television, express delivery, and computer services sectors (National Bank of Kazakhstan, January 2013).
Chinese firms could control more than 40 percent of Kazakhstan's oil and gas industry by the end of this year, exceeding the share controlled by Kazakhstani investors (Tengrinews, January 8, 2013). Already more than one thousands PRC firms are present in Kazakhstan's manufacturing, transportation and energy sectors, including an expanding engagement with the country's nuclear sector. Russian investors are perhaps even more widely embedded in the Kazakhstani economy given their completed Customs Union and developing Single Economic Space (SES).
The World Economic Forum's latest Global Competitiveness Report, for 2012–2013, ranked Kazakhstan 51 among the 144 countries surveyed, up from 72nd place the previous year. Kazakhstan was rated higher than Russia, Georgia or any other non-EU former Soviet republic, except Azerbaijan. The World Bank's Doing Business 2013 survey, compiled with the International Finance Corporation, ranked Kazakhstan 49th, again ahead of its two Customs Union partners Belarus and Russia (see EDM, November 8, 2012). Kazakhstan has improved its business conditions the most during the past five years, especially by making it easier for entrepreneurs to launch a startup, acquire construction permits, and protect investors. The high oil prices of the last decade, combined with prudent fiscal policies, helped Kazakhstan improve its macroeconomic stability. According to the Heritage Foundation's 2012 Index of Economic Freedom, Kazakhstan's score is 63.6, giving it the 65th freest economy in the world and the 11th out of 41 Asia-Pacific countries.
Foreign investors perceive several attractive characteristics in Kazakhstan: its immense national resource wealth, durable record of political and macroeconomic stability, paucity of major domestic or international security threats, growth potential, official eagerness to engage in constructive dialogue with foreign investors, strong record and commitment to socioeconomic reform, and a low cost and generally strike-free labor due to workers' having generally experienced rising living standards in line with Kazakhstan's overall prosperity (Ernst & Young's 2012 Kazakhstan Attractiveness Survey: Bridging the Perception Gap, 2012).
Government incentives to foreign investors include a five-year waiver of taxes, subsidies, special economic zones, and exemptions from some duties. The Investment Code guarantees equality between local and foreign investors, protection of investors' rights, arbitration of disputes, guarantees against nationalization, and the right to repatriate profits. Foreign investors generally perceive Kazakhstan's Customs Union with Belarus and Russia in positive terms, agreeing with Kazakhstani officials that it facilitates access to their markets. The combined population of these three countries is ten times larger than that of Kazakhstan alone.
Conversely, foreign investors express some concerns regarding Kazakhstan's remote and landlocked location, limited export diversification, inadequate infrastructure, low levels of domestic R&D and innovation, corruption, an insufficiently independent judiciary, legal and regulatory opaqueness and unpredictability, excessive regulations and content requirements, underdeveloped industry-specific human capital skills, as well as unilateral revisions of contract provisions. Furthermore, the December 2011 strike-related violence in Zhanaozen, combined with potential instability from the looming presidential succession process or Arab Spring–like disorders all point to further work Kazakhstan will need to undertake over the next few years to continue to attract more foreign investment (Ernst & Young's 2012 Kazakhstan Attractiveness Survey: Bridging the Perception Gap, 2012).