Kazakhstan, Israel Deepen Military Ties
Publication: Eurasia Daily Monitor Volume: 11 Issue: 19
By: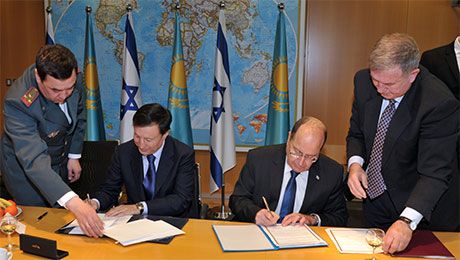 On January 20, in Tel Aviv, Kazakhstan's Defense Minister Adilbek Dzhaksybekov signed a military cooperation agreement with Israeli Defense Minister Moshe Ya'alon formalizing military and defense industrial ties. It was Dzhaksybekov's first trip to Israel. The Kazakhstani defense minister and delegation members spent the next two days meeting with senior executives of leading Israeli defense firms, including Israel Military Industries (IMI), Elbit Systems and Rafael. The press service of the Ministry of Defense of Kazakhstan reported that Dzhaksybekov summed up the agreement by noting, "Kazakh-Israeli defense cooperation has reached a new stage in its development. Meeting with the President and military leadership of Israel and signing an intergovernmental agreement will open new opportunities for fruitful cooperation between the militaries of the two countries. Israel is one of Kazakhstan's leading trade partners. Economic relations always deepen cooperation, and I hope this visit strengthens security cooperation between our two states. Israel is a small country that is known throughout the world for its capabilities" (Kazakhstani Ministry of Defense press service, January 20).
Dzhaksybekov's visit builds on rapidly deepening Kazakhstani-Israeli ties. Kazakhstan's President Nursultan Nazarbayev has made two official visits to Israel, in December 1995 and April 2000 (https://www.kazakhemb.org.il/?CategoryID=165&ArticleID=163&Page=1). During his second visit, Nazarbaev was accompanied by a 110-member delegation, which included 15 ministers, among them then–minister of defense Sagadat Nurmagambetov; it was the Kazakhstani military's first official visit to Israel (rusnet.nl, February 12, 2003). By 2013, Astana had dispatched a military attaché to its embassy in Israel (President of Kazakhstan press service, January 21).
It should be noted that international events have also spurred Kazakhstan to diversify its arms suppliers. In particular, the September 11, 2001, terrorist attacks in the United States led Kazakhstan to broaden its international military cooperation activities beyond traditional security partners such as Russia and China to more interaction with Western and other militaries. Besides Israel, these have included the US, Turkey, Canada, Germany, the United Kingdom, Denmark, France, Norway, Slovakia and Spain (Roger N. McDermott, "Kazakhstan's defense policy: an assessment of the trends," U.S. Army War College, Strategic Studies Institute, February 2009, p. 36).
From the outset, Kazakhstan's military contacts with Israel have concentrated on three areas: upgrading Soviet-era equipment, purchases of advanced weaponry, and joint production of military equipment. Kazakhstan is particularly interested in cooperating with the Israeli military and defense companies in the areas of unmanned systems, border security, command-and-control capabilities and satellite communications. IMI produces weapons systems, along with modernizing and integrating them into the armed forces; Elbit Systems develops and modernizes various weapon systems, unmanned aerial vehicles (UAV), avionics, radars and reconnaissance satellites; while Rafael produces various missile and aircraft technology defense systems and tactical missiles (The Astana Times, January 22).
Despite such mutual interests, Israeli-Kazakhstani military cooperation efforts hit a temporary setback when, in 2004, corruption charges in connection with the sale of Israeli artillery systems by Soltam Systems eventually forced Nazarbayev to, five years later, dismiss a number of government officials, including Defense Minister Khazimurat Mayermanov for reportedly accepting bribes (Voenno-Promyshlennyi Kurier, January 22). The Israeli military equipment Mayermanov had purchased was reportedly substandard as well (Haaretz, April 14, 2009).
But bilateral defense ties overcame the problem, as Israeli military companies played to their strengths for a number of contracts, including upgrading Kazakhstan's roughly 600 Soviet T-72 tanks as well as the avionics of the Kazakhstani air force's Sukhoi-25 fighters (centrasia.ru, January 30, 2009). The deal fits in well with Israel's efforts to increase its arms exports, which grew from $2.58 billion in 2001 to $7.4 billion in 2010—a nearly 300-percent increase (Zarubezhnoe Voennoe Obozrenie, No. 10, 2011, pp. 18–23). Kazakhstan currently builds, under Israeli license, Aibat 120-milimeter self-propelled mortars, Naiza (based on the LAR-160) multiple rocket launch system (MLRS), and Semser 122-mm howitzers. Moreover, Kazakhstan's arms industry is now hoping to sell Israeli-designed artillery systems, produced under joint armament manufacturing agreements, to other Central Asian countries (Silk Road Intelligencer, May 26, 2008).
As for future areas of Kazakhstani-Israeli military collaboration, Israeli government and industry officials cite UAV drone systems, border security, command-and-control capabilities and satellite communications as leading sectors of interest to Astana (https://www.c4isrnet.com/article/M5/20140120/DEFREG04/301200028/Israel-Khazakhstan-Ink-Cooperation-Accord).
But the two countries' bilateral relations are also influenced by divergent political views, particularly Astana's warm ties with its southern Caspian neighbor Iran. The growing relations between Iran and Kazakhstan have made Israel concerned, leading to a June 2009 visit by Israeli President Shimon Peres to Kazakhstan with requests that Astana halt its sale of uranium ore to the Islamic Republic. In turn, Nazarbaev stated that Kazakhstan has not been supplying Iran with nuclear material (OSC Analysis, October 6, 2009).
Such hiccups aside, the relationship seems destined to flourish. Israel builds influence in one of the Caspian's rising petro-states, while Kazakhstan gains access to one of the world's cutting-edge military powers—a strategic win-win situation for both sides.