Kazakhstan-Turkmenistan Presidential Summit Boosts Joint Ties
Publication: Eurasia Daily Monitor Volume: 10 Issue: 94
By: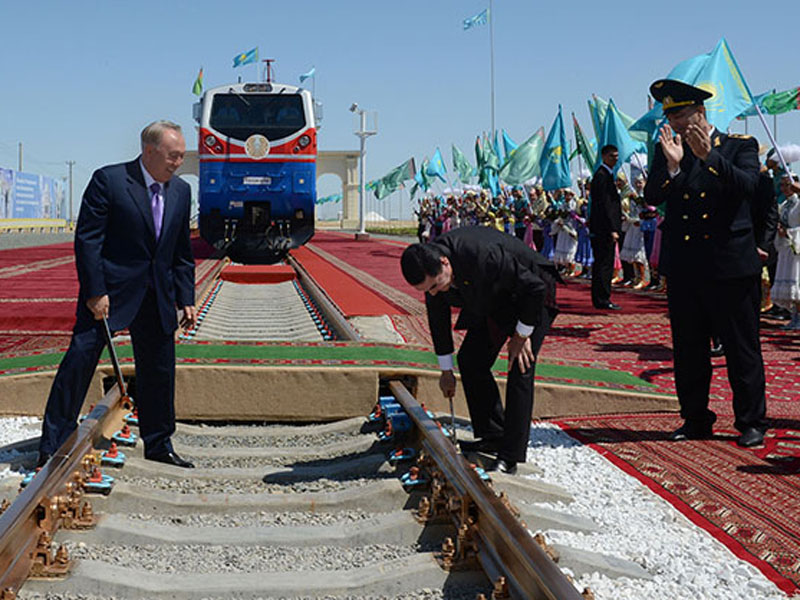 Turkmenistani President Gurbanguly Berdimuhamedov made a state visit to Kazakhstan on May 10–11. Kazakhstan's President Nursultan Nazarbayev said that his counterpart's visit "demonstrates the mutual desire to develop these fraternal relations and raise trade and economic relations to a new level" (Trend, May 10). Berdimuhamedov similarly stated that, "Relations between our states have always been, and we are sure, will [continue] at a very high level. They have always been of a trust-based and fraternal nature" (Interfax-Kazakhstan, May 10).
In their joint news conference after their May 10 talks in Astana, Nazarbayev and Berdimuhamedov related that their discussion had addressed boosting mutual trade and investment; deepening cultural, humanitarian and educational ties; and addressing important regional security issues such as the situation in Afghanistan, rehabilitating the Caspian and Aral Seas, and countering cross-border terrorism, organized crime and narcotics trafficking (Interfax-Kazakhsta, May 10).
Calling Kazakhstan an important and reliable partner, Berdimuhamedov said that the two governments "agreed to expand our cooperation in the economic sphere, support increasing and diversifying bilateral trade and mutual investment, develop partnerships…in such spheres as satellite communications and telecommunications" as well as energy and transportation (Trend, May 10).
Toward this end, the two governments signed a number of bilateral agreements. In addition to a general presidential communique, these include a cooperation program involving both countries' foreign ministries, a deal to open new consulates in the cities of Aktau and Turkmenbashi, an agreement between their national academies of sciences, an accord between their national railways, a plan to convene a business and creative intellectuals forum, and a mutual cultural promotion arrangement that would see Days of Turkmenistan's Culture in Kazakhstan and Days of Kazakhstan's Culture in Turkmenistan (Trend, Central Asian News Service, May 10). They also agreed to enhance cooperation between their national legislatures in order to augment parliamentary support for their joint projects, which typically require supporting legislation (Trend, May 11).
The most noteworthy event during the summit occurred on May 11, when Berdimuhamedov and Nazarbayev inaugurated the Kazakhstan-Turkmenistan segment of a new tri-national railway that extends through Iran. This 146-kilometer segment runs from Uzen in Kazakhstan to Etrek in Turkmenistan through the Bolashak-Serhetyak border crossing (connecting Kazakhstan's Mangistau Region and Turkmenistan's Balkan Region). In October 2007 the Kazakhstani, Turkmenistani and Iranian governments signed an agreement to construct a railroad running from Uzen to Gorgan in Iran. They began building this $1.4 billion 869-km "North-South" Kazakhstan-Turkmenistan-Iran railway, also known as the "Caspian Sea eastern rail corridor," at the end of September 2009 (Railway Gazette, May 13). Construction of the 700-km Turkmenistan-Iranian section from Bereket to Gorgan is scheduled to be completed by the end of 2014 (ITAR-TASS, May 10).
Building the Uzen-Gyzylgaya-Bereket-Etrek-Gorgan (Kazakhstan-Turkmenistan-Iran) railway supports landlocked Kazakhstan's external trade diversification strategy, which aims to supplement the country's traditional trade conduits through Russian territory with additional routes to Kazakhstan's east, west and south. The new North-South railway will also increase the flow of goods via Turkmenistan and Iran to the Persian Gulf. By its fifth year of operation, the railway is expected to convey more than 10 million tons of cargo annually (mostly energy products, but also grain and other Kazakhstani goods) (Trend, May 4). It will also increase Kazakhstan's yearly trade by as much as $5–10 billion, with significant boosts in turnover with Turkmenistan, Iran and additional countries (Universal newswires, February 12).
The tri-national railway should also attract considerable traffic from other Central Asian countries, whose transportation links with world markets remain underdeveloped. The existing railway travels a much longer winding route through Uzbekistan. Noting that the new railway aims to link the transport networks of Central Asia, the Middle East and Europe, Nazarbayev argued that the new direct route to the Gulf would give Kazakhstan and Turkmenistan "a significant competitive advantage" in attracting transit shipments from other Eurasian countries (Kazinform, May 11). The new Kazakhstan-Turkmenistan railway would also enlarge their bilateral trade, which amounted to some $350 million in 2012 (ITAR-TASS, May 10). Kazakhstan exports mostly energy and agricultural products, chemicals and textiles to Turkmenistan, while purchasing food, construction materials, metal products, electric appliances, equipment, vehicles and natural gas (for isolated regions of southern Kazakhstan) from Turkmenistan (ITAR-TASS, May 10).
While in Astana, Berdimuhamedov said that, "The positions of Turkmenistan and Kazakhstan practically always coincide. Our vision is for maintaining stability and security in Central Asia, as well as in the Caspian region; preventing conflict situations; resolving all existing problems through political and diplomatic measures; and strengthening mutual understanding and good-neighborliness" (Interfax-Kazakhstan, May 10). One reason for these shared strategic goals is that Kazakhstan and Turkmenistan are similar in many respects: they are rich in mineral resources; export a large amount of oil and gas through Russia; and are landlocked states, seeking additional means of access to international markets that do not require the use of Russia as a transit country. Their bilateral relations do not suffer from any major problems, and increasing economic interdependence has been strengthening their incentives to cooperate.
Their proximity has resulted, in part, in the shared use of energy export pipelines. Each year Turkmenistan ships more than 30 billion cubic meters (bcm) of natural gas to Russia and China through Kazakhstan (ITAR-TASS, May 10). In order to reduce their dependence on access to Russian territory, Kazakhstan and Turkmenistan have cooperated to diversify their energy export routes beyond those that go through Russia.
In particular, China's energy consumption and consequently imports of hydrocarbons has been surging. Both Kazakhstan and Turkmenistan participate in the Central Asia–China oil pipeline that was initiated in 2006. A Turkmenistan-Uzbekistan-Kazakhstan-China gas pipeline began operating in December 2009. After his May 10 talks, Nazarbayev confirmed plans to increase the pipeline's annual capacity from about 40 bcm of gas to some 65 bcm in coming years (Central Asian News Service, May 10).
Another logical export route for Kazakhstan and Turkmenistan is to ship their oil and gas to European markets via pipelines through the sectors of the Caspian seabed closest to Azerbaijan and Turkmenistan. A long-planned 300-km Trans-Caspian Gas Pipeline would run from Turkmenistan's Caspian Sea coast to Azerbaijan, where it would be linked to the Southern Gas Corridor.
Through their joint efforts to diversify their oil and gas exports, Kazakhstan and Turkmenistan have reduced their dependence on Russia but increased their mutual reliance. Turkmenistani hydrocarbons are being transported through Kazakhstan to China and Russia, while Kazakhstani goods are transported through Turkmenistan's territory to Iran and elsewhere. This interdependence, uncommon among Central Asian countries, gives both counties strong incentives to maintain good relations.