Sources of Moldova's Political Chaos: The Parliamentary System
Publication: Eurasia Daily Monitor Volume: 10 Issue: 94
By: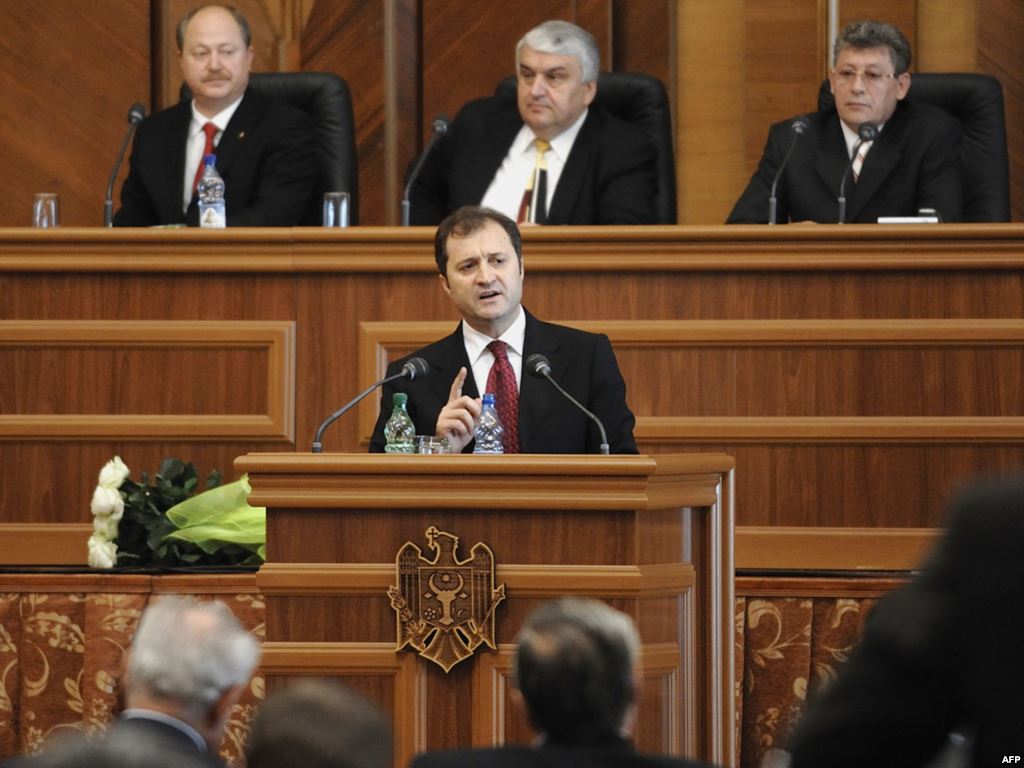 Moldova's tripartite government, the Alliance for European Integration (AEI), has foundered over its internal contradictions, and will no longer be resuscitated in its previously existing form. Two of AEI's parties have scuttled Prime Minister Vlad Filat's government in a sequence of steps: on March 5 in Parliament, and on April 22 in an unabashedly politicized Constitutional Court.
From the AEI's inception in 2009, the Democratic Party of tycoon Vlad Plahotniuc and parliament chairman Marian Lupu combined with the Liberal Party of Mihai Ghimpu in an informal alliance within the Alliance, relentlessly attacking Filat's Liberal-Democrat Party from both flanks. The AEI experienced collapse or near-collapse several times since 2010. What kept the coalition going, if barely, was: 1) concessions from Filat's party under duress to the two lesser parties, as a price for maintaining the coalition; 2) the common policy of isolating the Communist Party, Moldova's largest and deemed capable of revanche; and 3) Brussels's insistence on preserving the AEI's democratic-looking, European-sounding brand, even at the cost of tolerating the profound dysfunctionalities and rampant corruption, mainly emanating from two of the coalition's parties.
The sources of Moldova's political chaos are of two types: structural and circumstantial. One structural source is the parliamentary system of governance. That system was introduced to Moldova prematurely, with a loophole-riddled constitution and despite the absence of rule of law, consolidated state institutions, genuine political parties, or civic consciousness among masses of voters divided by ethno-linguistic identities. As a consequence, Moldova is experiencing recurrent constitutional and political crises, as well as a permanent crisis of its state institutions since 2009 (see below). The current phase of the crisis is the most pervasive yet.
Moldova's 101-seat parliament is utterly unworkable in its deep fragmentation. The parliament collapsed in 2009 and again in 2010, necessitating pre-term elections after failing to form coherent majorities. The current parliament risks the same fate. It comprises 34 Communist deputies led by former head of state (2001-2009) Vladimir Voronin; 31 from Filat's Liberal-Democrat Party; 15 from the Democratic Party of the recently deposed parliamentary chairman Marian Lupu and tycoon Vlad Plahotniuc; 12 from the Liberal Party, now officially split between party leader Mihai Ghimpu's group of 5 deputies and the Reform-Liberal group of 7 deputies; as well as 9 "free-floating" deputies, 7 of whom are hardline leftist defectors from the Communist Party (Tribuna, March 30).
This parliament has turned into an arena of a Hobbesian struggle of all against all—more devastating than the previous political crises. Those had involved a fixed pattern of bipolar confrontations between the Communist Party and the tripartite AEI, in parallel with intra-AEI rivalries that could still be kept under some control. In recent months, however, the escalation of intra-AEI conflicts has enabled the Communist Party to break free from isolation and become a pivotal player in tactical parliamentary alliances. These are short-lived, ad hoc combinations among parties and factions, shifting in kaleidoscopic patterns and convulsing the institutional setup with each shift.
On February 13, Filat's Liberal-Democrats withdrew from AEI's 2010 coalition agreement, which had facilitated Plahotniuc's rise to unchecked power in the justice and law enforcement systems. On February 15, the Liberal-Democrats and Communists voted jointly to remove Plahotniuc as first vice chairman of parliament, apparently targeting Lupu next. But, on March 5, the Plahotniuc-Lupu Democratic Party and the Communists jointly brought down the AEI government on a no-confidence motion. Although the Democratic Party and Ghimpu's Liberals had their own ministers in the AEI government, they agitated for its downfall hoping to weaken Filat and his party fatally; and they enlisted the Communists toward that end. Ghimpu's Liberals threatened to impeach President Nicolae Timofti if the latter re-designated Filat (and, by implication, his ministerial team) to lead the AEI government again. Nevertheless on April 10, characterizing Filat as "the most capable political leader" (Moldpres, April 10), Timofti re-designated him as prime minister–candidate to preserve the AEI government.
The all-against-all continued unabated. On April 17–21, Plahotniuc extorted sweeping concessions from Filat under the threat to combine with the Communists (and, of course, with Ghimpu's Liberals) blocking a Filat-led AEI government. An ad hoc parliamentary majority of Filat's and Plahotniuc's parties then enacted those concessions to Plahotniuc into law. But, on April 25–26, Filat's Liberal-Democrats and the Communist Party voted jointly to remove Plahotniuc's nominal party leader Lupu from the post of chairman of parliament, and elect Liberal-Democrat Liliana Palihovici to that post. And on May 3, the ad hoc parliamentary majority of Liberal-Democrats and Communists fully reversed the concessions granted to Plahotniuc's party barely two weeks earlier. Throughout these permutations, the smaller parliamentary groups took sides on strictly tactical considerations, the value of their few votes rising as the intra-AEI conflicts escalated (see EDM, April 25, May 9, 12).
Internecine rivalries had crippled the AEI from the moment of its birth in 2009, despite the shared fear of a Communist revanche. The "European Integration" title was intended in part to demarcate this Alliance starkly from the Communist Party. However, fully one third of Moldova's electorate identified with the Communists during these years, and continues to do so. Given the AEI's own factionalization, the policy of isolating the Communist Party turned out to be impractical. It became a source of instability in the political system, inasmuch as a constitutional majority or even a stable organic majority (three fifths) was impossible to achieve in Parliament without the Communists.
From 2009 to date, AEI-governed Moldova has experienced three parliamentary elections, all inconclusive (it now risks a fourth); a constitutional referendum, which failed due to low turnout; and multiple failed attempts to elect a head of state in parliament from 2009 until 2012, when the post was at last filled after a three-year vacancy.
Moldova had been, until 2000, a semi-presidential, semi-parliamentary republic, marked by contests between presidents and the parliament over their respective competencies. In 2000, political parties pushed through constitutional amendments that turned Moldova into a parliamentary republic. Within months, the parliament disintegrated into chaos, with kaleidoscopic combinations and permutations among parties and factions, similar to the situation in 2013. With parliament collapsing as an institution, pre-term elections were called for 2001. Voter backlash against the parliamentary parties (most of them with the word "Democratic" in their titles) carried the Communist Party back to power. While in power, the Communists maintained the parliamentary republic intact on paper, but ran it in practice as a presidential republic (2001–2009) under Voronin.
At present, the AEI's parties as well as the European Union fear a Communist revanche, in the event that pre-term elections are called to resolve this crisis. They actually fear that voters will penalize the AEI, particularly the Plahotniuc-Lupu and Ghimpu parties, for the political chaos. If such a backlash brings the Communist Party back to power, this would amount to a re-run of 2001, and for similar reasons. Moldova has demonstrated that it is unprepared to handle the parliamentary system of governance. It has led either to Communist revanche or to systemic instability, having been introduced to Moldova without the necessary pre-requisites in place.