Kazakhstani President Establishes Ambitious Goal for Successor Generation
Publication: Eurasia Daily Monitor Volume: 10 Issue: 219
By: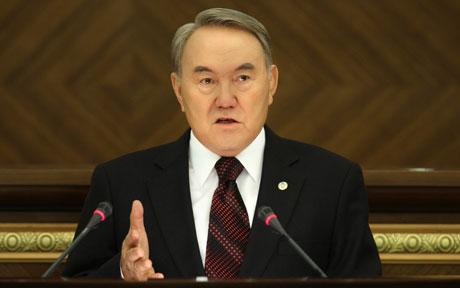 At the end of November, President Nursultan Nazarbayev said that Kazakhstan should aim to raise its GDP per capita fivefold, to $60,000 from the present $12,000, to join the ranks of the top 30 developed countries. Although Nazarbayev recognizes that Kazakhstan must overcome major challenges to achieve this goal, he rightly noted that his country had achieved remarkable progress during the past two decades and he reasoned that the Central Asian republic could achieve comparable results in the future (Tengri News, December 1).
The president set the near-term objective of raising Kazakhstan's per capita GDP to $20,000 in two years, which he described as "the level of the countries with a medium-high GDP rate," adding that, "We are almost there, but achieving this rate is not enough, and we should not stop at that." To achieve this near-term goal, Nazarbayev called for training more technical experts and underscored the need to develop the country's bio-technology sector in particular (Tengri News, December 1).
Kazakhstan's national economy has overcome the trauma of the Soviet breakup and performed better than many other former Soviet republics. The country has attracted more foreign direct investment and achieved a much higher per capita GDP than the other Central Asian countries. Yet, quintupling the country's per capita GDP will require Kazakhstan to make unprecedented progress in certain critical dimensions of the national economy.
For example, the government is betting heavily on developing alternative and renewable energy sources. These are to account for at least half the country's total energy consumption by 2050, a significant increase from the current level of 15 percent. Not only has Nazarbayev issued a presidential decree on transitioning to a green economy (https://www.kazakhembus.com/article/kazakhstan-begins-transition-to-green-economy), but the government has also launched a "Green Bridge Partnership" initiative to apply the best green technologies and practices developed internationally and has made "Future Energy" the main theme of Expo 2017, which Astana will host (https://www.renewableenergyworld.com/rea/news/article/2013/01/can-kazakhstan-green-its-economy). Still, a green economy based on alternative energy is more expensive than a traditionally powered one; market forces alone will not generate sufficient private investment in alternative energy sources, requiring sustained state intervention.
In addition, the government wants to make Kazakhstan a global leader in agricultural exports, raising the share of agriculture in the national GDP fivefold by 2050. The state intends to increase financial support for the agricultural sector by 4.5 times by 2020 and offer new legal and economic incentives to medium and large agricultural enterprises that apply modern agricultural technologies (https://www.akorda.kz/en/page/page_address-by-the-president-of-the-republic-of-kazakhstan-leader-of-the-nation-n-nazarbayev-%E2%80%9Cstrategy-kazakhstan-2050%E2%80%9D-new-political-course-of-the-established-state%E2%80%9D_1356091973). But Kazakhstan faces perennial water shortages (see EDM, September 11) and lacks direct access to the world's oceans, which makes exporting agricultural products more expensive than for countries with more direct access to international sea lanes.
Furthermore, Kazakhstan faces a variety of obstacles in its quest to become a niche provider of international civilian space services. For example, Western space agencies and even Russia envisage using the Baikonur Cosmodrome for only a limited time period until they develop alternatives (see EDM, September 30), while other countries seeking to establish a presence in outer space want to develop national capabilities that do not depend on foreign space providers (New York Times, June 18).
To promote innovation, the government also aims to double the share of small- and medium-sized enterprises (SME) in Kazakhstan's national economy by 2030 through reducing regulatory burdens, combating corruption more effectively, and helping Kazakhstani SMEs benefit from the large market created by the Eurasian Economic Space. Yet, these projects will need to overcome obstacles that impeded earlier innovation initiatives, such as a lack of technologies with market potential, insufficient numbers of skilled entrepreneurs and managers, a paucity of effective methodologies for moving products from the laboratory to the marketplace, and businesses that lack incentives to adopt new unproven technologies or initiatives to raise the skills of their workforce since they already profit from using existing technologies based on low-cost labor (National Research Council, 2007). Measures to combat corruption such as the Strategic Anti-Corruption Plan 2010–2014 (see EDM, November 27) may not relieve SMEs of the long delays, unofficial inspections, and other problems they have encountered from out-of-control state regulators (Business Anti-Corruption Portal, Global Advice Networks, 2013). Whereas President Nazarbayev and other influential Kazakhstani officials have expressed major concerns about the fewer-than-expected benefits Kazakhstan is receiving from its participation in the Eurasian Economic Space (see EDM, November 18).
Nonetheless, Kazakhstan has a strong foundation upon which to build its plans. Kazakhstan stands out among Central Asian countries for the high percentage of its young people enrolled in educational institutions. In his annual State of the Nation address to the national parliament, delivered last December, Nazarbayev stressed the imperative of making Kazakhstanis a "highly educated people" and endowing his country with a knowledge-based economy. Appealing to Kazakhstan's youth as those who had to implement the 2050 goals, the president stated that "our new course aims to give you new opportunities, better education, decent work and a great future" (https://www.akorda.kz/en/page/page_address-by-the-president-of-the-republic-of-kazakhstan-leader-of-the-nation-n-nazarbayev-%E2%80%9Cstrategy-kazakhstan-2050%E2%80%9D-new-political-course-of-the-established-state%E2%80%9D_1356091973).
Nazarbayev established this goal in a speech marking the anniversary of the Bolashak International Scholarship Program. The scholarship sends some of Kazakhstan's best students to foreign universities where they can receive superior international education and training. They then return to their homeland to apply their new skills for the benefit of their country. The graduates of the Bolashak program will likely provide many members of Kazakhstan's future technocratic elite, becoming leading cadres in the government and other important institutions.