Kazakhstani President Tokayev Receives Mandate for Promised Reforms
Publication: Eurasia Daily Monitor Volume: 19 Issue: 175
By: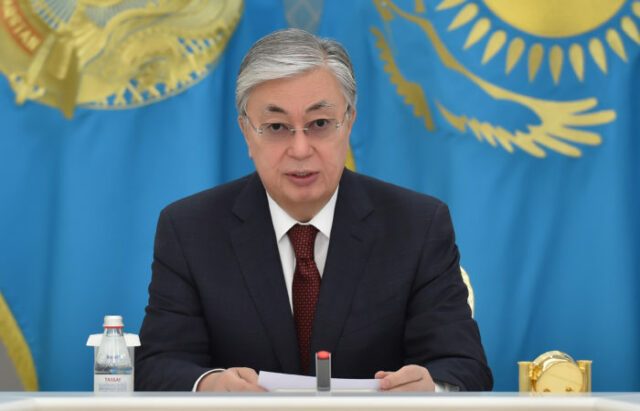 Kazakhstani President Kassym-Jomart Tokayev secured a second term in office following the snap presidential elections held on November 20, winning 81 percent of the vote. Tokayev will serve a single seven-year term, according to changes in the country's constitution that increased the mandate from five to seven years while limiting future presidents to one term in office.
The outcome gives Tokayev a new mandate to pursue his promised domestic reform program, deepen relations with the West to realign Astana's multi-vector foreign policy in the current geopolitical situation, as well as pursue economic diversification and new export routes as Russia's war against Ukraine continues to de-stabilize trade and energy exports.
The Kazakhstani president has promised wide-ranging political and social changes to gradually develop a democratic system and allow citizens to benefit more from Kazakhstan's wealth, appropriated mainly by the elites throughout the past three decades. Tokayev called for an early election 18 months before the end of his first term to secure public backing for the proposed reforms amid growing security concerns caused by Russia's invasion of Ukraine and domestic turmoil earlier this year (see EDM, January 21).
The election result was not surprising, partly because Kazakhstan's political system is lagging behind the country's impressive economic development and has yet to become truly pluralistic and competitive. The other five presidential candidates were little known to the public and only garnered support in the single digits (Election.gov.kz; Euractiv, November 21).
The ballot took place against the backdrop of a dramatically changing international security environment. Moscow's war against Ukraine has shocked the Kazakhstani public, sparking intense security concerns that have been unparalleled in the past 30 years. The country shares a 4,750-mile border with Russia and is home to a significant Russian minority, comprising 17 percent of the total population. With most of the 3.5 million Russians settled in the northern and western regions of Kazakhstan along its border with Russia, this parallel with Moscow's motivation to invade Ukraine is uncanny. In fact, preserving peace and security became the main driver for Kazakhstani voters in this election (Author's interviews with Kazakhstani voters, November 20).
The domestic situation has also changed after deadly violence in January 2022, which was caused by an intense internal power struggle that took the lives 238 people (Radio Free Europe/Radio Liberty, March 14; August 16). Both national security and Tokayev's presidency were threatened by powerful rivals from the inner circle of former leader Nursultan Nazarbayev, who Tokayev succeeded as president in 2019. In the aftermath of the tragic events, Tokayev stripped Nazarbayev of his honorary titles and remaining roles in national security and seized assets from his allies and family members, which had been accumulated mostly through the theft of public funds and corruption (Eurasianet.org, May 5).
Following these events, Tokayev initiated constitutional reforms—transferring some powers from the president to the parliament, loosening requirements for the registration of political parties, establishing a Constitutional Court, banning family members of the president from serving in government and introducing a one-term limit on the presidency, which sharply contrasts with neighboring countries where presidents seek to serve for decades. A referendum in June 2022 approved changes to 33 articles of the Constitution, which represents about one-third of all constitutional provisions. Some are substantial, others more symbolic, but together they contribute to a more balanced distribution of power and improved responsiveness to Kazakhstani citizens (Astana Times, June 3).
The political reforms appear even more urgent now, as Kazakhstan is seeking to deepen its relationship with the West as consequences of Russia's war against Ukraine are severely affecting the country both politically and economically. Speaking on the importance of his reform agenda, Tokayev stressed: "This is especially important against the backdrop of the critically difficult geopolitical situation and the growing atmosphere of total hostility and mistrust" (Astana Times, October 6). Tokayev opposes the war in Ukraine and has refused to recognize the Russian-occupied territories of Ukraine as part of the Russian Federation. In addition, Kazakhstan has admitted an estimated 200,000 young Russian men who were trying to escape Russian President Vladimir Putin's mobilization order.
However, Russia is not only Kazakhstan's main trade partner but also a primary route for Astana's energy exports. A series of interruptions in oil transit through Russia via the Caspian Pipeline Consortium have prompted the Kazakhstani government to seek alternative routes—planning investments for the further development of the Middle Corridor transit route to Azerbaijan and Turkey with the idea to export its energy resources, raw materials and foodstuffs along this passage.
A recent agreement with the European Union established a partnership between the EU and Kazakhstan to ensure a steady supply of raw materials, together with batteries and renewable hydrogen (Euractiv, November 8). The EU represents 60 percent of foreign direct investment in Kazakhstan, and Brussels' share is likely to increase with new investments in the renewable energy sector, especially as Astana is offering favorable conditions and the necessary infrastructure for the relocation of European companies. In October 2022, the Kazakhstani government signed an agreement with European renewables consortium Svevind Energy Group to build one of the world's five-largest green hydrogen production facilities in Kazakhstan's Mangystau region (Astana Times, October 27). Astana is also seeking similar investment opportunities in the United States and Canada.
These examples illustrate the enormous work that lies ahead for the Kazakhstani government, at a time when the population's sense of security has been altered and public demand for political and economic changes continues to grow. And despite the ongoing criticism of persistent democratic shortcomings, the re-election of President Tokayev should ensure Kazakhstan's stability during a time of war and turmoil and as the national economy continues to be affected by high inflation.