Kazakhstan's CSTO Membership Looks Gloomy
Publication: Eurasia Daily Monitor Volume: 8 Issue: 178
By: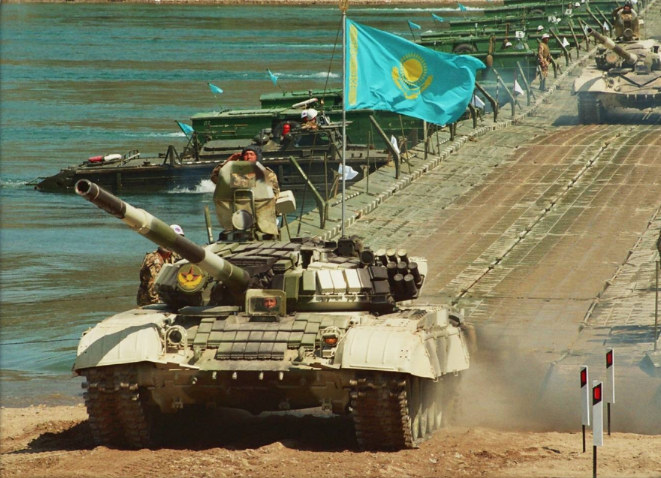 The Kremlin-orchestrated Tsentr-2011 military exercises of the Collective Security Organization Treaty (CSTO), hosted simultaneously by Russia, Kazakhstan, Kyrgyzstan, and Tajikistan and lasting almost one week, served for Astana not only as a litmus test of its combat capabilities. Most importantly, the exercises provided an opportunity to assess Kazakhstan's position in the CSTO and consider the problems of the modernization of its armed forces.
For the Kazakh military, familiar with recent experience of fighting small mobile groups of religious extremists in western Kazakhstan, the scenario and objectives of Tsentr-2011 staged in Aktau, Mangystau region, was largely detached from reality. Kazakhstan contributed a marine brigade, aviation – including Mi-24 helicopters – warships and 550 pieces of military equipment to repel attacks by intruders from the Caspian Sea with support from Russian Su-24 bombers. Kazakhstan's Defense Minister, Adilbek Zhaksybekov, praised the outcome of the exercise as "an invaluable experience" (KTK TV, September 23).
A prelude to Tsentr-2011 witnessed joint exercises by air defense units of CIS countries, which began in August at the Russian Ashuluk and the Kazakh Sary Shagan missile testing ranges, involving more than 2,000 military personnel and 25 air defense detachments, sophisticated S-300, S-200, S-75, Krug, Buk missile systems, MiG-29, MiG-31 fighters and Su-27 bombers. Despite the officially stated objectives of combating terrorism, the scale of manpower and military hardware involved suggests that these exercises were part of Moscow's attempts to reinforce the military alliance within the CSTO. In view of a potential crisis in the Caspian region and an accelerated military build-up in Iran, Moscow's concerns are not limited to the aftershocks of the Arab Spring in Central Asia. Long-standing disputes between Iran and Russia over the status and division of the Caspian and mutual distrust reached a point, which threatens their already fragile geopolitical alliance and compels Moscow to re-equip its Caspian Flotilla. Admiral Vladimir Vysotskiy, the Commander-in-Chief of the Russian Navy stated that by 2020, the Caspian Flotilla will be reinforced with an additional 16 ships and the Bastion coastal missile system using supersonic Yahont winged missiles to destroy sea-surface targets within a range of 300 kilometers (Svobodnaya Pressa, May 6).
In what is reminiscent of the Warsaw Pact era, the Kremlin relentlessly propagates the thesis of collective security and mutual assistance in situations more serious than small-scale terrorist activities in Central Asia, which is revealed in Moscow's efforts to integrate Kazakhstan into a joint air defense system. Beyond that, 675 Kazakh military officers are currently being trained in Russia. The Deputy Chief of the Russian General Staff, Colonel-General Valery Gerasimov, disclosed plans by the Russian and Kazakh militaries to hold joint exercises next spring and summer to promote interaction between their ground forces and navies (www.zonakz.net, September 22).
However, Vladimir Zakharov, a senior researcher in the Russian Institute of Strategic Research, regards the CSTO as an amorphous structure which cannot be used as a counterweight to NATO or to further Russian geopolitical interests. First, military expenditure in the CSTO cannot possibly match that of NATO. Second, CSTO signatories lack a clearly outlined common concept of collective defense. The national military doctrines among the CSTO member-states are not coordinated with other members of the organization. Moreover, these military doctrines are often worked out with the participation of experts belonging to another political-military alliance. Third, CSTO members fail to identify a common enemy. While Russia is primarily concerned about the eastward expansion of NATO, Central Asian states such as Kazakhstan regard religious extremism and illegal migration as the main threats. Far from rushing to offer mutual assistance as defined in the CSTO charter, its members pursue closer cooperation with the EU, OSCE and NATO. All these factors render the original objectives of the CSTO senseless and deprive Russia of any military instrument to retain its dominant position in the post-Soviet space (www.russiankz.info, October 20, 2010).
For Kazakhstan, dependent on imports of Russian arms, the marriage of convenience with Moscow within the CSTO is the only option. Theoretically, Kazakhstan could do more to reanimate the military industrial complex inherited following its independence. In 2010, the defense ministry was formally integrated with the military-industrial complex, which can be regarded as a tentative step toward greater independence from Russian military supplies. However, Kazakhstan has only succeeded in renewing production at the Zenit shipbuilding plant in Oral. According to Kazakhstan's Finance Minister, Bolat Zhamishev, in 2012, the technical modernization of the army will constitute one quarter of the defense budget. The total military expenditure planned for 2012 is around 340 billion Tenge ($2.3 billion), or a 21 percent increase year-on-year (www.news.nur.kz, August 28).
Like other CSTO members, Kazakhstan, taking advantage of its multivector policy, pursues bilateral military ties with the West. In 1995, Kazakhstan obtained observer status in NATO exercises within the Partnership for Peace program. Kazakhstan participates in the annual Steppe Eagle exercises for peacekeeping forces and in the US International Military Education and Training (IMET) and Foreign Military Financing (FMF) programs. Despite complex relations within the CSTO, the growing military potential of Kazakhstan is turning the country into an important factor in the stability of Central Asia.