Kazakhstan's Military Reform Faces Many Headwinds
Publication: Eurasia Daily Monitor Volume: 12 Issue: 26
By: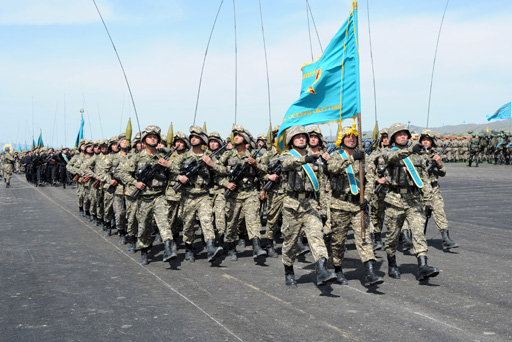 It has been a little over 100 days since Imangali Tasmagambetov's appointment as the new defense minister of Kazakhstan last October. Born in the oil-rich Mangistau province, in the country's west, the 58-year-old minister has had a particularly impressive career in politics. He first made himself known as a charismatic leader of the local Communist youth movement in the 1980s and even headed the State Committee for Youth Affairs in 1991–1993. Two years later, he became a deputy prime minister and briefly served as the minister of education in 1997. After a short stint within the presidential administration, Tasmagambetov was appointed in 1999 by President Nursultan Nazarbayev to be the new head of Atyrau province, off the Caspian coast (Matritca.kz, February 2, 2015; Zakon.kz, October 22, 2014).
His subsequent career path was strewn with multiple ups and downs, which is highly unusual for a typical Kazakhstani politician. First as deputy prime minister (2000–2002) and then as head of government (2002–2003), Tasmagambetov spearheaded a series of reforms, some of which earned him the lasting enmity of the parliament. His resignation from the prime minister's office was mainly tied to the draft Land Code, which sought, among other things, to implement a speedy privatization of state property. After two years as state secretary and Nazarbayev's chief of staff, he was appointed, in 2004, the mayor of Almaty and had, until recently, served as the mayor of the republic's capital, Astana, between 2008 and late 2014 (Biografia.kz, October 24, 2014).
Tasmagambetov is frequently mentioned by local observers and the media as a potential successor to Nazarbayev. Unlike the majority of high-ranking officials, he enjoys significant popularity with the Kazakh-speaking population of the country, being an eloquent orator who seems to know and understand ordinary people's concerns. Yet, what currently distinguishes him from the rest of the political class is not so much his own political ambitions, but the strategic task he has been entrusted with as the new minister of defense. Kazakhstan's armed forces are headed for a large-scale reform, although it still remains unclear what exactly will be done to improve their professionalism in order to cope better with growing security challenges in an increasingly volatile regional environment (Tengrinews.kz, October 25, 2014; Agencyrating.kz, January 22, 2014).
Back in March 2014, Nazarbayev held a widely-publicized meeting with the top brass of the defense ministry and the Joint Chiefs of Staff regarding the Kazakhstani army's preparedness for responding to security crises. Rather expectedly, the president said the government would allocate additional funds to ameliorate the living conditions of serving officers and their families and to acquire new sophisticated weaponry. However, he also went on to criticize the army leadership for "weak" financial discipline, citing in particular "unnecessary" rotation and administrative restructuring, which cost the budget over $2 million in 2012 and some $3.3 million in 2013 (kapital.kz, akorda.kz, March 6, 2014).
Corruption remains the biggest problem faced by the Kazakhstani military, especially in times of across-the-board budget cuts stemming from weaker economic growth—a meager 1.8 percent being forecast by the World Bank for 2015, following 4.3 percent in 2014, and 6 percent in 2013. "Myself as the Supreme Commander and the society as a whole see a direct threat to national security in numerous corruption cases, which regularly come to light within the Ministry of Defense. This is simply unacceptable. The state money that goes to the army must not be wasted," Nazarbayev said. In 2015, the Armed Forces will receive close to $4.6 billion worth of budgetary funding, compared with, for instance, $3.7 billion for the Ministry of Interior or $830 million for the Ministry of Energy (Inform.kz, January 14, 2015; online.zakon.kz, November 28, 2014).
Last November, Defense Minister Serik Akhmetov, who had previously served as prime minister between October 2012 and April 2014, was detained on corruption charges and placed under house arrest. In June 2014, the former deputy defense minister, Bagdat Maykeev, had been sentenced to six years in prison for having accepted a bribe worth $1.5 million in exchange for preferential treatment in several public procurement biddings. Earlier, in December 2013, the former commander of the national air force, Askar Buldeshev, was sent to prison for eight and a half years. He had embezzled more than $930 million worth of taxpayer money on the purchase of low-quality spare parts for S-300 anti-aircraft missiles. Another high-level official, General-Major Almaz Assenov, is currently serving an 11-year prison term for a $200,000 kickback from Ukraine's military export company, Ukrspetsexport (TASS, November 19, 2014; Tengrinews.kz, June 28, 2014; Kursiv.kz, December 5, 2013; Azh.kz, July 24, 2013).
It is uncertain whether even such an experienced manager as Imangali Tasmagamebtov will be capable of reining in corruption in the armed forces. Like most other defense ministers before him, he does not have a military background and would first need to secure the support of the powerful caste of army generals before actively proceeding to any root-and-branch reform. The bloody events in Ukraine and mounting fears of Moscow's possible interference in the Russian-speaking provinces of northern and eastern Kazakhstan may be another strong reason to speed up the overdue military reform.
Still, Kazakhstan's military ties with Russia are not likely to slacken. As a member of the Russia-led Collective Security Treaty Organization (CSTO), Kazakhstan counts on Russian support in the face of transnational terrorism and extremism. Last January, the Kazakhstani parliament ratified an inter-governmental protocol facilitating the deployment of CSTO troops, followed in May by a bilateral accord establishing the joint Russian-Kazakhstani missile defense system. On February 4, 2015, Kazakhstan's defense ministry further said it will buy new Su-30SM fighter jets from Russia. Considerable diplomatic skills will, therefore, be required from Nazarbayev vis-à-vis Vladimir Putin and from Tasmagambetov vis-à-vis the Kazakhstani generals in order to modernize the country's armed forces without running the risk of upsetting the Kremlin (Newskaz.ru, February 4, 2015; Inform.kz, May 26, 2014).