Kazakhstan's Pro-Russian Course May Alienate Ukraine
Publication: Eurasia Daily Monitor Volume: 11 Issue: 58
By: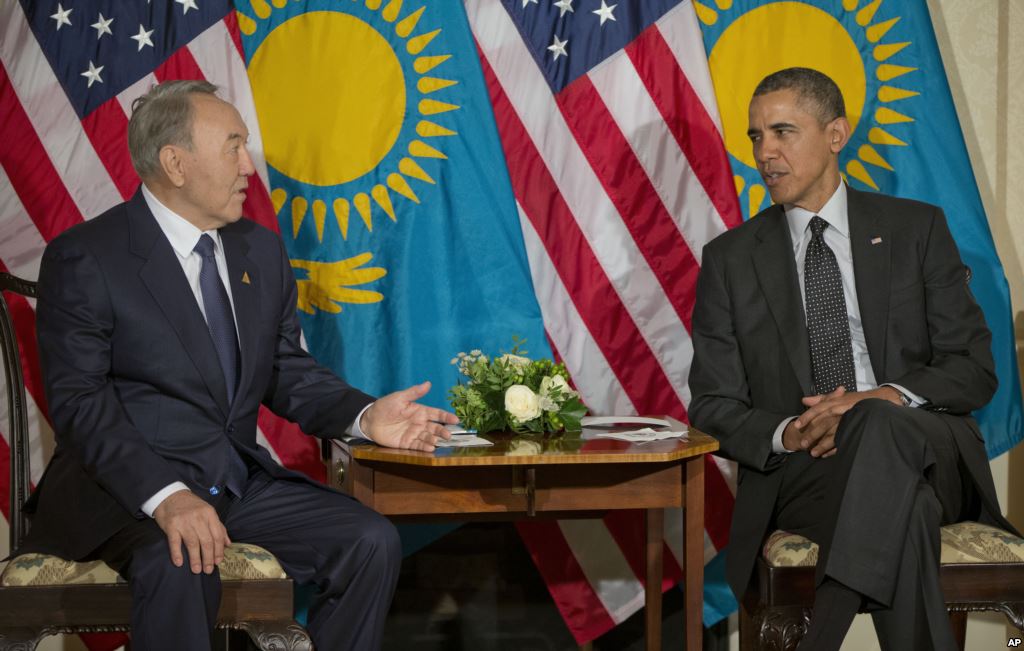 On March 25, Kazakhstani President Nursultan Nazarbayev completed his three-day visit to the Netherlands, where he met with the Dutch authorities and attended the World Nuclear Summit in The Hague. While nuclear issues took center stage at this international gathering of heads of state and government, including United States President Barack Obama, Nazarbayev's numerous side meetings also enabled him to discuss at length the ongoing crisis in Ukraine.
Following the controversial Crimean referendum of March 16, which led to the annexation of Ukraine's autonomous republic of Crimea by Russia, Kazakhstan's position has been ambivalent at best. On March 18, the Kazakhstani Ministry of Foreign Affairs issued a short statement recognizing the results of the referendum in question as "the free expression of the will of Crimea's population." The foreign ministry further said that Kazakhstan viewed Russia's recent action in Ukraine "with understanding," in light of the extraordinary circumstances in that country (see EDM, March 24).
Earlier in March, President Nazarbayev had already held several phone calls with Western leaders, including British Prime Minister David Cameron and German Chancellor Angela Merkel. During those conversations, the Kazakhstani leader sounded extremely cautious with regard to Moscow's aggressive policy vis-à-vis Kyiv and invariably called for a "diplomatic solution" to the crisis. His visit to the Netherlands offered him the first public opportunity to explain his country's stance on this delicate issue (Tengrinews.kz, March 14; Zakon.kz, March 10).
Speaking to a group of journalists after the plenary meeting of the World Nuclear Summit, Nazarbayev called on both Russia and the West to "calm down and put aside high rhetoric, mutual accusations, threats and sanctions." Some Russian media even speculated that Nazarbayev's good offices might be used by Western powers to mediate between themselves and the Kremlin, given his cordial relationship with Russian President Vladimir Putin. Thus, the Russian daily Gazeta wrote that Nazarbayev had demonstrated in The Hague the full potential of his "Oriental diplomatic skills" by reportedly suggesting to Obama that he seek to reconcile with Putin (Gazeta.ru, March 25; Kazinform, March 25).
Although Nazarbayev repeatedly said that eventual Western sanctions against Russia would barely impact Kazakhstan, which is not a party to their diplomatic conflict, Kazakhstan actually does not stand completely aside from it. In late February, two Russian politicians, including Vladimir Zhirinovsky, the leader of the Liberal Democratic Party represented in the Duma, made highly provocative public statements concerning Kazakhstan's territorial integrity. This led some Kazakhstanis to express unconcealed fears about Moscow's neo-imperialist foreign policy and its potential implications for its southern neighbor (see EDM, February 27, March 13).
Russia's bellicose Ukraine policy had previously mobilized Kazakhstan's anti-Russian forces even before the Crimean referendum took place. On March 4, the leaders of several public associations, including Zhanbolat Mamay (Rukh pen Til) and Galym Ageleuov (Liberty), as well as Aidos Sarym, an independent political analyst, held a joint press conference in Almaty to denounce Moscow's imperialism. In their view, the events in Ukraine have become another powerful argument against Kazakhstan's membership in the forthcoming Eurasian Economic Union (Respublika-kz.info, March 4).
"We clearly see today that our pessimistic forecasts regarding Kazakhstan's participation in the customs union with Russia and Belarus have all come true. In these circumstances, it will be foolish to expect that that the Eurasian Union will help our economy", Aidos Sarym concluded. The speakers particularly criticized the absence of prior public consultations as regards the drafting of the new organization's founding treaty that is currently expected to be signed this May by Russia, Kazakhstan, Belarus and Armenia. Meanwhile, Kazakhstan's emerging anti-Eurasian movement plans to hold a nationwide rally in Almaty on April 12 to publicly reiterate its opposition to the Russia-led economic integration (Regnum.ru, March 4).
Despite the growing activism of domestic anti-Russian elements, Kazakhstani authorities continue to stand firmly by Moscow's side. As Nazarbayev recently explained in The Hague, "economic integration will help [Kazakhstan] to overcome customs barriers." "We have a purely pragmatic interest in this," he added. The president also acknowledged that his country would be ready to give up some of its economic prerogatives in favor of a supranational authority, but with a constant eye to Kazakhstan's full political sovereignty. "Kazakhstan will never part with one iota of its independence," Nazarbayev declared (Kazinform, March 25).
To some observers, Kazakhstan's largely pro-Russian choice already looks like a rebuttal of its declared multi-vector foreign policy. As Moscow has again begun pressuring Kyiv over gas-supply terms, Kazakhstani-Ukrainian relations are also likely to suffer. In January–October 2013, their mutual trade turnover already decreased by over 25.5 percent, due to the introduction of various economic restrictions within the Customs Union of Russia, Kazakhstan and Belarus, to which Ukraine is not a signatory. It should, however, be noted that Ukraine is still far from being Kazakhstan's strategic economic partner. In 2012, their bilateral trade amounted to some $4.18 billion, as compared to $23.8 billion between Kazakhstan and Russia (Embassy of Ukraine in Astana, November 16, 2013; Meta.kz, February 20, 2013).
Yet, there is one area where Kazakhstan has particularly been counting on Ukraine as an alternative to the Russians—defense cooperation. In May 2012, the two countries agreed to launch a joint military production program to assemble Ukraine's BTR-4 transport vehicles in Kazakhstan. The initial value of the contract was said to be around $150 million. Moreover, last July, Astana and Kyiv pledged to intensify their military cooperation by progressively extending its scope to other issues of mutual interest. In the context of Russian-Kazakhstani problems at the Baikonur Cosmodrome (see EDM, October 24, 2012; January 31, 2013), Ukraine has further been viewed as a possible substitute for Moscow within several rocket projects. However, as Kazakhstan prepares to found the Russian-led Eurasian Union, such plans will most likely never materialize (News.headline.kz, July 25, 2013; Unian.net, May 5, 2012).