KBR Authorities Again Vow to Catch Anzor Astemirov
Publication: North Caucasus Weekly Volume: 9 Issue: 47
By: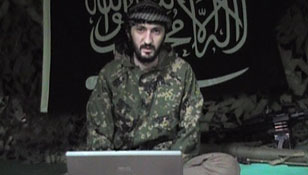 Authorities in the Kabardino-Balkaria Republic (KBR) announced on December 5 that they are searching for the militants who murdered the head of the republic's anti-organized crime directorate (UBOP), Anatoly Kyarov, back in January (North Caucasus Weekly, January 17). "The murder of Kyarov was unequivocally carried out by the gang headed by Anzor Astemirov," Kabardino-Balkaria First Deputy Interior Minister Naurbi Zhamborov told a press conference in Nalchik, Newsru.com reported. Zhamborov was referring to the leader of the Kabardino-Balkarian section of the Caucasus front and head of the Yarmuk Jamaat, who earlier this year was made the head of the Caucasus Emirate's Sharia Court and whose nom de guerre is Seifullah. "We are carrying out large-scale daily measures to find them," Zhamborov said.
Zhamborov said that the weapons used in the attack on Kyarov—three assault rifles and a pistol—were also used in three other high-profile attacks and that the pistol which Kyarov's assassins took from him was found next to the body of a militant known as Zholabov who was killed in a special operation. "That speaks to the fact that he [was] one of the participants in the murder of Colonel Kyarov," Zhamborov said. "The results of the examination and investigation carried out proved that the bandits who participated in the murder of Kyarov also participated in the murder of the nine hunters in the KBR's Chegemsky district [in November 2007] and other high-profile crimes."
As Newsru.com reported, KBR investigators believe that the Kyarov murder and the slaying of the hunters were carried out by members of the "Kabardino-Balkarian jamaat"—including Anzor Astemirov (its leader), Marat Guliyev, Adamei Dzhappuyev, Asker Dzhappuyev, Nazir Temmoyev, Akhadiya Malkaryov, Alim Zankishiyev, Rusma Mameyev, Zei un Sultanov and Valery Etezov.
The website noted that the KBR Interior Ministry announced back in April that it had identified the perpetrators of Kyarov's murder. That same month, the deputy head of the KBR Interior Ministry's public order department, Anatoly Bukin, declared that "active measures" were being carried out to capture the perpetrators and that these would soon show results.