Khorgos to Become Kazakhstan's Trans-Eurasian Transport Hub
Publication: Eurasia Daily Monitor Volume: 9 Issue: 130
By: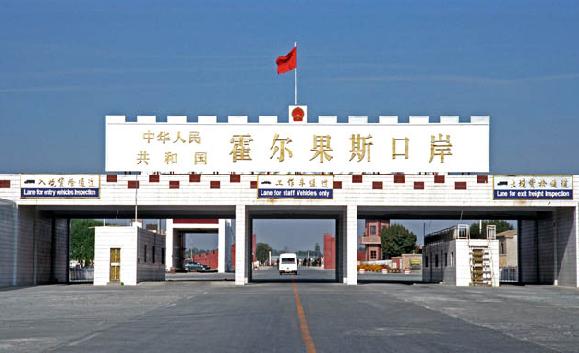 On June 28, Kazakhstan's Senate amended the country's transport regulations partly to allow for the state railways operator, JSC "NC" Kazakhstan Temir Zholy (KTZ), to develop a transport and logistics company, spearheading the country's transformation into a Eurasian transport hub (Kazinform, June 28). Exactly how this new state-led company will be organized remains to be seen, but KTZ seems to be preparing for an expansion of its scope and activities. In early July, it placed $800 million in 30-year Eurobonds on the London and Kazakhstan stock exchanges, and KTZ is expected to be a major part of Kazakhstan's so-called People's IPO in the coming years, wherein ordinary Kazakhstanis will be able to invest in some of their country's largest enterprises (IFR, July 7).

But, the focus of KTZ's activities in the transport area is the burgeoning "land port" at Khorgos on the China-Kazakhstan border, northeast of Almaty. As a result of a number of agreements between Astana and Beijing, the area around Khorgos is set to become a Special Economic Zone (SEZ), with 30-day visa exemptions for businessmen operating in the zone. Plans call for centers for trade, tourism, culture and sports, a number of hotels, as well as an airport and the terminus of a railway to Almaty, which is to connect with the Chinese-funded high-speed railway project planned to run from Almaty to Astana (Tengrinews, May 25, 2011). According to the World Bank, Khorgos is to be a key node on the Western Europe-Western China International Transit Corridor, coordinated by the Central Asia Regional Economic Cooperation (CAREC) program (World Bank, May 1). An immense new freight terminal has already been built, with bays for six trucks to be inspected simultaneously.

However, on recent visits to Khorgos, on the Chinese and Kazakhstani sides, traffic crossing the border was relegated to the old customs post, where trucks, buses and cars had to wait single file for document checks and inspections. Observations confirmed massive construction underway on the Chinese side and major plans for the SEZ on the Kazakhstani side. Two large modern markets operated on the Chinese side, one for Chinese goods and one for "Central Asian" wares, but neither was particularly busy due to the traffic delays. No active businesses were observed on the Kazakhstani side except for a Sinooil station about a mile down the road from the border. Truck queues stretched for miles, a common site at Central Asian border crossings. After the May 2012 incident in which a Kazakhstani guard on the Chinese border killed 14 of his colleagues, Astana is also reportedly reassessing its border security procedures (see EDM, June 27).

With the Russian-led Customs Union in place, Khorgos is a gateway for Chinese goods to reach not only the growing Kazakhstani market, but also much farther afield into Russia, Belarus and possibly Kyrgyzstan. Once goods go through customs at Khorgos, they should be able to cross into Russian territory without further checks, although in practice this is not always the case. But, the Customs Union may also be a cause for some of the observed delays in the development of the SEZ. Moscow is concerned about its market being flooded with cheap Chinese goods and may be applying pressure on Astana to be more cautious in its cross-border partnership with Beijing. Kazakhstan's leadership, however, seems to be looking for a wider range of partners for the project.

Due largely to the project's international scope, KTZ has been able to attract extra-regional business partners to Khorgos. Toyota, for example, signed an agreement in May to develop an "integrated logistics product in Kazakhstan and Japan," so that Japanese, South Korean and other East Asian producers can easily move their goods through Khorgos and across Kazakhstan to reach Western Europe (Tengrinews, May 25). From the West, Deutsche Bahn agreed in February to provide technical assistance for and invest in Khorgos as part of a partnership with KTZ aimed at realizing the Chongqing-Duisburg trans-Eurasian rail corridor (KTZ Press Service, February 10).

KTZ took control of Khorgos in mid 2011, after Kazakhstan's Financial Police busted a smuggling ring operating at the border crossing The criminal group had allegedly siphoned off $130 million worth of goods and customs duties (Central Asia Online, May 3, 2011). The raid, which saw arrests as far afield as the UAE, resulted in the dismissal of Kazakhstan's customs chief at the time and a reassessment of priorities at Khorgos. Recent construction delays at Khorgos may also have to do with the managerial transition after KTZ's takeover and the shift to a more professional operation of the land port on the Kazakhstani side.

In Astana's plans for Kazakhstan to become a trans-Eurasian transport hub, Khorgos is slated to be the jewel in the crown. So far, it is still very much a work in progress. KTZ's new transport and logistics company will likely determine the speed of that work in the months and years to come.