Ukraine Insists on Russian Gas Import Cuts
Publication: Eurasia Daily Monitor Volume: 9 Issue: 130
By: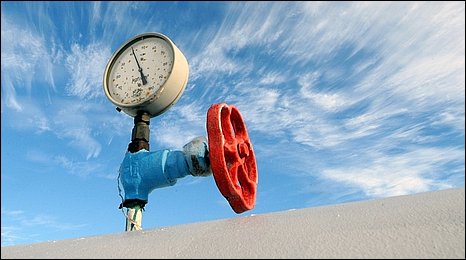 After failing to persuade Russia to change the current gas contract, Ukraine is threatening to break it. The state-owned oil and gas company Naftohaz Ukrainy will cut Russian gas imports from the 40 billion cubic meters (bcm) bought last year to 27 bcm this year, according to the national gas balance, which Ukraine's government approved on June 20. The contract, which was signed by the government of then Prime Minister Yulia Tymoshenko in January 2009, sets annual gas purchases by Naftohaz from Gazprom at 52 bcm, but no less than 42 bcm. A take-or-pay clause in the contract obliges Naftohaz to pay for no less than that amount even if it imports less. The government that replaced Tymoshenko's in 2010 has been arguing that the contract needs revision as, on the one hand, it set too high a price and, on the other hand, Ukraine does not need so much gas.
The contract suits Russia, so Gazprom has been deaf to Ukraine's arguments. In April 2010, Russia agreed to a discount of $100 per 1,000 cubic meters of gas in exchange for extending the lease of its Black Sea Fleet at the base in Ukraine's Sevastopol from 2017 to 2042. However, the discount has been dwarfed by the growth of the Russian gas price for Ukraine from $230 per 1,000 cubic meters in 2010 to $425 now, the discount included. Russia would agree to cut the price if Ukraine passed control of its gas transit pipelines to Russia and joined the Russia-dominated customs union. However, Kyiv is not willing to make such concessions.
Unable to persuade Russia to cut prices, Ukraine wants to reduce import volumes. The National Energy Strategy sets out to cut annual gas imports to as little as 5 bcm by 2030, an improbably optimistic goal (see EDM, June 19). The government's highly ambitious intention to cut imports to 27 bcm this year is part of the plan. This does not suit Gazprom, which claims that lower imports will mean that Ukraine will not have enough gas in its underground storage facilities to live through the winter, so it will siphon gas intended for Gazprom's customers in the European Union. On May 18, Naftohaz officially warned Gazprom that it would store gas in the underground facilities only for Ukraine's own needs this year. This prompted Gazprom to agree to pay Naftohaz $2 billion for transit services in advance, whereby Naftohaz will use the money to fill the underground reservoirs. The deal was signed in Moscow on June 7 (UNIAN, June 7).
But Kyiv keeps insisting on Russian gas import cuts. Gazprom CEO Alexei Miller said on June 21 that Ukraine asked for only 27 bcm of gas for not just this year but also for 2013. Energy Minister Yury Boyko said recently that Naftohaz might buy even less (Channel 5, June 27). Boyko spoke while Russian Prime Minister Dmitry Medvedev was discussing gas with his Ukrainian counterpart Mykola Azarov in Kiev. Medvedev's visit was apparently fruitless. Ahead of the talks, Ukrainian officials had said the gas contract revision would be discussed. However, Miller said after the talks that a revision was not discussed and that Ukraine was expected to continue adhering to the current contract. Miller also said that Gazprom's gas for Ukraine was cheaper than for many other clients in Europe (liga.net, June 27). He admitted that certain EU clients enjoyed discounts, which he explained were because of joint projects – likely alluding to Germany and Belarus. Ukraine, he noted, has had no such projects with Gazprom (UNIAN, June 30).
Speaking after the visit to Kyiv, Miller echoed Gazprom's earlier warning that Ukraine's failure to store enough gas would result in gas shortages in either Ukraine or the EU next winter. He added that Gazprom was ready to issue further financial assistance to Naftohaz for buying more gas (UNIAN, June 30). Meanwhile, Ukraine reduced its gas imports by 50 percent year-on-year in January-May 2012 to 13 bcm (Interfax-Ukraine, June 25). The daily Kommersant reported on June 21, citing a source from Gazprom, that the Russian energy giant considered suing Ukraine for contractual violations. The threat to sue Ukraine left Boyko unfazed. "This is their right," he said (Interfax-Ukraine, June 27).
It is up to the Stockholm Chamber of Commerce Arbitration Institute to resolve disputes between Gazprom and Naftohaz, according to the 2009 contract. The Ukrainian government apparently believes that it will not be easy to enforce the contract as far as import volumes are concerned. The Ukrainian weekly Zerkalo Nedeli on June 23 published an article in which the President of the Ukrainian Bar Association for Foreign Affairs, Danylo Kurdelchuk, argued that it would not be easy for Gazprom to prove that Naftohaz broke the contract and that the contract contains no clauses on how much Naftohaz would have to compensate Gazprom for buying less gas. What is more, if Gazprom loses the suit, Ukraine could try and use that to revise the contract. In the face of punishingly high Russian gas prices, Ukraine is attempting to play hard ball with its large eastern neighbor. Yet, Ukraine will need to carry out immense structural improvements of its energy, gas transit, and industrial sectors to make its threats of significant Russian gas import reductions credible in negotiations. At the very least, however, Kyiv has gotten Gazprom's attention.