KREMLIN ASSAILS BALTIC STATES
Publication: Eurasia Daily Monitor Volume: 2 Issue: 93
By: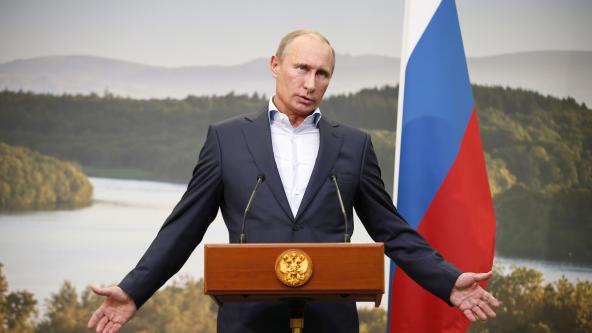 From the standpoint of Russia-West relations, perhaps the most consequential aspect of the May 9 anniversary celebrations in Moscow was the Kremlin's verbal assault on the Baltic states, amid complete and even complacent silence on the part of the European Union, NATO allies, and the United States. For the first time since Russian President Vladimir Putin came to power, the Kremlin boldly tested allied solidarity — and found it wanting.
Putin made calculated use of insult and vulgarity in this exercise. Russia is ready to sign border agreements with Latvia and Estonia, he said, "provided they do not involve stupid (duratskiye) territorial demands." Falsely accusing Latvia's government of demanding the retrocession of the Abrene/Pytalovo district, Putin called on "Latvian politicians to stop engaging in demagoguery." He then opined, "Estonia's leadership took the wrong decision in not attending the [Moscow] celebrations."
Answering a female Estonian journalist who asked her question in Russian, Putin mockingly imitated her Estonian accent, then put on a show of anger: "What else are we supposed to do, maybe condemn the Ribbentrop-Molotov pact every year? We consider this topic closed, and will not return to it. We [condemned] it once, and that was enough."
Putin then proceeded to give a breathtaking version of Russia-Baltic relations: Under the Brest-Litovsk treaty in 1918, he said, "Russia turned over some of its territories to Germany," including the territories of what became the Baltic states. "In 1939, Germany returned them to us, and these territories joined (voshli v sostav) the Soviet Union." Consequently, "in 1941 [sic] we could not possibly have occupied them, inasmuch as they were already a part of the USSR." "Whether this was good or bad, such was history. It was a secret deal, the small states being a currency of exchange. Such were the realities of life, regrettably," Putin concluded, though not before citing "Europe's past colonial policies" and slavery in America (Russian TV Channel One, Interfax, May 9, 10).
Putin's version implies that the Baltic states were never independent countries, but mere territories passing from hand to hand, and that they "joined" the USSR by consent. More broadly, it demonstrates a completely value-free approach to issues of crime of aggression, war crimes, and Soviet totalitarianism. While also displaying ignorance of history, Putin's version is partly informed by the Russian Ministry of Foreign Affairs statement of May 5, which similarly claimed that the Soviet Union could not possibly have occupied what it already possessed (Interfax, May 5).
Answering at the same news conference a familiar planted question about "neo-Nazi sentiments in the Baltic states," Putin replied: "I want to prevent these phenomena from spoiling the atmosphere in Europe and Russia's relations with European countries. But of course we are not going to ignore this problem."
Such exchanges, which are becoming routine, are meant to portray the Baltic states as an irritant in the EU's relations with Russia, draw wedges among Western allies, and even persuade some of the latter to take "corrective steps" jointly with Russia. The EU's presidency seemed to play along in Moscow: "We will fight together, calmly, against the negative phenomena that were mentioned," said Prime Minister Jean-Claude Juncker of Luxembourg, current holder of the EU presidency, at the same news conference. Moreover, "the EU would pressure neither side" on the issue of the Ribbentrop-Molotov pact and its consequences, Juncker said. He went on to express "particular gratitude to the Russian people and the Russian soldier, without whom we would have had neither freedom, nor the sun above" (Russian Television Channel One, Interfax, May 9, 10).
Also on May 9, Russia's Deputy Minister of Foreign Affairs, Vladimir Chizhov, impugned Lithuanian President Valdas Adamkus' motives for staying away from the Moscow celebrations: Adamkus "is, frankly speaking, the only living head of state to have fought on the German side," he charged (BBC World, May 9). Lithuania's Minister of Foreign Affairs Antanas Valionis termed Chizhov's insinuations "an improper and cynical attitude." The president "participated in the armed resistance against the Soviet occupation," Valionis pointed out. Indeed Adamkus' autobiography shows that he joined in the autumn of 1944, at the age of 18, a unit of gymnasium students that participated in defensive battles against the Red Army before being forced to retreat westward. (BNS, ELTA, May 11).
According to Lithuania's Parliamentary Chair, Arturas Paulauskas, the most significant aspect of Putin's and other Russian official statements is not ignorance, but the unwillingness to recognize the Baltic states' independence during the period between the two world wars and their subsequent annexation. Putin's position "demonstrates Russia's refusal to shed its imperial attitudes. If such attitudes persist, instead of being condemned, there is reason for serious concern" (ELTA, May 11; Interfax, May 10).