Kremlin Pleased With Swift Extension of New START
Publication: Eurasia Daily Monitor Volume: 18 Issue: 16
By: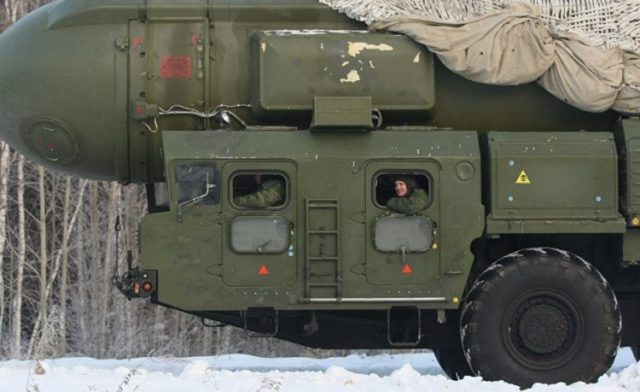 United States President Joseph Biden jolted the political-military leadership in Moscow with his eleventh-hour prolongation of the New START strategic nuclear arms control treaty that was scheduled to expire on February 5, 2021 (see EDM, January 21, 25, 2021). New START, signed by then-Presidents Barack Obama and Dmitry Medvedev, went into force on February 5, 2011, for ten years but had an inbuilt clause allowing a onetime, five-year prolongation that did not require ratification by a 2/3 majority of the US Senate. In the summer and fall of 2020, the Donald Trump administration, dissatisfied with the treaty, was pressing the Kremlin to 1) agree to only a one-year extension, 2) sign a supplementary political declaration to "freeze" all nuclear weapons, including those not covered by New START, as well as 3) pledge to begin new ambitious arms control negotiations that would also involve China. At the end of October, Russia's President Vladimir Putin, apparently eager to clinch a deal with Trump before the November 3 US presidential election, agreed to declare a mutual "nuclear arms freeze" for a year, together with a New START prolongation. But Moscow rebuffed any compulsory verification procedure of the "freeze" or compulsory Chinese participation in any future arms control talks against Beijing's wishes (Militarynews.ru, October 20, 2020).
Putin's October New START concession was rejected by the Trump White House, which soon became embroiled in domestic post-election maneuvers. The last US-Russian nuclear limitation treaty still in force continued to drift toward the February 5 extinction deadline, and Moscow looked prepared to accept its demise. But after Biden's inauguration, developments around the arms control document shifted rapidly. In immediate, post-inaugural contacts with Russian diplomats, the incoming Biden administration conveyed its desire to prolong New START for five years "as it is," without any modifications or attachments. On January 25, Biden's newly appointed National Security Advisor Jacob Sullivan phoned his Russian counterpart, Security Council Secretary Nikolai Patrushev, and the two agreed to immediately exchange official notes extending New START (RIA Novosti, January 25, 2021). The following day, Putin and Biden had their first phone conversation since the latter's election. Putin extended long-overdue congratulations, and both presidents reportedly discussed a wide range of issues, including the COVID-19 pandemic, Iran's nuclear program, alleged Russian election interference and hacker attacks, Ukraine/Donbas, the poisoning of Alexei Navalny and his recent arrest, and many other thorny questions. The Kremlin described the talks as "frank and business-like." In translation from diplomatic argot that means: Both sides fully agreed to fully disagree. Still, a decision was made to continue the dialogue between Moscow and Washington and, crucially, to immediately extend New START (Kremlin.ru, January 26, 2021).
Nonetheless, time seemed to be running short. In Washington, the treaty's prolongation did not need Senate ratification, but Russian regulations require a full ratification process in both houses of parliament—the State Duma and the Federation Council—complete with committee hearings and full floor-session discussions. Last year, Russian diplomats were admonishing their US counterparts to hurry with their New START extension decision since a full ratification in Moscow could take months. But in the end, the Russian legislature required almost no time at all, once again highlighting the rubber-stamp nature of the country's parliament, which the Kremlin can use as needed. Putin gave a direct order, and the New START prolongation law was submitted, finalized and passed in the Duma and then in the upper house (including all committee hearings and floor votes), with all legislators voting "yea," including the Communists and other so-called opposition fractions. The process took less than five hours in all. New START is secure until 2026 (Kommersant, January 27, 2021).
Deputy Foreign Minister Sergei Ryabkov, Russia's main arms control negotiator, was sent by Putin to publicly present the New START ratification legislation to the parliament. Ryabkov clearly felt vindicated in opposing, together with other diplomats, the notion of making concessions to clinch a deal with Trump last year (see EDM, October 22, 2020). Ryabkov told journalists, "The Trump administration was forcing on us unacceptable decisions, while Biden made a positive change." According to Ryabkov, the prolongation of New START gives time to negotiate a new follow-on treaty, but if something goes wrong, Moscow has the right to abandon New START anytime (Rossiyskaya Gazeta, January 27, 2021).
Both sides have expressed interest in further nuclear arms control negotiations. Washington wants to include constraints on Russia's vast arsenal of non-strategic or tactical nuclear weapons in any future deal. Whereas, Ryabkov proposed imposing restraints on US non-nuclear long-range precision weapons and missile-defense systems by pooling them together in one package with nuclear warheads. Leading Russian arms control experts say they are pessimistic about progress coming soon or at all. The possibility of negotiating a follow-up treaty to New START appears remote (Militarynews.ru, January 27, 2021).
It is well understood in Moscow that the Biden administration it not attempting to be friendly toward Putin's Russia: future confrontations and new sanctions remain likely threats. But Biden has apparently gained not only Ryabkov's but also Putin's approval as a man who can make a decision and ensure it sticks. Moscow's frequent complaint about Trump was that the latter readily talked about reaching bilateral deals with Russia but rarely if ever followed through. The spectacular rapid-fire ratification of New START's extension in the Russian parliament seems to have been a deliberate demonstration not only of the Kremlin's total control but also of Putin's personal appreciation and an invitation to do further business with the new US White House. If Biden has the grit to cut through red tape and act decisively, the implied message seems to be, Putin can match that. It may well be, therefore, that Putin believes he might develop with Biden a rapport like the one he has with Turkish President Recep Tayyip Erdoğan, about whom the Russian leader recently said: "We have differences, but [Erdoğan] is a man, he keeps his word and does not wag his tail" (Kommersant, December 29, 2020).