Kremlin Tests Limits of New US Administration
Publication: Eurasia Daily Monitor Volume: 18 Issue: 13
By: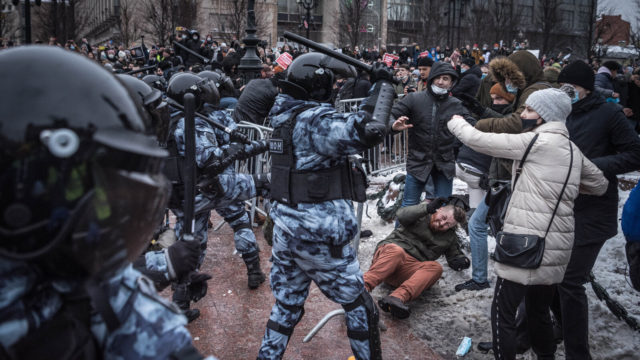 The complexity of the extraordinary crisis inherited by the United States' new presidential administration is apparent for all its international partners and opponents, so most presume Washington will remain largely preoccupied with domestic affairs for the foreseeable future. Nonetheless, US allies are hopeful that Washington will emerge from this situation more committed to strengthening the ties of friendship, while China opted for signaling its expectations for a new start by sanctioning a score of officials from Donald Trump's administration, including former Secretary of State Michael Pompeo (Nezavisimaya Gazeta, January 21, 2021). Only North Korea decided to heighten its defiance by reaffirming the resolution to deploy nuclear capabilities and staging a military parade with new missiles on display (Carnegie.ru, January 14, 2021). Russia has, so far, maintained the basic decorum of diplomatic correctness, but the opening of a new parliamentary session of the State Duma (lower chamber of the legislature) saw more fierce condemnations of US policies than sober reckonings with the sad state of Russia's domestic situation (Znak.com, January 19, 2021).
The transfer of power in the US attracted much attention in Russia, and one mass-circulation newspaper even printed the translation of the whole inaugural speech of President Joseph Biden (Kommersant, January 21, 2021). The tone of the official propaganda, however, has been derogatory and sarcastic; and many Moscow experts are inclined to find in the presumed deep crisis of US governance opportunities for Russia to boost its international impact (Russiancouncil.ru, January 18, 2021). The Kremlin needs to grasp these opportunities without delay and start testing the resolve of Biden's team to further contain Russia, they argue. Yet the reasons for this haste go deeper than just bitter regrets about the departure of twice-impeached President Trump (Novaya Gazeta, January 21, 2021; see EDM, January 7, 2021).
Russia's window for action is closing quickly, commentators in Moscow warn, as the Biden administration moves to restore confidence in relations with key allies. This new course promises not only to consolidate transatlantic solidarity but could also lay the groundwork for a joint Western response to Russia's recent international transgressions, such as the deep-penetration cyberattack on the US government late last year. In response, Moscow had planned to open its traditional arms control bargaining-bazaar as means for countering the pressure; so it was quite surprised by Washington's swift decision on the key issue of preserving the New START treaty (Rossiiskaya Gazeta, January 20, 2021). President Vladimir Putin had indicated uncharacteristic flexibility about extending the strategic arms control document for one year and accepting the condition of not increasing the number of nuclear warheads. As such, the Kremlin was taken aback by the US choice to prolong this key agreement for five years with no new conditions (Izvestia, January 22, 2021). Instead of accepting Putin's unverifiable promises and engaging in the usual trade-offs, the Biden administration has firmly closed the arms control file and can now proceed with trying to design an effective and comprehensive Russia deterrence policy (Kommersant, January 22, 2021).
The main reason compelling the Kremlin to proactively test the US is, nevertheless, domestic. It is driven by the fear of an explosion of long-accumulated anger in Russian society, triggered most immediately by the unexpected return of Alexei Navalny (see EDM, January 19, 2021), which sparked vitriolic outbursts in the State Duma about purported Western interference (Ezhednevny Zhurnal, January 21, 2021). Navalny has shown courage beyond comprehension for Putin's corrupt elites and seized control of the political agenda by challenging the omnipotent siloviki (security services) to make him a political prisoner of unprecedented profile and influence (MBK Media, January 21, 2021). They duly obliged but failed to silence him, and his team released a long documentary on a secret palace built for Putin near the Black Sea resort of Gelendzhik (Navalny.com, January 19, 2021). This strike made Navalny's case not only intensely personal for Russia's autocrat but also massively impactful on Russia's public opinion. Though Russians were not necessarily shocked by the highlighted scale of the Kremlin leader's corruption, the footage was certainly astonishing in showcasing the vulgar ostentatiousness of the vacant palace (Republic.ru, January 22, 2021).
Navalny's "have-no-fear" message is buttressed by the widespread online ridicule that his exposé has inspired: the video has garnered over 50 million viewings and countless posts poking fun at the secret pseudo-luxury that Putin can never be seen enjoying (Rosbalt, January 19, 2021). And last Saturday (January 23), Navalny's team succeeded in orchestrating mass street protests in many Russian regions that defied heavy warnings from the authorities particularly targeting the parents of the increasingly anti-Putin younger generation (Newsru.com, January 22, 2021). Seeking to re-instill habitual fear, police and special forces detained thousands of peaceful protesters, and the US State Department duly condemned this brutality. But Putin needs a response that can reconfirm his ability to challenge the renewed US intentions to uphold democratic standards around the world (RIA Novosti, January 23, 2021).
His options are limited, and Putin will most probably look for openings in the Middle East that might allow for a low-cost and high-impact counter-strike. Moscow is ambivalent about the normalization of relations between Saudi Arabia and Qatar, as well as about Israel's reconciliation with the United Arab Emirates and other Arab states, because every conflict resolution reduces Russia's space for maneuver (Nezavisimaya Gazeta, January 21, 2021). And although these diplomatic shifts continue to consolidate a regional anti-Iranian coalition, Russia has been cautions not to oppose this process, particularly in its oil-sensitive communications with Saudi Arabia (Kommersant, January 15, 2021). Moscow might, nevertheless, try to preemptively upset the delicate decision-making in the Biden administration regarding the reconstitution of the nuclear deal with Iran—for instance, by engaging with the infamous Islamic Revolutionary Guards Corps (Russiancouncil.ru, January 6, 2021). Of course, Syria remains Russia's theater of choice, and executing "hybrid" attacks (involving Wagner Group mercenaries and/or pro-Iranian militias) on US forces remaining in the Kurdish-controlled territories east of the Euphrates River could hit a vulnerable spot in the US posture (Russiancouncil.ru, December 14, 2021).
The massive pro-Navalny rallies have again sharply exposed the weakness of the corrupt autocratic regime in Russia, so Putin cannot allow the new US administration to exploit the public discontent. He also, however, cannot take the loyalty of various Russian elites for granted: many of them are disappointed in his slackening grasp on power and irritated by sanctions. The Kremlin leader, thus, has to prove not only his resolve to suppress street protests but also readiness to confront Russia's archrival in the disarrayed geopolitical arena. Irritation and fear may push him to abandon caution, particularly as reduced access to information amidst Putin's continuing self-isolation hamper his ability to properly calculate risks and benefits. "Ready from day one" is the usual promise in US election campaigns, but Biden's national security team faces real readiness tests from a disconcerted Putin.