Kremlin Puzzled by Atambayev's Erratic Behavior
Publication: Eurasia Daily Monitor Volume: 9 Issue: 61
By: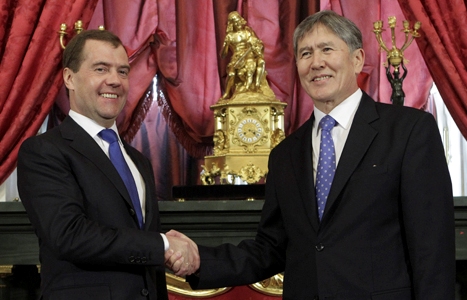 Within his first 100 days as President, Almazbek Atambayev has made a series of provocative statements regarding the status of both the Russian and US airbases in Kyrgyzstan. Russian media reported that Kremlin officials are frustrated by the President's statements and have every reason to believe that Atambayev will choose cooperation with Washington over Moscow (www.itar-tass.com, March 22).
In his interview last month with the newspaper Kommersant, Atambayev bluntly said that he sees no point in maintaining Russia's airbase in Kant (February 27). "And what does the base do? So it has been there for five years. What did it do for Kyrgyzstan?" the president asked. Atambayev complained that no Kyrgyz pilot received training at the airbase as promised earlier by the Kremlin, and Kyrgyzstan is still waiting for Moscow to pay $15 million in rents for the past four years.
The Russian Foreign Affairs Ministry argued that Atambayev "mixed everything up" and that the $15 million payment is to be paid for the use of a torpedo producing plant in Issyk-Kul, not the Kant airbase (www.kloop.kg, March 1). Atambayev was warned by an unnamed Kremlin official not to look for enemies among friends, but to focus on poverty issues in his own country instead (www.ria.ru, March 1).
A few days later, Russia's Federal Migration Service announced the decision to cancel the simplified citizenship agreement with Kyrgyzstan. Bishkek denies that the decision is related to Atambayev's visit to Moscow (www.24.kg, March 13). Regardless of the reason for the denunciation of the agreement, it undermines Atambayev's popularity among the Kyrgyz diaspora in Russia.
Balancing between Russia and United States has never been easy for Kyrgyzstan's leaders. Of all four Kyrgyz presidents to date, ousted president Kurmanbek Bakiyev had the bitterest experience in trying to reap the best possible revenues from both the US and Russian military presence. After announcing that he would close the US base in early 2009, he received a $2 billion credit from Russia. Bakiyev soon changed his mind. In return, the Kremlin-controlled Russian media avalanched Bakiyev with negative coverage, considerably damaging his image at home.
Atambayev's foreign policy to date has been erratic, probably catching the Kremlin by surprise. Importantly, however, most statements on the Kremlin's concern with Atambayev's assertive stance regarding Russia were voiced by unnamed sources. This indicates that Moscow might be genuinely surprised by Atambayev's unpredictable behavior, but still sees him as a reliable long-term partner. Negative coverage of Atambayev by some Russian media serves more as a caution to the president to use friendly language when talking about Russia in public.
Atambayev's assertiveness toward Russia is supplemented by his uncompromising position toward the US Transit Center at the Manas airport in Bishkek. Last month he speculated that if the United States were to attack Iran from the Manas base, Iran might become a threat to Kyrgyzstan (www.rbc.ru, February 25). On a number of occasions the president confirmed that US military presence must end after the contract expires in 2014.
Yet, behind Atambayev's posturing is his effort to position himself as a sovereign leader who cultivates national pride independent of international pressures. The President's foreign policy statements are mostly designed for a domestic audience. Atambayev is trying to please both camps – those who want to see the United States leave Manas airport and those who think Kyrgyzstan has been overly dependent on Russia. Inside Kyrgyzstan, the President faces opposition forces that rely mostly on ethno-centric nationalist rhetoric to gain popularity.
Russia's dissatisfaction with Atambayev might be growing, but it is unlikely to be as destructive to his presidency as it was once to Bakiyev's. Atambayev has always leaned toward closer integration with Russia and he is cognizant of the toxic effect that the Russian media can have on his presidency.
Furthermore, there is enough reason to assume that Atambayev and top-ranking government officials are interested in retaining the US base intact beyond 2014. In 2011, US rents contributed $60 million to Kyrgyzstan's state budget, making up almost half of all contribution. Furthermore, the Center spent over $150 million on purchasing various goods and services from 60 local contractors (http://www.ons.kg/index.php?kg=ons&id=47). Most of these contractors either hold public offices or are closely related to the government.
The US base's post-2014 presence in Kyrgyzstan will largely depend on Russian-US relations and cooperation around Afghanistan. Last week, Russian Foreign Minister Sergei Lavrov said that Moscow is interested in having NATO remain in Afghanistan beyond 2014 (The Hindu, March 19). Should this rhetoric prevail, Atambayev is likely to tone down his aggressive rhetoric against both the Russian and US foreign military presence.