The Kremlin Strategy in Baikonur: Putting Kazakhstan's Space Program in a Box?
Publication: Eurasia Daily Monitor Volume: 15 Issue: 48
By: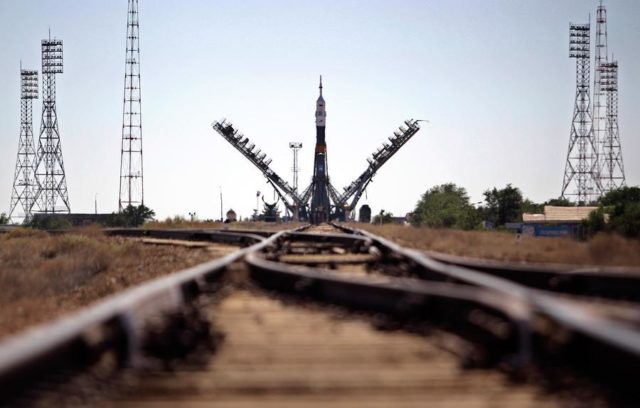 Russia has pledged to transfer 44.8 square miles of Baikonur Cosmodrome territory and two Zenit-M rocket launch platforms to Kazakhstan by the end of May 2018 (Izvestia, March 1). This became possible thanks to the recent amendments to the lease agreement between the two countries, which was concluded this March, following years of negotiations. Several important conclusions can be drawn from this development.
Baikonur is of particular importance both to Russia and Kazakhstan. The latter has set ambitious goals to become a space power by the end of May 2018 (Abctv.kz, March 2). Although Kazakhstan is host to the world's largest cosmodrome, until now the country has never possessed its own space launch infrastructure as Baikonur has been leased entirely by Russia since the collapse of the Soviet Union. Russia will continue to lease Baikonur—minus the aforementioned transferred portions—for $115 million annually until 2050.
Even though the Kazakhstani government has high expectations regarding the country's space capabilities, the specific impact and benefits are more difficult to gauge at this point. Nonetheless, Kazakhstan's recently established Ministry of Defense and Aerospace Industry is working to outline Kazakhstan's strategic interests and goals in the space domain.
Kazakhstani-Russian cooperation on Baikonur has long been problematic. For instance, in early 2004, Presidents Vladimir Putin and Nursultan Nazarbayev agreed to start the Baiterek project that would result in the construction of a joint space launch complex for the Angara rocket (365info.kz, December 14, 2016). But financial disagreements and multiple delays eventually made this joint project impossible to implement. Other bilateral disputes related to Russia's space program activities on Kazakhstani soil include environmental, health and tax issues (see EDM, June 10, 2015; June 21, 2017).
Currently, the division of labor between Kazakhstan and Russia at Baikonur looks quite peculiar. On the one hand, the Kazakhstani government will now possess its own launch platforms. But in reality, the only opportunity for the country to use this Zenit-M ground infrastructure will be to participate in joint projects with Russia, which owns and operates the actual rockets for these launch complexes (Tengrinews.kz, March 2). Specifically, these facilities will be used to launch the new Russian Soyuz-5 rockets. Thus, two countries agreed that Russia plans to develop the Soyuz-5 and Kazakhstan will be in charge of modernizing the older Zenit rockets. The feasibility study of upgrading the infrastructure at Baikonur is still ongoing. But according to estimates, the modernization of the Zenit launch pads will cost the Kazakhstani budget approximately $245 million (24.kz, September 14, 2017).
The idea for the new Soyuz-5 was born out of Russia's need to pursue an import-substitution strategy as a result of Western sanctions and Russian counter-sanctions following the Kremlin's aggression against Ukraine in 2014. The newly developed rocket will reportedly be built using entirely domestically produced Russian components—in comparison with 80 percent Russian-made elements in earlier rocket models. The first test launch of the Soyuz-5 from Baikonur is scheduled for 2022. The rocket will carry Russia's new manned Federation spacecraft (Abctv.kz, March 2).
Meanwhile, Kazakhstan plans to establish a spacecraft installation and test complex at the National Space Center by the end of 2018 (Kazinform.kz, February 25). More interestingly, the lessons of the failed Angara rocket cooperation will not prevent Kazakhstan from seeking to participate in future joint projects with Russia, including the super-heavy Phoenix carrier rocket, which will reportedly be flight tested starting in 2035 (TASS, March 31, 2017).
Progressively, Russia seeks to relocate its main space fleets to domestically located cosmodromes. The Russians currently working at the Zenit launch facilities that are being transferred to Kazakahstan, will be able to continue to work at the joint Baiterek facilities once they are complete, move to other Baikonur facilities still under lease by Moscow, or to Vostochny, in the Russian Far East. By 2020, the Russian space agency Roscosmos plans to decrease Baikonur's share of Russia's space launches from 65 percent to 11 percent, while increasing the capacity at Vostochny and the Plesetsk cosmodrome, in Arkhangelsk oblast.
To date, over a three-year period, there have only been three rocket launches from Vostochny, including one that failed to reach orbit (Lenta.ru, November 28, 2017; Roscosmos.ru, February 1, 2018) With such a weak record, Vostochny is unlikely to substitute for Baikonur's existing infrastructure for years to come. Therefore, the Russian space program will need to continue to rely on its space launch infrastructure on Kazakhstani territory for the foreseeable future.
Russia's upcoming transfer of certain Baikonur launch facilities to Kazakhstan will make the two countries' space programs even more dependent on each other. It is obvious that Russia will not leave Baikonur until 2050. Whereas, the Kazakhstani government hopes to complete Baiterek and establish its own space industry. But Astana's current strategy means that even if rockets are soon launched from Kazakhstani-owned launch pads, those rockets will be Russian.