KREMLIN SUGGESTS EXILED OLIGARCHS KILLED POLITKOVSKAYA TO EMBARRASS MOSCOW
Publication: Eurasia Daily Monitor Volume: 3 Issue: 187
By: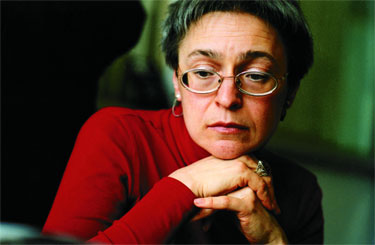 Yesterday, October 10, Anna Politkovskaya, the 48-year-old star investigative reporter of the Novaya gazeta newspaper, was buried in Moscow. Politkovskaya was gunned down near her apartment building Saturday in an apparent contract killing.
The funeral and public mourning was held at a small cemetery on the outskirts of Moscow. Some of the mourners told me that it took them over three hours to reach the cemetery from the center of town and hours more to queue in line in the rain to reach Politkovskaya's coffin for a brief glimpse of the body.
The police were not in a cooperative mood yesterday: They closed down nearby roads to taxis and private cars. OMON riot police were deployed to keep many of the mourners out of the overcrowded funeral hall.
Usually when well-known persons die in Moscow, the public mourning ceremony is held in some hall in the center of the city. Afterwards the body is taken to a cemetery, where the family and close friends attend the actual burial in private. But according to Novaya gazeta editor-in-chief Dmitry Muradov, Politkovskaya's relatives and family members deliberately requested that the entire ceremony be held in a remote place to limit the presence of the general public.
Nevertheless several thousand men and woman gathered: journalists, Western ambassadors, several liberal opposition politicians, fellow reporters from Novaya gazeta, and many members of the general public, despite the hazards they had to overcome to attend. However, there was one glaring absence: there was no prominent member of the Kremlin staff or government present, no person acting as President Vladimir Putin's official representative to offer condolences or lay a wreath.
In the opinion of the staff of Novaya gazeta, of which I am a member, the prime suspect in the murder of Politkovskaya is the pro-Moscow Chechen strongman and prime minister, Ramzan Kadyrov, who turned 30 last week. Recently Politkovskaya had published and was preparing to publish more material accusing Kadyrov and his private army of thugs, known as kadyrovtsi, of massive human rights violations, kidnappings, and torture of suspects. Politkovskaya claimed she had additional evidence — photos and video footage — that apparently implicated Kadyrov personally (RFE/RL, "Anna Politkovskaya Last Interview," October 5).
Kadyrov has denied any involvement in the killing of Politkovskaya, and the Kremlin-controlled media swiftly moved in to whitewash his record. Izvestiya newspaper (October 9) rejected the "superficial theory" of Kadyrov's implication in the murder "as the least likely," because "for Kadyrov and the authorities as a whole Politkovskaya's death is a far bigger problem than what she published."
Unnamed "experts and observers," as quoted in Lenta.ru (October 9), argued that "Kadyrov is not an idiot" to contract the murder of a reporter that criticized him and that the Kremlin did not need to silence Politkovskaya, "because Novaya gazeta is constantly losing its distribution." (In fact, in the last three years Novaya gazeta's circulation levels have been steadily rising — from 130,000 copies to 170,000 — a 30% increase.)
Izvestiya and Lenta.ru also pointed out that the true villains in Politkovskaya case are the foreign enemies of Russia, who organized the crime to tarnish the image of Putin and the state. It soon became evident that these speculations were inspired directly by the Kremlin.
Yesterday, October 10, Putin, speaking at a press conference in Germany, barked out in an openly irritated manner his opinion of Politkovskaya and the crime. After calling "the murder of a woman and a mother an ugly crime" and promising that the "perpetrator will be punished," Putin declared, "I cannot imagine that any Chechen official could have been involved" (RIA-Novosti, Rossiya TV, October 10). Putin continued: "Everyone in Russia knew that Politkovskaya's influence was extremely insignificant," that "she was well-known only in the West," and that "this murder was aimed against Russia and the acting authorities."
Putin continued: "We have solid evidence that persons hiding from our justice system have long been planning to 'sacrifice' someone to create a wave of anti-Russian sentiment internationally" (Rossiya TV, October 10). Only one day earlier, Izvestiya (October 9) had disclosed the exact identity of these alleged perpetrators of Politkovskaya's murder: former oligarchs Leonid Nevzlin and Boris Berezovsky, now both exiled abroad. The newspaper implies that the theory of their involvement in the murder "seems crazy." However, "it cannot be ruled out."
Today its impossible to know for sure if Putin was involved in the death of Politkovskaya, did he personally approve the murder. But it seems evident that Putin is deeply involved in a post-crime cover-up by publicly whitewashing the prime suspect — Kadyrov — and, without any tangible evidence, implicating exiles that are his political opponents.
The tactic of falsely accusing the Kremlin's political antagonists of murdering other less fortunate opponents was often employed by the Russian secret police during Stalin's rule to organize show trials and justify political repression. Today in Russia everything bad that happens in the land is blamed on "the Georgians." Perhaps evidence will soon appear that Politkovskaya was murdered by a team of Georgian assassins, hired by the wretched exiled oligarchy?