KYRGYZ ACTING PRESIDENT OUTLINES REFORM PLANS
Publication: Eurasia Daily Monitor Volume: 2 Issue: 87
By: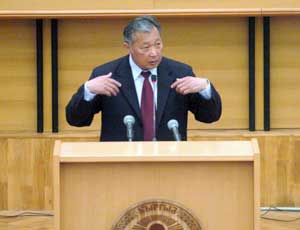 Addressing the country on television on April 30, Kyrgyzstan's acting president, Kurmanbek Bakiyev, outlined a comprehensive program of constitutional and political changes to be achieved in the short and medium terms. He spoke of a transitional period of several years during which the country must resolve four main tasks: rebuild the structure of political power, "dismantle" official corruption, create favorable conditions for economic growth, and promote a generational turnover in the country's elite.
Under the first heading, Bakiyev called for development of a full-fledged multi-party system and new electoral legislation, so as to enable a strong multi-party parliament to act as a check on the executive branch of government. Although he stopped short of advancing specific suggestions ("I am not prepared to guess how this would be done"), Bakiyev underscored the concept of accountability of the executive branch and of the administration to the parliament. He called for separation of the political and the administrative functions of state bodies and for the "huge state machinery to be reduced."
Referring to the Kyrgyz state in its present form as "the first to violate human rights," Bakiyev enumerated "the oppressed entrepreneur, the robbed and humiliated migrant laborer, the starving child who cannot get an education." He called for the state to turn into a protector of human rights by reforming the judiciary and guaranteeing freedom of information and speech. Bakiyev called for treating encroachments on freedom of information and speech as criminal offenses, with exceptions to be made only to protect national security or personal privacy, and for turning the state television agency into a public institution.
As part of the anti-corruption measures, Bakiyev urged the introduction of penalties, ranging from five-year suspension to imprisonment, for bribe-taking officials and those who obstruct business competition, particularly in the customs and tax authorities. "We should not live in a country of bribe-takers and corrupted people," he remonstrated. The law on the status of judges is to be amended so as to ensure the political and economic independence of judges, protect them against "a telephone call from the top or the power of someone's wallet," permit replacement of corrupt judges, and institute standards to certify the professional qualifications of all judges.
In what seems only a preliminary outline of an economic reform strategy, Bakiyev recommended turning Kyrgyzstan into a transit country by investing in east-west and north-south roads and air routes, by capitalizing on the country's hydroelectric-power potential, and by "firmly ensuring the observance of ownership rights, security of property, and the personal security [of businessmen]." He pledged that there would be no reprivatization and announced that a special commission consisting of government representatives, legislators, and business representatives would draft a new tax code that would stimulate investment and ensure stable rules of the game.
Alluding to the need to rejuvenate Kyrgyzstan's Soviet-era holdover elite cadres, Bakiyev urged "bringing a new generation of young leaders and politicians into the sphere of [state] administration" and in private-sector management posts. In a related context he called for instituting a permanent dialogue between state bodies and civil society groups, who are to make proposals to government authorities and receive answers from them.
The address was notably brief regarding his intentions in foreign policy. Postulating that maintaining good relations with neighboring countries is the top priority, Bakiyev named no country [though Russia is understood to count as a neighboring country implicitly]. With this he departed from former president Askar Akayev's and his officials' practice of naming Russia, the United States, and China as the main partners of Kyrgyzstan. According to Bakiyev, however, "Debts and aid do not give the right to dictate from outside, because debt is [to be] paid, and aid can only be aid when it is genuine" — remarks that seem obliquely addressed to Russia and the United States, respectively.
(Kyrgyz Television Channel One, April 30)