Kyrgyz and Tajik Migrants in Moscow Speak Out
Publication: Eurasia Daily Monitor Volume: 9 Issue: 19
By: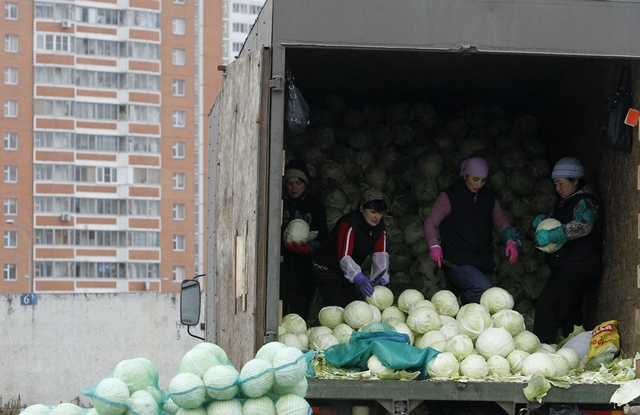 On January 16, labor migrants from Kyrgyzstan, Tajikistan and other countries joined an anti-fascist rally in Moscow to commemorate the memory of the slain human rights activists Stanislav Markelov and Anastasiya Baburova. Both fought against racial and national discrimination, and were killed three years ago by an unknown gunman (https://kloop.kg, January 20). This event is significant for two reasons.
First, labor migrants from Central Asia have so far abstained from participating in political gatherings. Initially, roughly 200 migrants expressed their interest in participating in the rally, but only half did so. Despite fully supporting the anti-fascist movement, many worried about their personal safety. Fearing possible attacks from fascist movements after the rally, the migrants, as well as the organizers of the rally, had to hide their faces with black masks.
Moreover, these individuals marched along with Russia's prominent opposition leaders, including Boris Nemtsov, Sergey Udaltsov, Grigory Yavlinsky, Sergey Mitrokhin and others. The "January 19 Committee," the rally's main organizer, welcomed the labor migrants and their activists joining the event. Although this Moscow anti-fascist rally is held regularly, this year it attracted 2,000 people – a record number of participants to date. Some of the rally's most common slogans included: "Anti-fascism is not a crime," "Democracy and Nazism are incompatible," and "Russia is for all, except Nazis" (Jamestown's observation at the rally).
According to Konstantin Romodanovsky, the Director of the Russian Federal Migration Service, in 2011, roughly 9.1 million foreigners arrived to work in Russia, but only 2 million migrants received work permits and patents. Central Asians make up roughly one-third of all labor migrants working in Russia, including roughly one million Tajiks, two million Uzbeks, and over 500,000 migrants from Kyrgyzstan. Of the total 3.5 million Central Asians in Russia, the vast majority lack any legal status (www.profile.ru/, December 19, 2011).
Tajikistan is the world's leader in the amount of remittances sent by its labor migrants in proportion to the country's GDP. Last year Tajik migrants sent roughly $3 billion home, making up over half of Tajikistan's $5.6 billion GDP. Meanwhile, Kyrgyzstan's labor migrants, sent home more than $1.2 billion in 2010 (www.ria.ru, January 19). The bulk of these remittances came from Russia.
Hundreds of Tajiks and Kyrgyz (along with labor migrants from other former Soviet states) die in Russia every year, mostly due to hazardous working conditions, health problems and attacks from neo-nationalists movements. According to some estimates, one in every one thousand migrants is in danger of dying in these ways; reportedly, over 600 Tajik citizens died in Russia last year (https://goo.gl/2dWak).
The Russian Information and Analytical Center "SOVA," reported that in 2011, twenty people were killed and at least 130 were injured as a result of racist and neo-Nazi attacks in Russia. Moscow and St. Petersburg, with the largest migrant population, are also the most dangerous cities for foreign workers. Most victims of these attacks are Central Asians, with ten dead and 24 wounded last year (https://www.sova-center.ru/racism-xenophobia/publications/2011/12/d23370/). However, only severe cases of hate crimes are reported, including murders, stabbings, or severe injuries. Most other cases go unrecorded because the migrants lack legal status or are afraid of complaining to authorities.
Dissatisfaction among migrant communities is growing, but very few try to organize collective action to protect their own rights. Some migrants who dared to join the opposition rally, work 12-15 hours per day and share single-room apartments with 30 or more people. Their daily food ration consists mostly of instant noodles. Human rights organizations like "SOVA" are the main and only outlets to engage in migrant workers' problems. Diaspora groups often fear voicing dissatisfaction with the Kremlin's migration policies. Some migrants find comfort in following dubious religious leaders. Meanwhile, Kyrgyzstan and Tajikistan do little to help their own citizens find work at home.
Despite the fact that the Russian labor market increasingly needs a foreign workforce, the Russian government continues to set low quotas for labor migrants, thus forcing most of them to reside as illegals. Anti-nationalist and anti-fascist voices gather modest numbers of followers in Russia compared to nationalist protests rallying against foreign workers. The most recent one in Moscow, in October 2011, attracted 10,000 supporters, including members of the liberal opposition.
Responding to the popular anti-immigration mood in the country, the Russian Prime Minister and presidential candidate, Vladimir Putin, has suggested criminalizing the illegal status of the labor migrants. In his latest piece in Novaya Gazeta, Putin argues that labor migrants bring "aggression" and "inadequate behavior" to Russia and deserve "tough" treatment (Novaya Gazeta, January 23).