Post-Election Crackdown in Kazakhstan on Government Critics and the Media
Publication: Eurasia Daily Monitor Volume: 9 Issue: 19
By: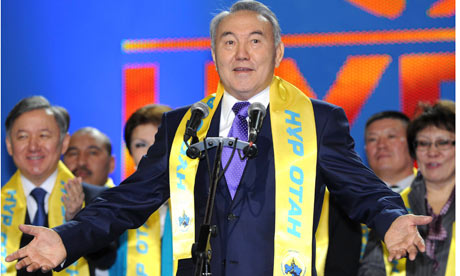 After years of concerted efforts by the Kazakh authorities and hired foreign public relations firms to burnish Kazakhstan's international profile, the long nourished and cherished image of an open and modern country was brought down like a house of cards over the past month. Firstly, clashes between laid-off oil workers and security forces in western Kazakhstan on December 16-17 left at least 16 people dead when police used live rounds, and over 100 people were injured. A state of emergency imposed by President Nursultan Nazarbayev on the town of Zhanaozen continues to be in force until the end of January.
Secondly, parliamentary elections on January 15 were, once again, assessed as not meeting fundamental principles of democratic elections by the Organization for Security and Co-operation in Europe (OSCE). Kazakhstan was chairman of the OSCE in 2010 and had made changes to the election law the year before to show progress toward democracy. "We expected better," said Joao Soares, special coordinator of the OSCE's short-term observer mission (OSCE Observation Statement, January 16).
Nazarbayev's Nur Otan (Fatherland) party won a by a landslide with 81 percent of the votes. It was joined in the new Mazhilis (lower house) by two other parties, the pro-business Ak Zhol party and the Communist People's Party, both viewed as sympathetic to the president, which scored more than 7 percent each. New legislation had ensured seats for the second-placed party regardless of whether it had passed the 7 percent entry threshold. Kazakhstan's parliament thus became nominally multi-party again, after an embarrassing almost five years of Nur Otan's one-party rule.
Thirdly, a crackdown on government critics since last Monday, on the heels of the new parliament's first session and a limited government reshuffle, has led to wide international condemnation by human rights organizations, including New York-based Human Rights Watch and Washington-based Freedom House. On January 23, authorities raided the offices of the unregistered political party Alga (Forward), believed to be bankrolled by Nazarbayev's foe-in-exile, Mukhtar Ablyazov, and the homes of several party officials. Its party leader Vladimir Kozlov was arrested on charges of "inciting social discord." Igor Vinyavsky, editor-in-chief of the opposition newspaper Vzglyad (Glance), was detained on charges of "calling for the forcible overthrow of the constitutional order using mass media." Two other activists, Zhanbolat Mamai of the youth opposition group Rukh Pen Til, and well-known theater director, Bulat Atabayev, were questioned and ordered not to leave Almaty, the commercial capital. These developments have taken many by surprise, both inside and outside Kazakhstan. While the timing may at first seem odd, it has not been a coincidence. With the election wrapped up, international observers returning home, and a new government in place, it was high time for the authorities to look inward. However, by acting so harshly and inappropriately, the authorities are not getting to the root of the problems at Zhanaozen, but are creating new ones (Human Rights Watch, January 25; conversations with activists).
"The authorities pledged a thorough and transparent investigation into the Zhanaozen violence, but these targeted searches and arrests of opposition activists suggest that the government is simply trying to silence its critics," said Hugh Williamson, Europe and Central Asia director at Human Rights Watch. "The Kazakhstan authorities' actions will taint the investigation. A genuinely pluralistic and rights-abiding government tolerates dissent, does not quash it" (Human Rights Watch, January 25).
As a result, government critics speak of repressions and the onset of a totalitarian police state. However, activist Mukhtar Taizhan, head of the Bolatkhan Taizhan Foundation, sees not only the authorities, but also society and particularly Kazakhstan's intelligentsia at fault for not speaking out (Respublika, January 26).
What exactly triggered the violence in Zhanaozen remains uncertain. According to Kazakhstan's procurator general's office, a group of previously fired oil workers of the OzenMunaiGaz production company started mass insurgencies with hooligan youngsters leading to violence against civilians and police officers. In total, 125 facilities were set on fire, damaged and looted, including the offices of the mayors of Zhanaozen and the village of Tenge, a hotel, shopping centers, banks, ATM machines, cars and buildings. Four senior police officers will be charged for using excessive force against rioters in Zhanaozen. One of them will be sued for dereliction of duty and three will stand trial for abuse of power. Some observers wonder whether the laid-off oil workers may not have been instigated by someone involved in the ongoing internal power struggle that has been raging since Nazarbayev was rumored to be ill last year.
The authorities are beginning to radicalize the opposition through their actions, says opposition politician Pyotr Svoik from the All-National Social Democratic Party (OSDP) (conversation with the author, January 27). There are many unresolved issues in the country. Infighting between the various regional clans is pulling the authorities in different directions, which also has an impact on the selection of an eventual successor to the 71-year-old Nazarbayev.
OSDP is planning to hold a demonstration on January 28 in the center of Almaty to protest against the election results and what they call the political repression against opposition leaders following the election. "This is above all a wakeup call," said OSDP co-chairman Zharmakhan Tuyakbai. "Any person should think about where this country is heading" (press conference, January 27).
It is impossible for the authorities governing today to reform themselves, he said. That is why OSDP is calling on all parties, non-governmental organizations, and people with common sense to sit down together for a kurultai (council meeting) to discuss how to reform the authorities and devise a new constitution.