KYRGYZ GOVERNMENT RISKS RELATIONS WITH U.S. BEFORE G-8 SUMMIT
Publication: Eurasia Daily Monitor Volume: 3 Issue: 135
By: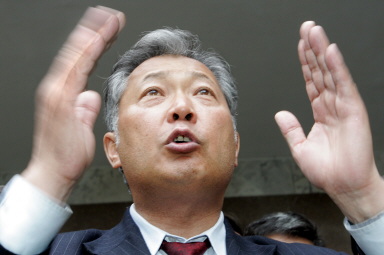 On Monday, July 10, the Kyrgyz Ministry of Foreign Affairs threatened to expel two U.S. diplomats for allegedly interfering in Kyrgyzstan's internal affairs and having inappropriate contacts with local non-governmental organizations.
According to the Ministry, the allegations are based on facts acquired by the Kyrgyz special services (Obshchestvenny reiting, July 12). The Ministry has classified the diplomats as "undesired" on Kyrgyz territory. The Ministry referred to the Vienna Convention on Diplomatic Relations stating that the diplomats' "repeated involvement into the internal affairs of the state is irreconcilable with a diplomatic status and the avowed norms of international law" (Akipress, July 12). The ministry is not announcing the diplomats' names, but they are known to Kyrgyz NGOs.
On July 11, the U.S. Embassy in Bishkek released an official press statement, commenting, "Allegations that these official representatives have engaged in inappropriate activities are simply not true. Such allegations are clearly in the interest of those who would wish to harm relations between the Kyrgyz Republic and the United States" (kyrgyz.embassy.gov). The embassy also expressed its concerns about endangered freedom of speech in Kyrgyzstan.
A number of Kyrgyz and international mass media outlets interpreted the Kyrgyz government's decision to expel the two U.S. diplomats as mere window dressing prior to the G-8 summit in St. Petersburg this weekend. Accordingly, the act conveyed a symbolic meaning rather than qualifying as an infringement on the freedom of speech. It is unlikely that expelling two U.S. envoys will limit the activities of Kyrgyz NGOs. Today, most of the Kyrgyz NGOs with pro-Western orientations have already formed powerful networks that can mobilize internally to voice critiques of government policies.
Expelling U.S. diplomats is unprecedented in Kyrgyzstan, yet follows a general trend in which President Kurmanbek Bakiyev puts efforts to build ties with Moscow ahead of maintaining cordial relations with Washington. This April Bakiyev took a stand against the U.S. military presence in Kyrgyzstan before embarking on an official visit to Russia (see EDM, April 25). Although Bakiyev's April meeting with Russian President Vladimir Putin was brief, Kyrgyz-U.S. relations were considerably shaken after the Kyrgyz government requested a huge increase in U.S. payments to lease its military base in Bishkek, the Kyrgyz capital. Likewise, following the Shanghai Cooperation Organization meeting on July 5, 2005, Bakiyev then interim president of the country, asked for a deadline to be established regarding the U.S. military presence in Kyrgyzstan (see EDM, July 19, 2005).
Despite Kyrgyzstan's July 2005 and April 2006 objections to the U.S. military presence, Washington was able to retain its status in the country. However, Kyrgyzstan's political image had been tarnished. The current Kyrgyz government, which formed after the March 24, 2005, Tulip Revolution, has not been able to maintain a functional balance among U.S., Russian, and Chinese interests in the country. Kyrgyz Minister of Foreign Affairs Alikbek Jekshenkulov had been part of a more balanced policy during the reign of President Askar Akayev. As a Deputy Minister of Foreign Affairs in Akayev's government, Jekshenkulov participated in numerous U.S.-Kyrgyz negotiations regarding bilateral relations. Nevertheless, he followed Bakiyev's tactical shift and began making demands regarding the U.S. presence in Kyrgyzstan. Several other current government members who had previously supported a balanced foreign policy have also changed their views on the subject.
A considerable portion of the Kyrgyz public favors improving Russian-Kyrgyz relations. Most Kyrgyz receive news reports through Russian mass media outlets, which consequently retain a significant impact on the formation of Kyrgyz public opinion about world politics. Since the March 24 Revolution, Russia has increased its economic presence in Kyrgyzstan's energy and industrial sectors. Yet, such economic involvement has negative repercussions. As one expert from a Russian NGO tells Jamestown, Russian business interests in the post-Soviet states drain local economies and lack long-term planning that would benefit local producers.
Meanwhile, the second round of U.S.-Kyrgyz negotiations on the status of the U.S. military base in Kyrgyzstan took place on July 12. The meeting was led by Kyrgyz Security Council Chair Miroslav Niyazov and U.S. Undersecretary of Defense Douglas Feith. Shortly after Kyrgyz Ministry of Foreign Affairs outlined its allegations regarding the U.S. envoys, U.S. Ambassador to Kyrgyzstan Marie Yovanovitch met with Niyazov. However, neither the results of their meeting nor the outcome of the U.S.-Kyrgyz negotiations have been made public.