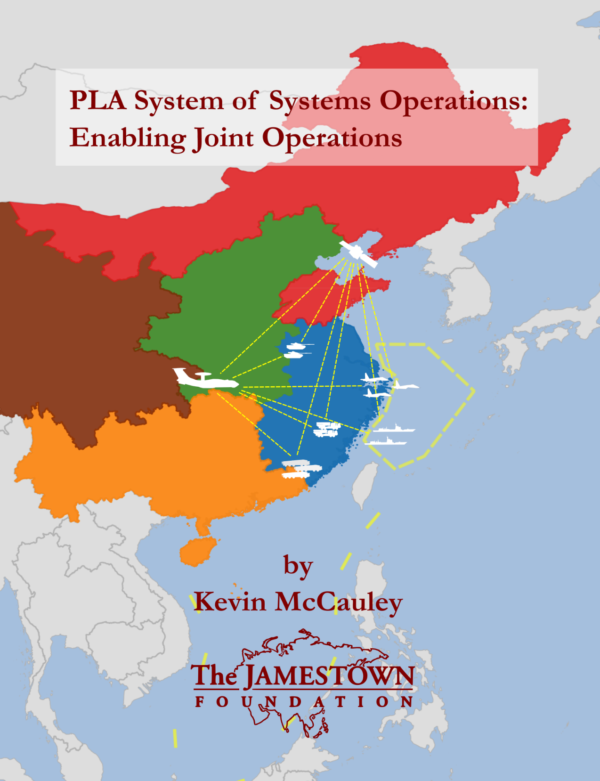 PLA System of Systems Operations: Enabling Joint Operations by Kevin McCauley
The People's Liberation Army (PLA) is undergoing a broad and deep transformation based on their analysis of the information technology-driven revolution in military affairs. The military reforms announced in November 2013 are intended to accelerate the long-term military modernization program that has been slowed by institutional inertia and obstruction. The current reforms specifically target operationalizing a joint operations doctrine through a joint command system, enhancing joint officer development, and improving joint training.  The theoretical development of integrated joint operations and system of systems operations represent two of the most important developments in the PLA. The foundation enabling integrated joint operations is what the PLA describes as a "system of systems" operational capability (体系作战能力). This capability will be based on an integrated C4ISR (command, control, communications, computers, intelligence, surveillance and reconnaissance) structure, that will link systems and forces to facilitate jointness and information sharing among the heretofore stove piped services. Successful implementation of these twin theories can significantly increase the PLA's warfighting capabilities, and are driving many of the PLA's modernization requirements. This report represents the most comprehensive study of the PLA's System of Systems operations and should lay the ground work for additional research as China attempts to build a networked, joint fighting force.
A digital copy is available for free download here. Hard copies may also be purchased for $20.00 + shipping.
About the Author
Kevin McCauley has spent the majority of his 30 plus year career in the U.S. Government as the Senior Intelligence Officer with the U.S. Army National Ground Intelligence Center (NGIC), VA. His work included numerous assessments supporting national decision makers, combatant commands, force and combat developers. He represented the U.S. Army at international conferences and on numerous Intelligence Community advisory boards and working groups supporting the National Intelligence Council (NIC), and U.S. Pacific Command (PACOM).
Prior to becoming SIO for China and Taiwan, Mr. McCauley was a senior analyst for the Soviet Union and then Russia. Mr. McCauley additionally headed a special analytic team during Operation DESERT SHIELD/DESERT STORM providing intelligence support to the U.S. Central Command (CENTCOM) and U.S. Army Central Command (ARCENT). Mr. McCauley's new book is titled, Russian Influence Campaigns against the West: From the Cold War to Putin.