Kyrgyz-Russian Relations Salvaged, As Gazprom Weighs Another Buyout
Publication: Eurasia Daily Monitor Volume: 9 Issue: 85
By: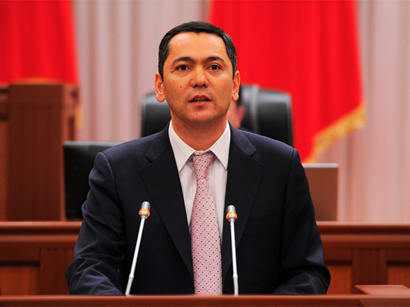 Kyrgyzstan President Almazbek Atambaev, in an interview with the Russian daily Kommersant on April 10, said that while some may want to drive a wedge between Russia and Kyrgyzstan, "this will be hard to do." Considering Atambayev's streak of bewildering statements on Russia, and Kyrgyzstan's policy over the last month, fallout appears to be becoming a permanent possibility.
In April, Kyrgyz authorities took the rather audacious step of laying a deadline before Russia to commit to a host of agreements, including a deal to swap shares in a torpedo factory for debt forgiveness, and an investment in Kyrgyzstan's long-faltering energy sector. Atambayev underlined the deadline with the dubious assertion that "all of these investments are attractive. And nowadays there are enough investors wishing to invest in Kyrgyzstan" (Kommersant, April 6).
Russia's response was not quite what Kyrgyzstan hoped for. Russian negotiators upped their demand for shares in Dastan, the torpedo factory, from 48 percent to 75 percent, plus a minor property in Bishkek, in exchange for a $180-million write-down. As for the long-sought investments in the Karambata-1 hydroelectric plant, Russian negotiators raised their demand from 50 percent to 75 percent, at least until the plant becomes profitable. Meanwhile, Inter RAO, the implementing company, is pushing to reduce the prospective plant's output by half. Russia cited equipment depreciation since negotiations began in 2009, and the absence of any Kyrgyz contribution to Karambata-1 short of the riverbank, as the reasoning behind its upward revisions.
Bishkek immediately dispatched a negotiating team to Moscow to try to resurrect the deals. Prime Minister and Atambayev ally, Omurbek Babanov, told Kommersant that the Karambata-1 deal might be salvaged if Russia committed to a firm timeline for building the plant, noting that Kyrgyzstan "cannot wait forever." Babanov rejected the Dastan offer, insisting that with new orders, the plant's value has only risen. Still, Russia's navy is Dastan's only major client, and Babanov admits it has no other suitors (Kommersant, April 10).
As tensions rose and the deadline approached, Kommersant reported that Moscow was considering using its leverage on fuel export tariffs to push Bishkek to an agreement. Russia's cancellation of duty-free exports of fuels to Kyrgyzstan just over two years ago hastened the downfall of then-President Kurmanbek Bakiev. Unnamed Kyrgyzstani officials threatened to annul some unspecified agreements with Moscow, while expressing confidence that the street would not rise against them this time (Kommersant, April 6). Then, Babanov told Russian media that the Russian government "was not fulfilling its obligations" on Karambata-1, and it appeared relations between the two nations were headed off the rails again (KNews, April 17).
Ten days later, word of a new deal to sell 75 percent of the Kyrgyzgaz state gas distribution monopoly to Gazprom signaled a reversal. Kyrgyzgaz would receive massive investment from Gazprom as part of the deal – as much as $500 million, according to Kyrgyzgaz Deputy Director Evgeny Orlenko. (KNews, April 27). Kyrgyzgaz's customer base has dropped over two decades to 300,000, far below its potential in a country of five million. Gazprom would also get production rights at a few minor gas deposits with the deal, which could go through as soon as late summer.
The deal makes little business sense for Gazprom, which for the Russian energy giant is nothing new. But a buyout could solve a number of problems for Kyrgyzstan. Gas shortages and cutoffs in the country's isolated regions have long been a political liability for the sitting government in Bishkek. Kyrgyzgaz has struggled even to secure gas from Kazakhstan and Uzbekistan to fill those few lines that still operate. Partnership with Gazprom could resolve both issues.
At the same time, state price controls on energy tariffs limit the potential profitability of any distributor, and attempts by the Bakiev regime to raise these tariffs also contributed to widespread discontent and his ouster. While Bishkek may be selling off a liability, it may also lose the ability to maintain its populist tariff policy.
On the same day, Kyrgyz officials announced that Russia would lock in duty-free deliveries of fuel to Kyrgyzstan for 2012. (Tazabek, April 27). The price stability afforded by the deal is an unqualified victory for the hard-pressed Kyrgyz leadership, though the time it buys is short; and as 2010 showed, the Kremlin reserves the right to cancel such deals when it sees fit.
In the longer term, the authorities in Bishkek may not be able to predict how Russian control of its gas sector will play in its own volatile street. Nationalism is on the rise, but Russia is by far the population's most trusted partner. Case in point, a recent study found that Kyrgyzstan's citizenry trusts Russian mass media more than their own (CA-News, May 2). Russian media refrained from unleashing its vitriol during this tense period, as when it condemned the Bakiev regime to collapse, but it remains unclear whether Kyrgyzstan's authorities have learned the lesson.