Kyrgyzstan Joins Russian-backed Customs Union
Publication: Eurasia Daily Monitor Volume: 8 Issue: 73
By: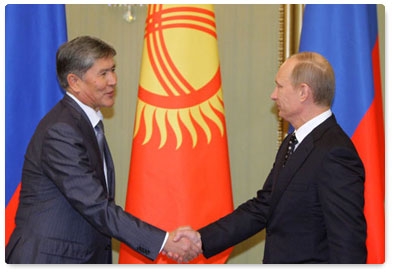 Kyrgyzstan's Prime Minister, Almazbek Atambayev, has announced that Kyrgyzstan will join the Russia-Belarus-Kazakhstan Customs Union. It is evident that this decision was political rather than based on economic priorities. Kyrgyzstan is the only Central Asian country with membership in the World Trade Organization (WTO), an international body that offers far greater access to global trade, compared to the Russian-led Customs Union. By joining the Customs Union, Kyrgyzstan voluntarily submits to Russia's stronger political control.
"Starting from January 1, 2012, we will be part of the Customs Union," Atambayev said on April 11 (www.akipress.kg). Atambayev's announcement comes shortly after his deputy Omurbek Babanov returned from a trip to Moscow. Later this year, Atambayev and Babanov hope to secure the posts of president and prime minister respectively. One government official told Jamestown that any other political faction would do the same to secure Russia's continued support if they were to head the government.
As a WTO member for over a decade, Kyrgyzstan has much lower import and export tariffs compared to what the Customs Union has to offer. To a large extent the WTO facilitated Kyrgyzstan's emergence as a transit zone for Chinese goods and an exporter of locally manufactured clothing. Furthermore, the WTO helped Kyrgyzstan to diversify its imports, significantly decreasing its dependence on Russia and Kazakhstan. These two factors promoted a local class of small and medium entrepreneurs who import goods from China, Turkey, and India and then sell to traders from neighboring states. According to estimates by the Kyrgyz research institute "Poekt buduschego," the number of traders in Kyrgyzstan benefiting from re-exports has reached 800,000 among a population of 5.5 million. Russia and Kazakhstan are the primary markets for roughly 90 percent of those traders (www.ictsd.org, May 2010).
By joining the Customs Union, Kyrgyzstan will, in effect, play by Russia's customs rules and regulations. Russia's average customs tariffs amount to roughly 10 percent, whereas Kyrgyzstan's are twice as low due to its WTO membership (www.ictsd.org, May 2010). Russia keeps its import tariffs high and export tariffs low to shield local manufacturers from external competition. For Kyrgyzstan this will mean a price increase for most goods imported from Russia and Kazakhstan. The Customs Union membership will also increase prices for commodities imported from Europe and the Middle East, including cars and consumer technologies.
"Joining the Customs Union is needed first of all for Kyrgyzstan. Membership in the organization will strengthen the [Kyrgyz] republic's external borders and improve working and living conditions for about 500,000 [Kyrgyz] citizens working in Russia and Kazakhstan," Atambayev said (www.tsouz.ru, April 11). However, it is unclear how membership in the Customs Union will impact on Kyrgyzstan's labor migrants.
If the Customs Union was indeed about economic integration such large countries like Russia and Kazakhstan that share a 7,000 mile-border would have little interest in Kyrgyzstan. Given that Kazakhstan, whose largest economic partner is the European Union and has been boosting ties with China, the Customs Union with Russia symbolizes good neighborly relations rather than economic integration. The Customs Union was initiated in 2007 as part of the CIS, and officially entered into force in January 2010. Trade between the union's members has grown by 8.4 percent since then, according to the Kyrgyz government. Both Russia and Kazakhstan aspire to join the WTO. Hardliners in Russia, however, have sought to establish their own economic regulations across the post-Soviet space. Russian Prime Minister, Vladimir Putin, has recently said that the West uses WTO accession to manipulate his country (https://www.youtube.com/watch?v=U4AsUz7z0AU).
In 2009, the then President Kurmanbek Bakiyev promised to join the Customs Union. Bakiyev said that settling over 10,000 contradictions between the WTO regulations and those of the union would take only a short time. Bakiyev pledged to enter the Customs Union in the midst of Moscow's disapproval of his leadership. In 2009, Bakiyev first declared that he wanted to expel the US airbase at Manas, only to change his mind after securing a $2 billion credit from Moscow and an increase in payments for the base from the United States.
Meanwhile, the WTO provides an opportunity for fair competition among China and Western powers in Kyrgyzstan. Although China has largely ignored WTO statutes, experts claim that the organization can potentially serve as a platform for collaboration, where Beijing is also a member.
However, according to Minister of Economic Regulations, Uchkun Tashbayev, Kyrgyzstan has no choice other than to join the Russian-led Customs Union. Tashbayev believes that due to the union agreements, both Moscow and Astana have been increasing customs tariffs, making it harder for Kyrgyz entrepreneurs to re-export Chinese goods to its neighbors (www.akipress.kg, April 11).