Top Ukrainian Officials Admit Justice Inequalities
Publication: Eurasia Daily Monitor Volume: 8 Issue: 73
By: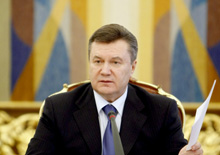 Ukrainian President, Viktor Yanukovych, and his team have admitted their helplessness in fighting corruption. While Yanukovych complained in his state-of-the-nation address that corrupt officials torpedoed his reform efforts last year, his chief financial inspector accused unnamed members of the current executive of corruption in a candid interview to a national weekly. These revelations coincided with the US State Department issuing a report for 2010 on human rights in Ukraine, which said that the government was not doing enough to curb corruption and instead was engaging in selective justice. Yanukovych inadvertently confirmed this conclusion on a visit to the western town of Lviv, where he said he knew local officials were stealing but added that putting them behind bars was not a priority (Kommersant-Ukraine, April 8).
Yanukovych told parliament in his address on April 7 that he was dissatisfied with the pace of reform as "no more than one third of the reforms planned" were launched last year. He blamed this on "the bureaucratic state machine" which was "trying to preserve corrupt enrichment schemes." Yanukovych urged parliament to finally pass the anti-corruption law over which lawmakers have been dragging their feet for several years (UT1 TV, April 7). Parliament, which is dominated by Yanukovych's allies, did so on the same day, passing the law which was submitted by Yanukovych several months ago by 277 votes in the 450-seat unicameral chamber.
The law, which should come into effect next year, introduces spending declarations for officials and their family members and forbids them from receiving expensive presents. However, opposition representatives said that the law left numerous loopholes for corruption as it would be possible for corrupt officials to continue declaring low incomes and spending, while real figures are registered in the name of their distant relatives and friends. The anti-corruption law will not apply to medical workers, teachers, athletes and artists (Kommersant-Ukraine, April 8).
Meanwhile, chief financial controller Petro Andreyev, whose Main Control and Revision Directorate's findings were used by Ukrainian prosecutors last year as evidence in the corruption cases against former government officials including the former Prime Minister Yulia Tymoshenko openly accused the executive of covering up corruption. During an interview with the Zerkalo Nedeli weekly, Andreyev complained that no matter how often he reported to Prime Minister Mykola Azarov about corrupt activities involving current officials, nothing changed. Asked by the newspaper if he wanted to say that some ministers were supporting corrupt practices, he said that "unfortunately it looks like this in certain cases" (Zerkalo Nedeli, April 9).
Yanukovych during his visit to Lviv on April 11 openly admitted that although the government knows who steals what, corrupt officials remain at large. Speaking in the presence of the regional governor and the local mayor, Yanukovych wondered how much money local officials stole from funds allotted to fight the consequences of natural disasters over the past several years. Yanukovych said he knew their names but noted that he did not aim to put anybody behind bars if stolen funds were returned (Ukrainska Pravda, April 11; Kommersant-Ukraine, April 12).
By their statements, Yanukovych and Andreyev effectively admitted that justice in Ukraine is selective as both the US and the European Union claimed earlier this year. While many former government officials have been charged with corruption, little is being done to eradicate corruption in the current government. The US Department of State said in its human rights country report released on April 8 that far from enough was done in Kyiv last year concerning official corruption and government transparency, while dozens of former officials were prosecuted for embezzlement, some current high-ranking officials were "engaged in corrupt activities with impunity." The report also underscored corruption among police and judges (http://www.state.gov/g/drl/rls/hrrpt/2010/eur/154456.htm).
However, Yanukovych's PR aide Hanna Herman dismissed the report as outdated, saying that the situation has changed compared to early 2010. She said officials who worked in the Yanukovych government have been charged with corruption this year. Herman said that the arrest early this week of Denys Komarnytsky, the leader of Kyiv Mayor Leonid Chernovetsky's caucus in the local council, as well as the earlier arrest of the chief price controller Tetyana Rud, showed that the government was fighting corruption also among its ranks (Ekonomicheskie Izvestiya, April 12). This is only partly correct. Chernovetsky has long fallen from favor with Yanukovych, and the arrest of a chief price controller from the current government cannot be compared in scale to the arrests last year of a former interior minister, a former environment minister and a former deputy justice minister, let alone the three criminal cases opened against Tymoshenko.
Ukraine shares the 134th position out of 178 in Transparency International's Corruption Perceptions Index for 2010. Corruption will thrive in Ukraine as long as the top officials do not understand the law should be equal for all.