Kyrgyzstan: New Junta in Formation
Publication: Eurasia Daily Monitor Volume: 7 Issue: 55
By: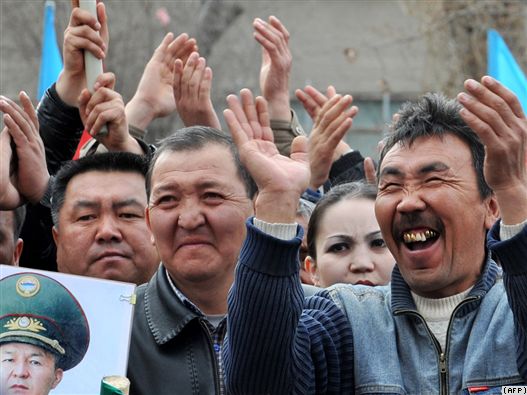 Kyrgyzstan is teetering on the brink of becoming yet another state ruled by military officials. To date, several military officers have been granted unprecedented political power, which they have used against the regime's opponents. There are signs that President Kurmanbek Bakiyev is no longer able to control the activities of his brother Zhanysh, who is the de facto head of all military and security structures. In addition to suppressing the regime's political opponents, both military and civilian members of the ruling elite seek to eliminate alternative sources of military authority.
Former Defense Minister, General Ismail Isakov, was arrested several months ago for minor charges of corruption. Isakov is among the few Kyrgyz military officials to gain officer rank during the Soviet period that has earned the respect of the general public, but two years ago, he was forced to leave his post as defense minister. Due to Isakov's widespread popularity among the country's military, Bakiyev sought to prevent the general from joining the opposition forces. Together with his former staff, Isakov was likely to attract military personnel to side with him.
Thanks to his positive reputation, Isakov has been treated with respect by the interior ministry while awaiting his trial. However, he faces the risk of torture or assassination, possibly carried out by criminal, rather than military leaders. "He might be left handicapped –in a state where he is neither alive, nor dead," Isakov's closest ally told Jamestown.
Another prominent military leader, Boris Yugai, died a few days ago, reportedly after suffering a heart attack. Similar to Isakov, Yugai enjoyed strong support among the military due to his high moral character and credible achievements in government. However, former military officials are convinced that Yugai died as a result of psychological and, possibly, physical pressure. Kyrgyz media avoided reporting Yugai's death despite the leader's recognized achievements.
Before becoming the head of the National Security Guard in 2008, Zhanysh Bakiyev was responsible for the counter-intelligence service, combating drug trafficking and organized crime. However, since gaining more political power as a senior security official, he has reportedly used criminal leaders and the intelligence services against the regime opponents. He is suspected of being implicated in most contract killings and in the beatings of opposition leaders and journalists that have occurred since 2005 (EDM, March 1).
Meanwhile, on March 17, thousands of protesters gathered in Bishkek to demonstrate against the government's drastic increase in utility tariffs (www.atamekenkg.com, Match 17). The crowds demanded the resignation of Bakiyev and his son Maksim, infamous for his near-monopolist control over the national economy. The opposition Member of Parliament (MP) Roza Otunbayeva, who was one of the key leaders behind the "Tulip Revolution" five years ago, emerged as a leader of the mass protests (www.baisalov.livejournal.com, March 17).
There are also growing signs of dissent among members of the ruling party Ak Zhol. Maksat Kunakunov was the first Ak Zhol MP to openly condemn Prime Minister Daniyar Usenov for his largely ineffective policies. Kunakunov questioned the government's decision to increase energy tariffs by 200 percent in one step. "Parliament has supported your actions, but you have been ignoring the parliament… Your actions have led to widespread protests," said Kunakunov during the parliamentary session on March 17. Other Ak Zhol members reportedly quietly supported Kunakunov's latest criticism of the government.
The government has also increased its control over the media. Recently, access to the Radio Free Europe website and radio programs was cut off in Kyrgyzstan (www.azattyk.org, March 18). Several Russian websites featured reports on the scandalous arrest of Eugene Gourevitch, a US citizen allegedly involved in multibillion dollar fraud deals in Italy, and known to closely collaborate with Maksim Bakiyev (www.uzinform.org, March 11).
To date, the regime has demonstrated that it is determined to use all possible means to crush dissent. It remains to be seen what strategies the regime might use to disperse crowds. As the fifth anniversary of the "Tulip Revolution" approaches, it is becoming more evident that the president will not make any key decisions, should tension in the country continue to escalate. Rather, his brother Zhanysh, who shows little interest in the international community's criticism of developments within the country, would not hesitate to use military force against the opposition. The opposition forces are thus facing a greater challenge from the military leadership than from political officials.