Kyrgyzstan Pleads For Russian Gas Supplies
Publication: Eurasia Daily Monitor Volume: 8 Issue: 140
By: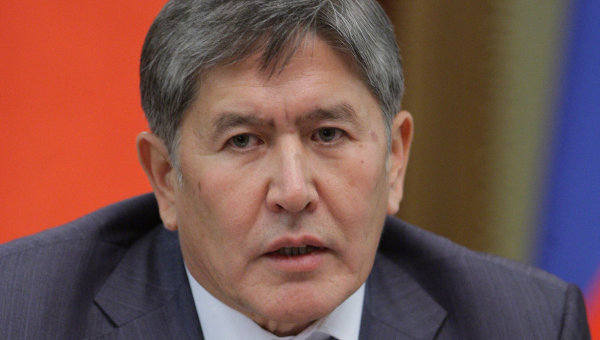 The Kyrgyz Prime Minister Almazbek Atambayev traveled to Moscow in a sudden rush to meet with his Russian counterpart Vladimir Putin to discuss energy-giant Gazprom's gas supplies to Kyrgyzstan. Atambayev's July 20 visit to Russia was unplanned, as he reacted to severe gas shortages in Kyrgyzstan (www.echo.msk.ru, July 20).
Starting last week, gas prices increased sharply in Kyrgyzstan, while gas stations released only 10 liters of fuel per vehicle. Gas prices reached almost $1 dollar per liter, a considerable cost for the locals. Some Bishkek residents have been traveling to the Kyrgyz-Kazakh border to fill their fuel tanks.
Opposition members of parliament have warned that it is a matter of only a few days before gas reserves run out and Kyrgyzstan is left without fuel. However, Atambayev promised that by the time he returns to Bishkek after meeting Putin, gas supplies will stabilize. Local entrepreneurs worry that gas prices might slow the summer tourist season. There is also much to be concerned about for political leaders. Atambayev, a likely presidential contender, is cautious about the unraveling crisis. Gas shortages will become a powerful instrument against Atambayev's presidential bid and could cause social tensions before the October 30 elections.
No one in Kyrgyzstan is entirely sure what caused the sudden fuel shortage. Some experts blame Gazprom's failure to abide by export agreements with Kyrgyzstan, while others criticize the Kyrgyz government for inconsistent economic and foreign policies. Many suggest that Atambayev has allowed Gazprom to virtually monopolize the fuel market in the country (www.24.kg, July 20).
Yet, suspicions are growing that the real reason is in the newly formed Customs Union –a regional economic bloc uniting Russia, Belarus, and Kazakhstan. The bloc officially started functioning earlier this month and Kyrgyzstan has been under pressure to become a member. Russia's Omsk gas refinery has been supplying most of its fuel to Kazakhstan, explaining that Russia's Customs Union partner is undergoing fuel shortages (www.rosbalt.ru, July 20). Meanwhile, Kyrgyzstan appears to have lost its priority as a market partner.
Atambayev has been the Customs Union's strongest proponent, yet he has also encountered considerable domestic resistance. During one of his many visits to Moscow, Atambayev announced that Kyrgyzstan will join the Customs starting on January 1, 2012. The decision was politically motivated, rather than being based on economic priorities. Kyrgyzstan is the only Central Asian country with membership in the World Trade Organization (WTO), an international body offering far greater access to global trade, compared to the Russian-led Customs Union. By joining the Customs Union, Kyrgyzstan would voluntarily submit to Moscow's stronger political control.
Energy supply is one of the leverages Moscow can employ against Kyrgyzstan to ensure political compliance. In spring 2010, Russia swiftly increased tariffs for fuel exports, adding additional strain on former President Kurmanbek Bakiyev's regime. Moscow explained its decision by saying that contrary to the agreement, the Kyrgyz side supplied Russian fuel to the US Transit Center at Manas airport in Bishkek. However, fuel levies were accompanied with other types of attacks against Bakiyev, including a smear campaign by the pro-Kremlin media.
Days after Russia's increase of levies, Bakiyev's regime crumbled and he escaped to Belarus in April 2010. Gazprom's agreement to lift export tariffs in early January, a few months after Atambayev's appointment, indicated that the Kyrgyz government and the Russian company had reached a deal on fuel supplies to the US center. "This was such a New Year's present, so the year has started well," said Atambayev in response to Moscow's decision, attributing his country's 5.5 percent GDP growth in early 2011 to uninterrupted Russian fuel supplies (www.rbc.ru, July 20).
The impact of the Customs Union can also have an indirect influence on Kyrgyzstan's energy market. The energy market might have received a boost from the union and Kazakhstan's trade with Russia takes precedence over exports to non-member states. For Atambayev, one of Russia's biggest proponents in Kyrgyzstan, a deal with Moscow is vital. Enjoying some support in northern Kyrgyzstan, he faces strong competition from southern candidates, especially from the leader of the Ata-Jurt Party Kamchybek Tashiyev. To date, 15 candidates have registered to run for the presidency. Although most of them are unknown to the wider public, they will likely reduce Atambayev's support throughout the country.
While in Moscow Atambayev has no other option than to once again reiterate that should he win the election, he will lead Kyrgyzstan towards membership in the Customs Union. In this case, he will indeed return to Bishkek with some good news.