KYRGYZSTAN RELENTING ON U.S. AIR BASE
Publication: Eurasia Daily Monitor Volume: 3 Issue: 108
By: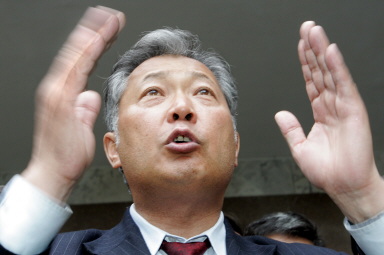 On May 31-June 2 in Bishkek, American and Kyrgyz negotiators made some progress toward a possible agreement to prolong the use of the Manas air base by U.S. and allied forces. Kyrgyzstan no longer seeks a "hundredfold" increase in U.S. annual rent payments, as President Kurmanbek Bakiyev had asked for since last year; and it has given up the June 1 deadline, which Bakiyev had named on April 16 for the U.S. base to close unless Washington agreed to Bishkek's financial terms.
The U.S. delegation delivered a letter to Bakiyev from U.S. President George W. Bush citing the uneasy situation in Afghanistan and the recent (May 12) raid by unidentified gunmen from Tajik territory into Kyrgyzstan. According to Kyrgyz officials, Bush's letter noted that the situation necessitated continuing anti-terrorism efforts and it underscored the value of the Manas base in that regard. Moreover, the base is gaining in importance as NATO's International Security Assistance Force (ISAF) is expanding its size and area of operations in Afghanistan in response to Taliban attacks.
The Taliban's resurgence in May, as well as the Kyrgyz forces' pathetic response to the unexplained May 12 incursion, have prompted a reassessment of threats, a heightened sense of vulnerability, and a corresponding change of rhetoric by officials in Bishkek.
The claim made until very recently by Bakiyev and others, that stabilization in Afghanistan would soon render the Manas base unnecessary, has disappeared from Bishkek's official discourse. Instead, Bishkek's statements now recognize the importance of the Manas base to operations in Afghanistan and even "the region as a whole," according to a communiqué on the May 31-June 2 negotiations (Interfax, June 2). The reference to the region as a whole is significant, since the Manas base is officially authorized to support operations in Afghanistan only.
Also unusually, a communiqué on the base talks from Bakiyev's office spoke of "positive development of Kyrgyz-U.S. relations" (Interfax, June 1). Minister of Foreign Affairs Alikbek Jekshenkulov, who shares Bakiyev's pro-Moscow views, in turn told the press that relations with the United States are developing positively as part of Kyrgyzstan's "balanced and multi-vector policy" — even if Bishkek is "stepping up the Russian vector" (24.kg [Bishkek], May 31). Prime Minister Felix Kulov — who has all along been more receptive than Bakiyev to U.S. interests — declared, "The Manas base must continue to operate as long as the anti-terrorism struggle continues and the situation in Afghanistan is unresolved" (Interfax, May 30).
The Kyrgyz side has now agreed to define the object of negotiations as "the conditions for continued stationing of U.S. military personnel in the framework of the [December 2001] agreement currently in force" — a signal that it does not intend to overturn the status quo, although it does seek greater compensation for hosting the Manas base. According to Kyrgyz government officials, Bishkek no longer asks for $200 million annually, but has turned down U.S. offers of $20-30 million in rent and other forms of compensation in these negotiations.
The negotiations also focus on supplies of fuel and lubricants to the base, environmental safety, and air navigation rules, among other issues. A joint commission is to review a number of disputed issues, such as compensation demanded by the Kyrgyz side for alleged ecological damage from U.S. planes dumping fuel while flying over populated areas. The U.S. side points out that the flight altitudes were sufficiently high for the dumped fuel to decompose before reaching the ground. Furthermore, Bishkek seeks compensation for aviation fuel supplied to the Manas base from 2002 through April 2005 by contractors associated with former president Askar Akayev's family. The Pentagon duly paid those old-regime contractors, but some new-regime Kyrgyz officials agitate for the Pentagon to pay again — this time into the state budget.
Communiqués from the Kyrgyz presidency and Ministry of Foreign Affairs characterize the U.S.-Kyrgyz negotiations as marked by a "common striving for a mutually acceptable agreement" and "advancing purposefully in an atmosphere of goodwill." Amid a chaotic internal situation, Bishkek seems preoccupied with proving that "Kyrgyzstan, interested in a constructive solution, actively supports the international community's anti-terrorism efforts." A follow-up round of negotiations is to be held soon.
This is the most conciliatory language heard from Bishkek since the July 2005 summit of the Shanghai Cooperation Organization, where Bakiyev and others in new-regime Kyrgyzstan turned against the U.S. military presence on Russia's cue. Bakiyev's April 16 quasi-ultimatum was a high point in this policy, and the events in May apparently became the point of reconsideration.