Kyrgyzstan's Chaotic Foreign Policy
Publication: Eurasia Daily Monitor Volume: 8 Issue: 121
By: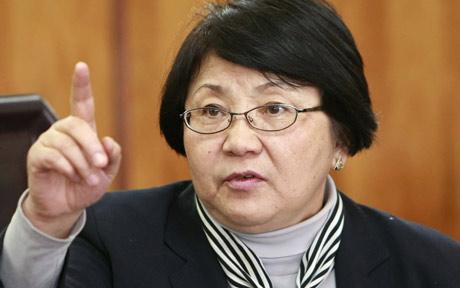 Since the April 7, 2010 regime change in Kyrgyzstan, experts have debated whether the country is leaning more toward Russia or the United States. President Roza Otunbayeva has met with both the Russian and US presidents, participated in the Shanghai Cooperation Organization (SCO) summit in Astana and visited several European capitals. Kyrgyz government officials and the parliament, however, have leaned more toward strengthening cooperation with Moscow and Kazakhstan. Which of the directions has been Kyrgyzstan's priority in the past year?
The reality is that for about one year now Kyrgyzstan does not have any clear foreign policy, nor are the country's major political players able to identify and pursue these policy priorities. While Prime Minister Almazbek Atambayev and his deputy, Omurbek Babanov, are excited to join the Russian-led Customs Union, Otunbayeva warns that it is too early for Kyrgyzstan to take such a step (www.vz.ru, June16). Furthermore, while the parliament banned from entering the country the Finnish diplomat, Kimmo Kiljunen, who headed an international investigation into the violence in Kyrgyzstan in June 2010, the president called on Members of Parliament (MPs) to reconsider their decision (www.parus.kg, June 16).
Finally, Kyrgyzstan's Foreign Minister Ruslan Kazakbayev has been voicing a blend of parliament, prime minister, as well as the president's policies. Kazakbayev defended the parliament's decision to ban Kiljunen, praised the importance of cooperation with Moscow, and expressed hope that US-Kyrgyz relations continue to prosper. The foreign minister noted that cooperation with the United States is increasing, particularly in the security sector. Importantly, Kazakbayev said, Washington has been supporting Kyrgyzstan's efforts to combat drugs trafficking by re-opening the Drugs Control Agency, previously disbanded by the former President Kurmanbek Bakiyev.
The lack of a centralized foreign policy initiator is a new experience for Kyrgyzstan. Previous Presidents Askar Akayev and Kurmanbek Bakiyev were known to navigate between Washington and Moscow to strengthen their authoritarian regimes by securing foreign support.
According to Daniyar Terbishaliev, an MP from the Social Democratic Party, the constitution adopted one year ago does not clearly define who sets foreign policy priorities – the president, prime minister or the parliament (Open World discussion, June 22). These uncertainties are likely to persist until both the president and prime minister have identical foreign policy visions or after the current constitution is amended to grant specific functions to either office.
Consequently, Kyrgyzstan is open to any foreign policy direction. Atambayev and Babanov have been grooming relations with Moscow and Astana. Kazakhstan's joint stock company Samruk-Kazyna will initiate a Kazkah-Kyrgyz $100 million investment fund, while President Nursultan Nazarbayev will visit Bishkek in August (www.24.kg, June 22). Kyrgyzstan has also recently conducted military exercises with Tajikistan, a first Russian book club was open in Bishkek, MPs from Tatarstan are to meet with the Kyrgyz compatriots, while Jalalabad celebrates days of Japanese culture. Groups of MPs have recently traveled to United States, Mongolia, Finland and Eastern European countries.
Sources for such policy initiatives arise from both executive and legislative branches, as well as from external actors seeking to connect to Kyrgyzstan through various channels. Without a single leader determining foreign policy directions, Kyrgyzstan's multiple players have reached out to more opportunities than a centralized system would permit.
Meanwhile, presidential elections have been preliminarily scheduled for November 19 (www.akipress.kg, June 21). Should Atambayev, a likely frontrunner, win the elections, Kyrgyzstan will shift toward a defined pro-Russian direction with the parliament supporting the choice. "Russia has been our historic partner, and what did the United States show to us?" he asked shortly after the ouster of former President Kurmanbek Bakiyev (Kabar news Agency, April 12, 2010). "If elected, Atambayev is also inclined to centralize power in his hands thus becoming the only major source of foreign policy," said Dastan Bekeshev, an MP from the opposition Ar-Namys party (Open World discussion, June 22).
With Roza Otunbayeva being the only Western-oriented major political player, other likely presidential contenders will also prove to be pro-Russian as leaders of all parliamentary factions, except for Ata-Meken, favor cooperation with Moscow. There are only a handful of young MPs who favor stronger ties with the West. Their voices are unlikely to prevail in the post-election period. For now and until the end of the year, Kyrgyzstan remains a foreign policy agnostic.