The Majority of Russians Feel Disfranchised
Publication: Eurasia Daily Monitor Volume: 8 Issue: 121
By: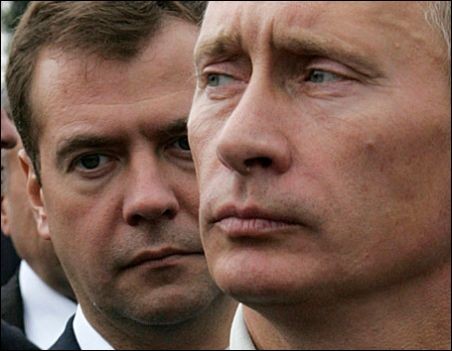 Last week at the St. Petersburg International Economic Forum, President Dmitry Medvedev outlined an ambitious program of political and economic reform. Medvedev touted an end of government manipulation of the economy he called "state capitalism" and called for the devolution of power to the regions and municipalities, suggesting that someday regional governors currently appointed by the Kremlin may once again be publicly elected. Medvedev announced it is time to "partially privatize state assets" to create a self-regulating market economy. Medvedev said "it is very bad" there is no right-wing [liberal] party in the State Duma and proposed to move federal government offices from downtown Moscow to its extended suburbs by creating a special Federal Capital District and extending city borders (www.kremlin.ru, June 20).
Medvedev once again refused to announce a decision to run for re-election next March for a six year term, but his address was seen as a repudiation of Prime Minister Vladimir Putin's style of authoritarian government. Western investors and executives were reportedly elated by Medvedev's speech, and some expressed the opinion it was a draft re-election manifesto (The Moscow Times, June 20). Russian commentators were more guarded. Pro-Kremlin think-tanker, Vyacheslav Nikonov, believes Medvedev addressed the "audience present – investors and the regional elite" and not the voters. Medvedev's statements are often nice; he says a lot and does little (Kommersant, June 18).
Medvedev continues to be a figurehead president with not much political will to challenge Putin. Medvedev categorically rejected the possibility of running for president against Putin and once again emphasized that they are political allies in broad agreement on all major issues (www.kremlin.ru, June 20). It seems Medvedev is eager to secure Putin's endorsement as his only hope to be re-elected. It is possible that after the Duma election in December and the presidential election next March, the present so-called "tandem" arrangement of a figurehead president and an all-powerful prime minister may be reinvented.
This week, Putin told reporters during a visit to Paris that Medvedev's St. Petersburg address was "their joint program." Putin quoted previous public statements that supported a free market, privatization and rejected "state capitalism." Putin also dodged a question about running for president (Kommersant, June 22). Indeed, while actively building a corrupt authoritarian dictatorship in Russia, Putin has time and again publicly delivered keynote speeches written by hired speechwriters praising the virtues of democracy and a free market. Of course, as with Medvedev's speech at the St. Petersburg Economic Forum, Putin's pro-democracy and free market public statements were mostly for the benefit of foreign investors.
This week in Moscow, the Institute of Sociology of the Russian Academy of Sciences (www.isras.ru), supported by the German Friedrich Ebert Stiftung in Russia (www.fesmos.ru), presented an extended report summarizing several years of research into public attitudes towards reforms. As the USSR collapsed, the majority of Russians supported radical democratic and free market reforms, but in several years their harshness made them unpopular. Only 10 percent of Russians believe they benefited from the reforms, while 25 percent consider they lost and the rest think that nothing changed. Only 30 percent believe the reforms were designed to save Russia from economic collapse and political disintegration, while 70 percent viewed the main intent of reformers as an attempt to seize power and steal state property. Even within the minority of Russians that benefited from market reforms and continue to support them today, 55 percent believe the reformers wanted power and plunder. Of course, the leaders of Russian reform – Presidents Mikhail Gorbachev and Boris Yeltsin continue to be vastly unpopular, while the personal rating of Putin and Medvedev since he became president in 2008 is consistently high.
Russians tend to be pessimistic: 18 percent believe Russia may become an economically developed nation in 5-10 years, 47 percent – in 11-20 years, 26 percent – never and only 8 percent believe that it is already developed; 60 percent consider Russia is developing in a direction that will eventually bring positive results, while 40 percent think it is moving to a dead end; 37 percent see the main threats to Russia as coming from abroad, while 63 percent expect that the main threats will come from within.
In 2001 Putin's election to the Kremlin in the previous year was supported by 73 percent; in 2011 the figure is 82 percent support. But some ratings have changed dramatically: in 2001 the invasion of Chechnya to suppress separatism that skyrocketed Putin's popularity had 56 percent support, in 2011 – only 4 percent support it and 91 percent disapprove. The war with Georgia enjoyed massive public support in 2008, but in 2011 only 23 percent support it and 71 percent disapprove.
Only 2 percent believe Russia is definitely a democracy and 26 percent think it may be a democracy, while some 50 percent say it is not. In 2001, some 62 percent agreed that in state matters citizens had no say at all, while in 2011 the number increased to 71 percent. Disfranchisement and massive corruption are causing social stress and rapidly growing aggressiveness. Alarming figures were discovered in Moscow: 61 percent say they often want "to gun down" all responsible for what is happening in Russia today, while only 17 percent of Muscovites say they never experience such feelings. The hate figure for the whole of Russia is lower: 34 percent. Moscow, the nation's richest city is the center of social inequality and rapidly growing tension: 64 percent say they often experience "shame" for the state of the nation, the "injustice of what is happening" and "the impossibility to continue such a lifestyle."
If drastic social/political reforms that may defuse the situation are not introduced immediately, a violent rebellion in Moscow seems highly probable, and, as in the recent "Arab spring" revolutions, virtually any pretext may become the trigger. The coming falsified presidential and Duma elections, will add the frustration of the prospect of six more years by the same regime. The officially registered permanent population of Moscow is some 10.5 million, but according to City Hall, on workdays it swells to between 15 million and 20 million with migrants that live in the city or the extended Moscow region suburbs (EDM, December 16, 2010). If the riot police fail to control this mass, badly trained conscript units of the Defense and Interior Ministries are not fit to effectively suppress a possible uprising in Moscow. Medvedev may have announced his plan to pull the federal government out of Moscow too late.