Lacking Alternatives, Russia Betting on Armenia's Embattled Prime Minister Pashinian
Publication: Eurasia Daily Monitor Volume: 18 Issue: 34
By: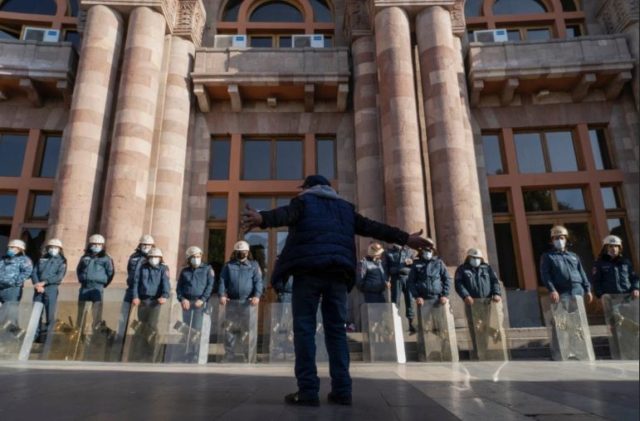 The top brass of Armenia's Armed Forces along with a broad coalition of political groups have moved to oust Prime Minister Nikol Pashinian and his government from power, thus far nonviolently (see EDM, February 25, 26). From the first hours of this confrontation (February 25), Pashinian and his key ministers have been telephoning Moscow for support; and Moscow has delivered it thus far, albeit in reserved tones and disclaiming any interference in Armenia's internal affairs. Russia's multiple levers of influence within Armenia, however, speak louder than those disclaimers.
Conversely, Pashinian's government makes no attempt to elicit support from Western governments or institutions—not even from those Western democracy-promoting organizations that had hailed Armenia's 2018 "velvet revolution" under Pashinian and might be willing to condemn a "military coup" against him. Two reasons exist for Pashinian's one-track Russia policy: he has inherited and fully accommodated himself to Armenia's Russian orientation, and he is too weak to attempt to shift gears after losing the Second Karabakh War (September 27–November 9, 2020).
In contrast to the government, none of Armenia's many political opposition groups or personalities can expect Russian support. Most of them are nationalist hardliners who oppose the terms of the November 9/10 armistice agreement and condemn Pashinian for signing it alongside Presidents Vladimir Putin of Russia and Ilham Aliyev of Azerbaijan.
For its part, the Armenian Armed Forces' command shows no ambition to take power. Moscow would certainly use its influence to block any such attempt (barring, hypothetically, mayhem among Armenian political factions); the Armenian military depends totally on Russia for recovery after the lost war; and the defeat has severely damaged its prestige in Armenian society. What is correctly described as the Armenian military's common strategic culture and organic ties with the Russian military should act as brakes to any power bid by Armenian generals in Yerevan. If the Armenian generals were to attempt a war of revanche in the coming months or years, this would contravene Russia's current policy. The latter aims to consolidate the new status quo and manipulate it to Russia's advantage for the foreseeable future.
Prime Minister Pashinian, parliamentary chairperson Ararat Mirzoian, and Foreign Minister Ara Aivazian all telephoned their Russian counterparts to give their view on the events and in quest of support. Russian President Vladimir Putin, Federation Council Valentina Matvienko, and Foreign Minister Sergei Lavrov all responded with laconic messages in a common key, apparently pre-agreed: These events are Armenia's internal affair; Russia merely hopes for a peaceful solution within the framework of Armenia's laws (TASS, Armenpress, February 25–27).
Pashinian's office distorted Putin's message. While the Kremlin's readout called for "resolving the situation within Armenia's legal framework," Pashinian's version claimed that Putin "supported the legal authorities." Kremlin spokesperson Dmitry Peskov corrected the distortion in a non-polemical way. The main task at hand, Peskov noted, is to fulfill the terms of the November 9/10, 2020, tripartite Declaration (TASS, February 26). Those terms refer to the armistice in Karabakh and region-wide transport projects in the South Caucasus. Implementation is on track thus far, Peskov noted. This observation reflects the fact that Pashinian is delivering compliance to date.
In a sycophantic interview of his own, Aivazian offered paeans to the "Russian-Armenian allied relationship, which predetermines the uninterrupted, permanent work to strengthen them further"; strengthen them, moreover, "not just in one sphere [alluding to the military] but systematically in the other spheres of allied relationships" (RIA Novosti, February 27).
The two countries' ministers of defense adopted a more engaged tone. Russia's Sergei Shoigu initiated the first of at least two calls to his Armenian counterpart, Vagarshak Harutiunian. They issued convergent readouts purporting to discussions about the political situation in Armenia, bilateral military cooperation, and Russia's "peacekeeping" operation in Upper ("Nagorno") Karabakh (TASS, Armenpress, February 25, 27). Harutiunian, a retired general now serving as the "civilian" minister of defense, did not sign the active-duty generals' collective demand for Pashinian's government to resign and has kept his silence thus far.
Armenia's civilian leadership had also engaged in intensive contacts with Russia's generals during the days immediately preceding this crisis. On February 24, President Armen Sarkissian received the commander of Russia's "peacekeeping" operation (see above), Lieutenant General Rustam Muradov, in Yerevan (TASS, Armenpress, February 24). Harutiunian, interviewed on February 22, shortly after his talks with Shoigu, announced that Russia would meet Yerevan's request to augment the numbers of Russian troops at the 102nd base in Armenia. The main base location is in Gyumri (Armenia's north), and the supplementary Russian troops would make it possible for a corresponding number to relocate from Gyumri to the Armenian-Azerbaijani border, apparently in the Syunik province (Armenia's deep south) (RIA Novosti, February 22).
On February 25, literally hours before the generals' demand for Pashinian's resignation, the embattled prime minister chaired a government meeting on military reform. The government instituted a working group under Haratiunian to work out the reform's outline. The decision aligns with Harutiunian's interview (see above), unsurprisingly involving Russian guidance of Armenian military reforms (News.am, February 22).
Financing that reform, along with any rearmament of Armenia, will be a serious challenge. The rearmament may cost Russia billions of dollars, on top of—as Azerbaijan's President Ilham Aliyev acidly observes (Azertag, February 28)—losses incurred from Armenia's certain default on past Russian credits for arms purchases.