Lev Dengov: Ramzan Kadyrov's Middleman in Libya
Publication: Eurasia Daily Monitor Volume: 15 Issue: 153
By: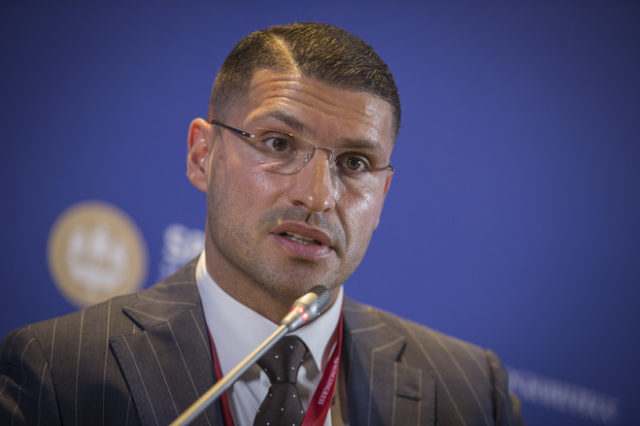 On October 10, Russian diplomat and a key middleman between Russia and post-2011 Libya, Lev Dengov, officially dismissed accusations by several Western information outlets that Moscow was militarily involved in the most recent outbreak of violence in this war-torn North African country. Specifically, reports pointed to a Russian military presence in late August, as violent clashes erupted around Tripoli, resulting in heavy human casualties (Eadaily.com, October 2). Dengov stated, "The Russian strategy in Libya is premised on the recuperation of economic ties between the two countries […], which will be done through contacts with all parties to the conflict" (RIA Novosti, October 10).
According to Western sources, however, Moscow is actively participating in hostilities on the side of Field Marshal Khalifa Haftar (the Libyan National Army) by supplying his forces with S-300 (NATO classification: SA-10 Grumble) surface-to-air missile systems, Kalibr surface ship- and submarine-launched cruise missiles, as well as by deploying "members of the Wagner PMC [private military company] to Tobruk and Benghazi" (Newsru.com, October 10). Construed by the Russian side as "another [example of] Western-generated fake news," this information has, nevertheless, been partly corroborated by reputable Russian mass media outlets (through unnamed sources close to the Russian Ministry of Defense as well as Libyan authorities) that confirmed Russia's expanding military presence in the country. Among other things, various reports note that "Russian elite airborne forces have been transferred to the theater from the Moscow region for several months now." Crucially, the source stated that "Russian interests are, in addition to other aspects, specifically concerned with oil and natural gas" (Novaya Gazeta, October 9). This is a development of critical importance: previous accounts of "Russian special operations forces" present in Libya appeared in Western sources (Reuters and France Presse) in 2017, but were mainly said to be operating from the Egyptian city of Sidi Barrani, located some 95 kilometers from the Libyan border (Kavkazr.com, October 7, 2017). Thus, if correct, the presence of Russian PMCs and special forces based inside the country signifies a major shift in the Kremlin's "Libyan gamble."
Amidst the evolving civil war, Russia's economic interests in Libya have remained stable. To date, Moscow has pointedly attempted to maintain a balance between the two main conflicting parties (Rambler.ru, June 8). This equilibrium is preserved thanks to Russia's strong economic interests in the North African country: in addition to hydrocarbons, Russia's plans include agriculture, infrastructural cooperation, as well as the prospective renewal of lucrative arms deals. As such, Libya forms a key element in the Kremlin's strategy to "return to the Middles East"—a strategy whose foundations were first articulated decades ago by former Russian prime minister Yevgeny Primakov (see Jamestown.org, October 5, 2017). Specifically, Russia's strategic interests in Libya rest on four interrelated pillars:
– History: During the Cold War, the late Libyan dictator Muammar Qaddafi (who visited the Soviet Union three times) had established cordial ties with the Soviet leadership (RIA Novosti, October 20), premised on lucrative arms deals and knowledge transfers. Many Libyan military officers also studied in the Soviet Union;
­­– Geo-economics: Libya wields huge and poorly controlled oil fields (5th largest among the Organization of the Petroleum Exporting Countries, or OPEC, members) as well as impressive natural gas (3rd in Africa) reserves (Africana.ru, accessed October 24, 2018);
– Geopolitics: First, Libya is a one of two main routes for Europe-bound refugees: control over this corridor could provide Moscow with an additional "trump card" in dealing with the European Union (Lenta.ru, October 9, 2018). Second, Russia needs Libya (in addition to Egypt) to complete its control of the southeastern Mediterranean basin and thus increase its role in the Middle East;
– Military-strategic interests: In spite of its rhetoric, Russia is potentially interested in the creation of a naval base(s) in Libya as a means to boost its positions in the central and western parts of the Mediterranean Sea.
Given the Kremlin's apparent departure from undertaking "unprofitable wars" (as was the case during the Soviet period, when policy driven by ideology could regularly eclipse economic considerations), Russia's paramount interests in Libya are currently related to its economic potential based on massive energy resources. In this strategy, Moscow has been heavily relying on the personality of Lev Dengov—a key figure in terms of the economic and humanitarian contacts between Russia and all the main players within the Libyan conflict. Although concrete information on this is scarce, it is safe to assume that the forces who stand behind him are "political heavyweights" in the Russian political arena, with far-reaching agendas.
According to available reporting between 2008 and 2011, Dengov "was actively enmeshed in Libyan affairs" and had abundant knowledge on this country and the local political landscape. Dengov apparently resumed his deep involvement following the outbreak of the Arab Spring. Inter alia, he played a key roles in negotiations to free 21 Russian and Belarusian citizens captured in Libya; moreover, he was intimately involved in "re-establishing contacts in the socio-political, military and economic spheres of Russian-Libyan bilateral relations" (Roscongress.org, accessed October 24). The subsequent proliferation of economic ties between the two countries resulted in an agreement, signed in February 2017, by Rosneft and the Oil Corporation of Libya, giving Russia unprecedented access to the Libyan oil market. The deal has frequently been attributed to the activities of the Russian-Libyan Trading House (opened in 2017), where Dengov occupies a key position. Moreover, on May 24, 2018, it became known (during a business forum, where Dengov was one of the main participants) that the Libyan side is interested in acquiring "Russian security systems" via the Russian-Libyan Trading House (RBC, May 24). Such a business proposition would open up an array of opportunities for Russian "military instructors."
And yet, all this is not the most intriguing detail related to Dengov's responsibilities: reportedly, his activities in Libya are coordinated not only by the Russian Ministry of Foreign Affairs and State Duma but also the Chechen authorities (Nezavisimaya Gazeta, May 28). Dengov is famously quite close to Chechen leader Ramzan Kadyrov, apparently thanks to whose influence the former man was granted a leading role in the five-person Contact Group on "Libyan issues." Moreover, Dengov's appointment to head the diplomatic mission dealing with "agitational-propagandist work in Libya was endorsed by the MFA [foreign ministry] and Ramzan Kadyrov personally" (Roscongress.org, accessed October 24, 2018). This presents an interesting new development, pointing to a growing role Grozny is attempting to play in Russia's Libyan policy via its own middleman.