John Bolton's Caucasus Trip: Growing US Influence in Region?
Publication: Eurasia Daily Monitor Volume: 15 Issue: 153
By: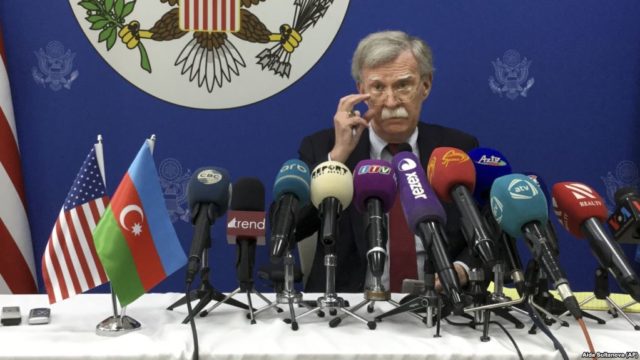 United States National Security Advisor John Bolton visited Azerbaijan on October 24, and held meetings with President Ilham Aliyev and other high-level state officials. Bolton appeared in Baku immediately following his visit to Moscow (Trend.az, October 24). The US National Security Advisor's Russian agenda and his meeting with President Vladimir Putin in the Kremlin suggested that Washington will not be rekindling relations with Moscow under the current circumstances.
Bolton's ensuing trip to the South Caucasus included stops not only in Azerbaijan but also Armenia and Georgia. As the highest US official from the Donald Trump administration to come to the region since Vice President Michael Pence's visit to Tbilisi last year (Whitehouse.gov, August 1, 2017), Bolton's three-country tour raised questions of whether the White House is interested in more seriously reengaging the region, which had been neglected under the previous US administration. During Barrack Obama's presidency, US influence in the South Caucasus had declined as the White House paid more attention to bilateral relations with Russia.
It appears that, in large part, the Trump administration's renewed focus on the South Caucasus is driven by concern over Iran. The Iranian issue was almost certainly somewhere near the top of Bolton's regional agenda, and it was the main topic discussed in Baku with President Aliyev. Azerbaijan, however, has long sought to cultivate amicable relations with Iran (see EDM, March 5, 27, April 5). Indeed, the two neighboring countries have launched a number of strategically important regional infrastructure and transit projects—such as the North-South and the South-West Transport Corridors (see EDM, April 24, 2017; July 17, 2017) as well as signed agreements on the joint development of offshore natural gas fields in the Caspian Sea—in order to further boost international trade.
While in Baku, Bolton stressed that the United States would enforce sanctions on Iran "very vigorously" and that Washington intended to enlist the support of the regional countries in doing so (Turan, October 25). Azerbaijan would be particularly important in this regard, as it is the biggest economy in the South Caucasus. However, the domestic Azerbaijani media has been conspicuously silent on this point as well as regarding any official statements from President Aliyev. This should not come as a surprise, since Baku has repeatedly made clear to its international partners that it is reluctant to become a foothold for any country against its neighbors (see EDM, April 23, 2012). Nevertheless, Azerbaijani authorities appreciate the value of close cooperation with the US and thus are willing to offer assistance on issues of mutual concern, such as energy security and counter-terrorism. Azerbaijan has also, for years, provided secure transit for the US military to and from Afghanistan, via the southern spur of the Northern Distribution Network (see EDM, September 15, 2009; June 15, 2015). And indeed, Bolton himself listed these issues as topics of discussion during his talk with Aliyev (Twitter.com/AmbJohnBolton, October 24, 2018).
When it comes to energy security, Washington is particularly keen on backing the Southern Gas Corridor project (spearheaded and heavily financed by Baku), which will diversify Europe's sources of gas as well as delivery routes that do not depend on Russia (Caspian News, February 19). Counter-terrorism also remains crucial for both sides and within the context of US-Azerbaijani bilateral cooperation. Moreover, the Azerbaijani Armed Forces participate in the North Atlantic Treaty Organization's (NATO) ongoing operations in Afghanistan, which further strengthens this South Caucasus country's engagement with the Transatlantic community.
The Trump administration's interest in enhancing US influence across the South Caucasus may include the possibility of weapons sales to regional countries. Bolton specifically mentioned this idea during his stopover in Yerevan, Armenia, where he underlined that "American weapons are better than the Russian ones" (News.am, October 25). Although Azerbaijan could represent a lucrative market for US arms producers, a stumbling block remains Section 907 of the United States Freedom Support Act, which Congress applied to Azerbaijan in 1992. Section 907 bans direct US assistance to this country, although the Senate allowed the US President to issue yearly waivers to this section of the law since 2001. Due to the changing global order, Washington was looking for a reliable partner for its Afghanistan operation. Thus, despite protests by Armenia, subsequent US administrations have, indeed, continued to issue such waivers, including President Trump (Federalregister.gov, June 20, 2016; JPost, February 20, 2017; Tert.am, October 27, 2018). At a press conference in Baku, Bolton made clear that the US was considering fully terminating Section 907 Azerbaijan (Report.az, October 25). The final denunciation of this legislation would enable the US to build a significantly closer military partnership with this country. But of course, new arms deals with Washington would implicitly increase the militarization of the region.
Although, Azerbaijan strives to distance itself from becoming or being perceived as a Western stronghold in the South Caucasus, it acknowledges the importance of cooperating with the US as a counterbalance to Russian influence. And should a closer US-Azerbaijani military partnership tangibly develop, this would be a clear sign of Washington's return to greater involvement in the region.