Minsk Resisting Moscow's Latest Scheme to Acquire Military Base in Belarus
Publication: Eurasia Daily Monitor Volume: 15 Issue: 154
By: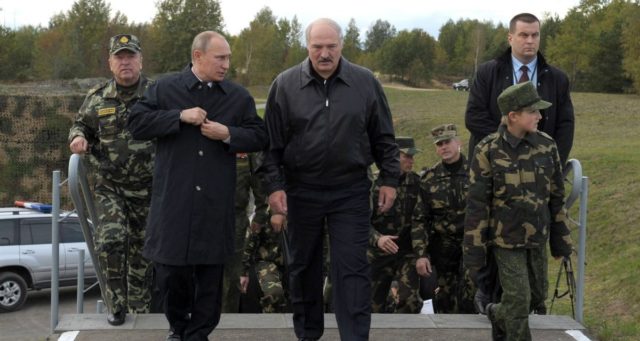 A serious conflict has arisen between Moscow and Minsk over a proposed joint military defense strategy document. The Russian side declares that it will treat any attack on Belarus as an attack on itself (see EDM, October 23) and thus needs to have a Russian military base on Belarusian territory—something it wants to write into the proposed new doctrine. Yet, the Belarusian side has strongly resisted, not only because it fears that Russia might use such a base to undermine Belarusian sovereignty, but also because Minsk does not view the North Atlantic Treaty Organization (NATO) as its only threat.
The existing military doctrine of the Union State of the Russian Federation and Belarus was adopted in 2001, and both sides agree it needs to be updated. But their views fundamentally diverge on what the new doctrine should contain, even though each side is making a public show of unity. Illustratively, four days ago (October 26), the Parliamentary Assembly of the Union State agreed to forward a draft updated joint military doctrine to a December 13 session of the Union State's Council of Ministers for approval. If that body signs off on the document, it will be forward to Presidents Vladimir Putin and Alyaksandr Lukashenka for their signatures (Soyuz.by, October 26).
That schedule makes the entire exercise look pro forma, especially given the fact that both countries have long been more concerned about advancing their separate national interests than in any interests they may have in common in the Union State. Nowhere is this more the case than on issues of defense and security. After all, since the last joint military doctrine of the Union State was put in place, Russia has adopted four new national security doctrines of its own (in 2010, 2014, 2017 and 2018), and Belarus has promulgated one (in 2016), a document that Lukashenka made clear was needed in the wake of the conflict between Russia and Ukraine (Openmedia.io, October 27).
While doctrinal statements do not always lead to real changes, Belarus's 2016 military doctrine did. Specifically, it prompted Minsk to focus on the threat of "hybrid" war by creating a new system of territorial defense forces and, despite its statement that NATO was the main threat, to hold military exercises almost exclusively along the country's eastern border with Russia. This was something Moscow could not fail to have noticed; and subsequent statements by Russian officials show it was deeply offended by it.
According to Belarusian military specialist Sergey Martselev, "[I]n 2014, Lukashenka was very frightened: he suddenly understood that nothing would prevent Putin, if he so desired, to seize all of Belarus by adopting a 'Crimean-Donbas' scenario." The analyst concludes that the Belarusian leader thus had no option but to develop his own defense capacity and to seek support from China, Ukraine and even the West. That led Lukashenka to dig in his heels against Moscow's demand for a Russian base on Belarusian territory, something Moscow thought it had already secured an agreement several years earlier (Openmedia.io, October 27).
To prevent Minsk from refusing again, Moscow is pressing for a new Union State military doctrine that will include provisions for the establishment of a Russian base in Belarus—an effort that has only intensified with reports that the United States may set up a permanent base in Poland, Martselev continues. If the doctrine is adopted, Moscow will be in a position to accuse Lukashenka of reneging on his "Union obligations" and take possibly draconian measures to enforce them, at least nominally, within the law.
The intensification of this campaign was signaled ten days ago by the declaration of Mikhail Babich, Moscow's new ambassador to Minsk, and the more recent visit of Russian Defense Minister Sergei Shoigu to Belarus. Babich, for his part, said that any attack on Belarus would be viewed in Moscow "as an attack on Russia with all ensuing consequences" (see EDM, October 23). In making this declaration, Babich, a former KGB officer close to Putin, explicitly said that "we are a Union State, we have union obligations and a single military policy that guarantees the absolute security of our citizens (TASS, October 21; Tut.by, October 22). For his part, Shoigu underscored that the likely appearance of a NATO base in Poland makes the establishment of a Russian base in Belarus an absolute necessity (Soyuz.by, October 24).
Their arguments, Belarusian security analyst Denis Lavnikevich contends, were an obvious rejoinder to Lukashenka's remarks three weeks earlier, when the Belarusian leader raised questions in public about Minsk's ties with Moscow. Allies are not always reliable, Lukashenka said. "Even on Russia, we cannot rely 100 percent." Today things are fine, "but what about tomorrow? Therefore, the most necessary thing is to have our own weaponry," the Belarusian president declared—hardly what Moscow wants to hear (Tut.by, October 5; Openmedia.io, October 27).
The Russo-Belarusian conflict was likely further intensified by a speech that A. Wess Mitchell, the US Assistant Secretary of State for Europe and Eurasia, delivered at the Washington-based think tank the Atlantic Council, on October 19. Notably, he said that "the national sovereignty and territorial integrity of countries bordering Russia," including not only Ukraine and Georgia but also Belarus, "is a reliable bastion that constitutes a defense against Russian neo-imperialism" (Tut.by, October 19). That statement, while driving Moscow to demand a base, has also had the effect of encouraging Lukashenka to resist and to impede the adoption of a new joint security doctrine.
Over the next month, before that document is scheduled to be approved, the conflict between Moscow and Minsk will likely intensify, with Moscow increasing pressure on Belarus and Minsk seeking support from abroad. How things play out over this period could determine the direction Belarus takes for some time to come.