Russia Shutters Northern Distribution Network
Publication: Eurasia Daily Monitor Volume: 12 Issue: 111
By: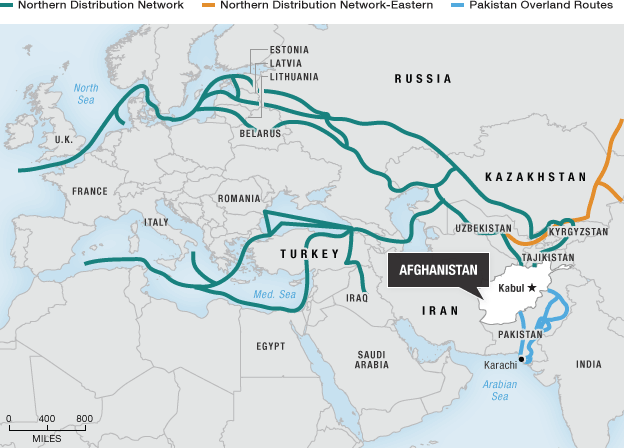 On May 15, Russian Prime Minister Dmitry Medvedev issued a resolution closing the Northern Distribution Network (NDN), a network of rail and road links across Russia and the post-Soviet space that had provided logistical transit to Afghanistan for International Security Assistance Force (ISAF) military equipment and weapons since 2008 (Moskovsky Komsomolets, May 19). Given the drawdown of ISAF's presence in Afghanistan, the closure is less of a logistical problem than it once was. The forces supporting ISAF's successor—Operation Resolute Support, numbering roughly 12,500 troops from 28 North Atlantic Treaty Organization (NATO) allies and 14 partner countries building up the sustainability of the Afghan National Security Force (ANSF)—have reverted to southern rail routes bypassing Russia, truck convoys through Pakistan and aerial flights for logistical support.
The 3,212-mile-long NDN, which began operating in February 2009, consisted of a series of three railway lines, operating in conjunction with Pakistan Ground Lines of Communication (PAKGLOC) truck routes, along with aerial resupply. The NDN was developed to deal with the pressing need to sustain the movement of equipment and supplies during Operation Enduring Freedom. Prior to the NDN's establishment, the only means of resupply to US and coalition forces in Afghanistan was through Pakistan.
The two NDN "Northern Line of Communication" (NLOC) routes ran through Russia to Afghanistan via Latvia, Kazakhstan and Uzbekistan, along with a subsidiary corridor transiting Russia, Kazakhstan, Tajikistan and Kyrgyzstan. A southern NDN "Central Line of Communication" (CLOC) bypasses Russia completely, as it runs through Uzbekistan and Kazakhstan, crossing the Caspian via rail ferries to Azerbaijan and Georgia. CLOC is still in use, as it is unaffected by Medvedev's decree.
From its inception, the NDN proved a useful addition to the truck routes through Pakistan, which were frequently either attacked or shuttered by the Pakistani government over policy disputes with Washington. While the public image of the NDN was that it transited only non-lethal cargo, in fact it was used to move munitions from the outset, as the author found out in early 2009, when asking a question about NDN cargos to Russian Foreign Minister Sergei Lavrov. Russia's top diplomat replied, "It's only one year ago that we signed an agreement with NATO as an organization for non-lethal transit, but for many years lethal transit had been operating through Russia on the basis of our bilateral agreements with France, Germany and, recently, the similar agreement with Spain was signed. They can move equipment, troops." Despite the presence of major US and Russian media representatives, Lavrov's comment was overlooked (John C. K. Daly, "Rerouting Logistics in Afghanistan," International Security Network, May 17, 2010). Two years after its inception, about 40 percent of ISAF supplies was arriving via the NDN (Defense.gov, July 2013).
However, in conjunction with downsizing its presence in Afghanistan, Washington's strategy for Central Asia has refocused on a "New Silk Road" strategy, intended to stabilize Afghanistan by putting it at the center of a network of Eurasian trade routes. Over the course of several speeches in 2011, then–US Secretary of State Hilary Clinton committed US foreign policy in Asia to the vision of a "New Silk Road." On July 20, 2011, in Chennai, India, Clinton proposed: "Let's work together to create a new Silk Road […] an international web and network of economic and transit connections. That means building more rail lines, highways, energy infrastructure. (Chennai.usconsulate.gov, July 20, 2011).
In a speech in October 2012, Assistant Secretary of State for South and Central Asian Affairs Robert Blake reiterated that the NDN routes could serve after the US and NATO drawdown in Afghanistan as components of the US's "Silk Road Vision" (Iipdigital.usembassy.gov, October 18, 2012). As envisaged, the New Silk Road is not the physical transit corridors of the NDN, but more of an alliance of Central Asian states to ensure trade and partnership in the region and for the future.
In the wake of growing tensions with the West over its policies toward Ukraine—particularly following Russia's March 2014 annexation of Crimea—Moscow grew quite aware of its bargaining power thanks to the NDN. Two days after the Crimean annexation, the Russian publication "Military Review" published an article that noted, "They understand this in the Kremlin: the agreement over the 'Northern Distribution Network' at NATO's disposal is one of the strongest trumps that Russia has in its conflict with the West" (Voennoe Obozrenie, March 19, 2014).
Given the downsizing of coalition forces in Afghanistan, the closure of the NDN is less important than it would have been several years ago. While not explicitly stated, the NDN seems to be a casualty of worsening Western-Russian relations over Ukraine. As for implementing Washington's "New Silk Road" strategy supplanting the NDN, it remains to be seen whether the US government will commit the necessary funding. In the race to influence post-Soviet Eurasia, regional military downsizing has limited Washington's options, Russia is reasserting its presence, and China is preparing to invest billions to produce its own "New Silk Road" vision. Accordingly, the only clear outcome seems to be diminished US influence in the heart of Asia.