Libyan War Upsets Fragile Tunisian Government
Publication: Terrorism Monitor Volume: 18 Issue: 14
By: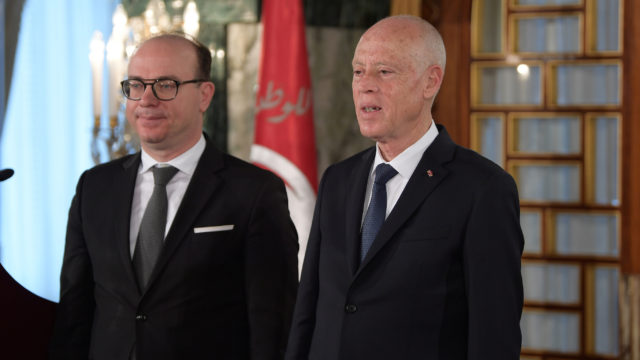 The increasingly intractable war in Libya is remaking the political landscape in Tunisia as powerful international players vie for influence across the region. The shifting political realities in Tunis are not just a byproduct of international actors' involvement in backing opposing parties to the war in Libya, but also a result of these actors directly meddling in Tunisian affairs.
Tunisia, widely seen as the Arab Spring's only success story, has struggled to keep its fledgling democracy from tearing apart at the seams for years. The recent 2019 elections marked an important milestone, as it resulted in a widespread rejection of both the consensus model of government that emerged in 2014, and the lingering social and economic status quo left behind by the former President Zine El Abidine Ben Ali in January 2011. With that rejection, however, came the marginalization of the once powerful Islamist party, Ennahda, and the Nida Tounes party. The elections increased political fragmentation within parliament as a result of new parties, such as Qalb Tounes, emerging out of fractures within established parties. Currently, no party holds the 109 seats needed to form a strong coherent government, though Ennahda remains the largest with 54 seats. President Kais Saied may have won the presidential election in a landslide victory, but he lacks the experience and political party affiliation needed to effectively marshal the government. What emerged from the 2019 elections was an exceptionally fragile and politically and ideologically diverse government vulnerable to economic or political shocks.
In addition to Tunisia's own challenging party politics, the war in Libya has also weighed heavily on the country's political landscape. The increased involvement of international actors such as the UAE, Russia, and Turkey, in particular, has ruffled feathers as politicians and citizens alike are divided on what should be Tunis' official stance toward the various parties to the war in Libya. President Saied has attempted to maintain that the official government stance is one of neutrality and non-interference, pushing back against Turkish interference. This stance, however, has caused turmoil within the government as prominent political figures have pushed for a more definitive position. Most notably, Tunisian Parliament Speaker and Ennahda Party head Rached Ghannouchi rallied for a stance of support toward the alliance between Turkey and the internationally recognized Government of National Accord (GNA) (Arab Weekly, May 8).
Alongside the obvious international involvement in Libya, an insidious competition between Turkey and the UAE has also been playing out to directly influence or undermine the Tunisian political process. Rached Ghannouchi has increasingly been at the center of this campaign for influence, the tangible results of which are seemingly drawing near as he could face a vote of no confidence in parliament at the same time Ennahda is attempting to oust Prime Minister Elyes Fakhfakh (The National, July 13).
As the Parliament Speaker and head of the Ennahda Party, which is commonly accused of harboring ties to the Muslim Brotherhood, Ghannouchi has found himself caught between Turkey's attempts to sway Tunisia toward the GNA and the UAE's attempts to discredit him and the party. Ghannouchi's support toward Turkey's involvement in Libya is evidenced not only by his public statements, but also by his January meeting with President Recep Tayyip Erdoğan (Asharq Al-Awsat, January 16). This meeting led the Tunisian parliament to organize a session to question him about his trip and motives, during which he noted that parliament did not pay for the cost of his "personal and pre-scheduled" trip to Turkey. Ghannouchi was also condemned for holding interviews with Qatar's Al-Jazeera and Turkey's Anatolia News Agency, where he responded to criticism against him and his impending questioning in parliament. During the interviews, Ghannouchi also mentioned foreign actors engaging in a campaign against him, hinting at alleged Emirati information operations.
The UAE has long sought to undermine the Ennahda party, which has drifted closer to Turkey and Qatar, in favor of financing and supporting political elites connected to the former regime of President Ben Ali. The fragmented parliament, the independence of President Saied, and the selection of the less politically influential and anti-Ben Ali Prime Minister Elyes Fakhfakh left the UAE with few political leaders sympathetic to the Gulf nation. As such, information operations, which have been ongoing for years, have seemingly become the method of choice, with UAE-owned media outlets regularly targeting Ennahda as a whole and Ghannouchi himself, accusing him of corruption and harboring hidden wealth worth $8 billion (Arabi21, May 19; Middle East Eye, May 22). Turkey, for its part, has simultaneously used its own state media outlets to defend Ghannouchi while accusing the UAE of attempting to orchestrate a "counter-revolution" in Tunisia to cover up the country's failures in Libya (Anadolu Agency, May 24).
To what degree the UAE and Turkey have managed to directly influence the shifting political scene in Tunisia is unclear. What is clear, however, is that Tunisia's already fragile government is being tested by the war in Libya and the toxic competition between rising international powers. As President Saied attempts to handle calls for the removal of Fakhfakh, which he has rejected, and Ghannouchi, Tunisia's political parties will increasingly find it necessary to reorganize and will look to broaden parliamentary blocs through the formation of new party alliances. President Saied's lack of a firm connection to any one political party is likely to stymie his ability to prevent destabilizing political games from playing out in parliament.