Lines of Communication Are Closing Between East and West
Publication: Eurasia Daily Monitor Volume: 12 Issue: 148
By: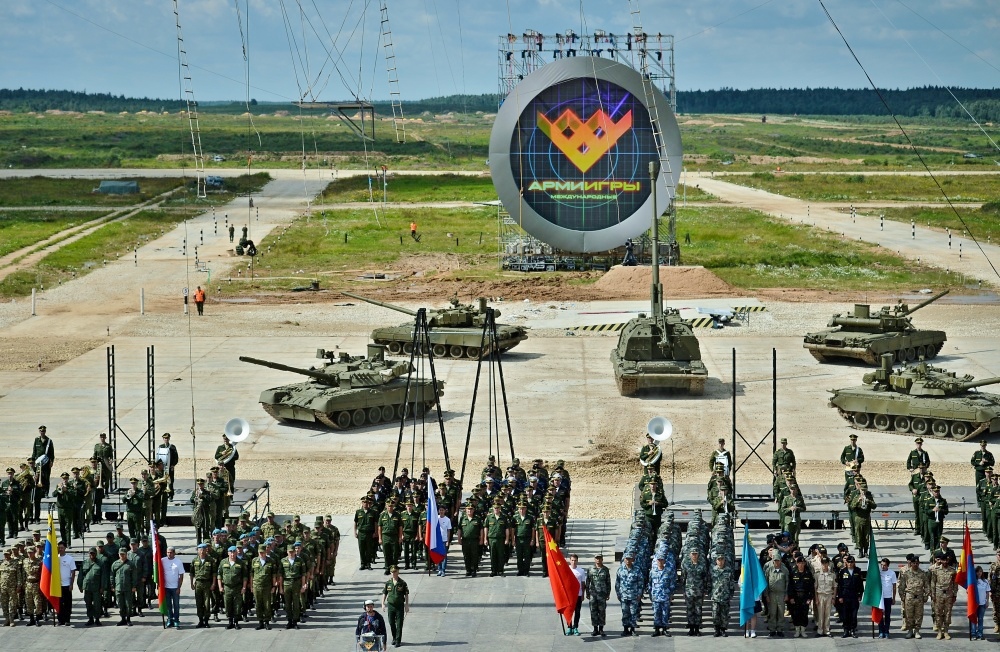 Last week (July 30), at a press conference in the newly furnished National Defense Center, on the Frunsinskaya embankment in downtown Moscow, Deputy Defense Minister Anatoly Antonov (60) presented the defense ministry's latest major PR project: the opening of the First Army Games International, which are planned to last until mid-August. The Army Games were conceived as a type of international military Olympics, at which tank and air crews, paratroopers, seamen, and other soldiers compete in various exercises and show off in a public spectacle. These military games were, reportedly, personally "invented" by Russia's minister of defense, Army-General Sergei Shoigu. In August 2013, Russia held its first "tank biathlon," and later these types of competitions spread to other branches of the military (Rbcdaily.ru, August 14, 2013). According to Antonov, "The [August 2015 Army Games] demonstrate the futility of attempting to isolate Russia—some 17 nations will be competing is some 14 different events" (TASS, July 30).
Only the Chinese military brought to Russia its own military hardware, including ZTZ-96A (Type 96А) tanks and WZ501 (Type 86) armored vehicles, while all the other teams from developing countries and former Soviet republics are using Russian T-72 tanks and equipment. The deployment of modern Chinese armor in exercises near Moscow and in other events of the Army Games may provide the Russian military with an important opportunity to assess the technical and tactical capabilities of the People's Liberation Army (PLA), while also giving the PLA a chance to directly compare its weapons and the training of its men with its Russian counterparts (Interfax, July 29).
Speaking at the press conference at the start of the Army Games, Antonov announced that some 34 participants were invited, including major Western militaries, "but NATO [the North Atlantic Treaty Organization] did not come to visit." According to Antonov, this is regrettable: "It would be great to have an American general with us and Western crews participating in the games." Antonov expressed hope that someday, militaries from Western Europe and the United States will come to openly compete, adding, "We are ready to go to their national testing grounds to compete." Antonov announced he is planning to meet the US ambassador to Moscow, John Tefft, to ask, why the US team is ignoring the Army Games. Antonov pressed on: "Maybe it is time we, the military, help the politicians move on, end the confrontation and stop viewing each other through the crosshairs of our tanks. Enough sulking, let us move on and work together. There is no alternative to international cooperation" (TASS, July 30).
Antonov is a top career diplomat; in 2011, he was attached to the Ministry of Defense as a deputy defense minister overseeing international relations. Last February, Antonov was added to the list of Russians sanctioned by the West for their role in the Ukrainian crisis. Antonov told Russian TV these sanctions "are very stupid […] one day they [the European Union] will decide to restore relations, but with whom will they begin talks, while I am in the sanctions list?" (RIA Novosti, March 19).
This week, on August 5, there was an official ceremony in Moscow, at the German ambassador's residence, for the departing German military attaché, Brigadier General Reiner Schwalb, the longest-serving military attaché accredited in Moscow. The longest serving foreign military attaché is officially recognized by the Russian authorities as the Dean, or Doyen, of the Diplomatic Military Attaché Corps. The Doyen of the military attaché Corps, as well as the longest serving ambassador—or Doyen—of the entire Diplomatic Corps, play an important functional as well as ceremonial role in Moscow diplomatic life, serving as representatives of all the accredited diplomats, organizing joint events and serving as intermediaries in time of diplomatic crisis. The event on August 5, was also a meeting of the Moscow association of military attachés (MAMA) to honor Schwalb and other departing military attachés from different nations and to welcome new arrivals. Antonov did not send anyone to be present—indeed, there was no Russian official representation at all at the departure ceremony of the Doyen of the Diplomatic Military Attaché Corps in Moscow. A Russian official told Jamestown, on the condition of anonymity, that this was an unprecedented breach of protocol, unparalleled even during the Cold War.
As a career diplomat, Antonov surely understands how essential it is to always keep lines of communication open at all different levels, including military-to-military (mil-to-mil). Antonov's presentation at the Army Games press conference might appear to be an attempt to overcome the present mil-to-mil tensions between East and West. But in reality, it was just another PR pitch. De facto East-West diplomatic relations have been downgraded; though no one has yet been officially sent home or recalled, the lines of communications have been closing—especially the mil-to-mil contacts. Russian officials are boycotting the Americans and now, apparently, the Germans, too.
The ceasefire in the eastern Ukrainian region of Donbas, between Ukrainian and pro-Russian forces, has unraveled: Though the front line is more or less motionless, shelling and fighting is constant, while talks to find a political solution are deadlocked, with both sides blaming each other (Vzglyad, August 6). The Moscow ruling elite seems to be bracing itself for a showdown with the West. A summer camp school has been organized by the Kremlin in the Vladimir oblast, northeast of Moscow (the opening was visited by President Vladimir Putin), to indoctrinate thousands of young scientists, IT workers, political activists, journalists and teachers. Lecturing to more than a thousand mostly provincial young journalists at the camp school, state TV Rossya-1 channel's main evening news anchor, Ernestas Mackevičius (46), declared that before the new cold war began, he followed international journalistic standards, but not anymore: "Recall the journalism of 1942 [during the war with the Nazis]—no one provided differing points of view or gave the other side a chance to speak." According to Mackevičius, Russian journalists must be "mobilized to fight in the information war—let us first win, and then we may begin to criticize the authorities for wrongdoing" (Kommersant, August 5).
In the 1990s, Mackevičius, born in Lithuania, was a reporter for the independent NTV channel, which indeed strived to promote quality news reporting. Some eight years ago, in the 2000s, Mackevičius, already working at Rossya-1, told Jamestown he was sickened by the on-air falsehoods, but had a family to support. Today, the time of doubt is over: fabricating vicious propaganda is being bluntly acknowledged as a patriotic virtue.