Little-Known Ghazi Brigade Now a Major Player in the Punjabi Jihad?
Publication: Terrorism Monitor Volume: 8 Issue: 28
By: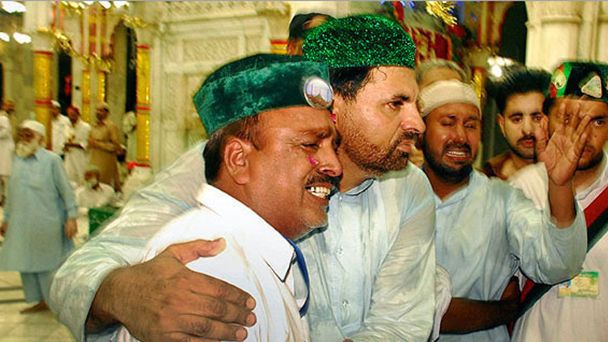 A recent spurt in sectarian attacks in Pakistan has been blamed on a lethal but lesser known group affiliated with Taliban and al-Qaeda elements: the Ghazi Abdul Rashid Shaheed Brigade, also known as the Ghazi Brigade or Ghazi Force (Daily Times [Lahore], July 2). What was formed as an Islamic vigilante group has now emerged as a radical jihadi organization in response to the July 2007 Lal Masjid (Red Mosque) siege in Islamabad. Over one hundred religious students were killed by Pakistani security forces during the siege, including the mosque's deputy leader, Abdul Rashid Ghazi. Thousands of mourners pledging their commitment to jihad thronged the funeral of Abdul Ghazi, held in his native village of Basti Abdullah in Punjab (PakTribune, July 12, 2007). Indeed, his death heralded the start of a neo-Taliban movement in Pakistan, with radical students calling for jihad against Pakistan and its allies.
The Ghazi Brigade, named after the slain cleric, has two objectives: to enforce Islamic Shari'a in Pakistan through the use of force, and to punish those who stormed Lal Masjid and caused the death of their spiritual leader Abdul Rashid Ghazi. It was Ghazi, along with his brother Maulana Abdul Aziz, who spearheaded the growth of neo-Talibanism within the precincts of the beleaguered mosque that housed two Islamic seminaries, Jamia Hafsa and Jamia Faridia.
The events at Lal Masjid prompted al-Qaeda's Dr. Ayman al-Zawahiri to call for revenge attacks in Pakistan. Maulana Abdul Aziz, the brother of Rashid Ghazi, also issued a threat of "bloody revolution" in the country (Dawn, July 10, 2009). Addressing an Islamic gathering to commemorate the Lal Masjid standoff, an unidentified cleric said, "You killed one Ghazi. Here are thousands of Ghazis ready to sacrifice in the way of Allah." In effect, the events at the mosque have unleashed a wave of suicide attacks across Pakistan.
The Ghazi Brigade first came to light when music shop owners in Quetta were warned of suicide attacks in May 2008. The Ghazi Brigade distributed pamphlets labeling all forms of entertainment as "un-Islamic" (Daily Times, May 15, 2008). Investigations into incidents of suicide attacks on security installations in 2009 revealed the Ghazi Brigade's emerging network in Punjab province and its active involvement in jihadist activities in Islamlabad, Rawalpindi, Lahore, Swat, Buner and Orakzai Agency. The Ghazi Brigade terrorists are trained in handling modern weapons and in making improvised explosive devices.
While recruiting youths from different parts of Punjab and the tribal areas, arrested leaders of the Ghazi Brigade have admitted to sending over a dozen new recruits to various training camps operating in Azad Kashmir. The Ghazi Brigade is believed to be operating from the Orakzai tribal agency.
In 2009, the Ghazi Brigade struck at least five times in Islamabad. On March 23, a suspected Ghazi Brigade terrorist blew himself up near the headquarters of the Special Branch (an intelligence agency of the Federal Capital Police) in Sitara Market, Islamabad. Again on April 4, eight Frontier Constabulary (FC – a federal paramilitary) personnel were killed when a Ghazi Brigade suicide bomber targeted an FC checkpoint on the Margala Road in Islamabad (Daily Times, March 24, 2009; April 5, 2009).
One arrested terrorist affiliated with the Ghazi Brigade, Jamshed Ahmad (a.k.a. Tahir), confessed to planning suicide attacks on Rescue 15 (a police helpline) offices on June 6, 2009 and on the UN World Food Program (WFP) offices on October 5, 2009 (Daily Times, June 7; 2009; Dawn, June 7, 2009; Dawn, October 5, 2009). These attacks were largely a violent reaction to the military operations in Swat and the Federally Administered Tribal Areas (FATA).
According to intelligence sources, the organization is led by Maulana Niaz Raheem (a.k.a. Bilal), a former student at the Red Mosque's Jamia Faridia seminary. Pakistani agencies have arrested a Ghazi Brigade terrorist identified as Fidaullah (a.k.a. Junaid) who was allegedly involved in the attacks on the Police Special Branch and the FC checkpoint in Islamabad. Fidaullah has been identified as one of the top strategists for the Ghazi Brigade, operating from the Galjo area in Hangu, part of the North-West Frontier Province (Geo TV, June 1, 2009). Two of his accomplices also involved in the FC checkpoint attack, Khairullah and Khurram Shahzad, were arrested on earlier occasions. Ghazi Brigade terrorists adopted decapitation as a tactic to instill fear among those civilians supporting security forces in the battle zones. Fidaullah himself beheaded three people publicly in Sultanwas and Pir Baba in Swat (The News [Islamabad], June 2, 2009).
Other key terrorists affiliated with the Ghazi Brigade were identified by the Pakistani investigating agencies, most of them operating from vital locations such as Peshawar, Dera Ismail Khan, Kohat, Mardan, Karachi and Islamabad (Dawn, October 25, 2009).
While details about its operational linkages with other terrorist organizations in Pakistan are still unclear, the Ghazi Brigade worked closely with the Tehrik-e-Taliban Pakistan (TTP) during the Swat operation in early 2009. Both the TTP and the Ghazi Brigade have reportedly planned attacks on western targets in Islamabad including clubs and hotels frequented by foreigners. Reports suggest that the Ghazi Brigade also has active links with the Ilyas Kashmiri group and al-Qaeda. The group "has been involved in abduction for ransom to meet their terror expenses." According to Jamshed's confession, the Ghazi Brigade terrorists have abducted a wealthy businessman named Najibullah Afghani and received Rs 10 million ($116,000) for his safe release. He also confessed to having abducted more people from a rival sect for money (PakTribune, November 21, 2009).
Largely an offshoot of the Lal Masjid episode, the Ghazi Brigade appears to be loosely organized and geographically scattered for now, but these former student followers of Abdul Rashid Ghazi have a robust jihad agenda in mind to threaten Pakistan's national security.