Logistics and the Afghan Endgame
Publication: Eurasia Daily Monitor Volume: 9 Issue: 75
By: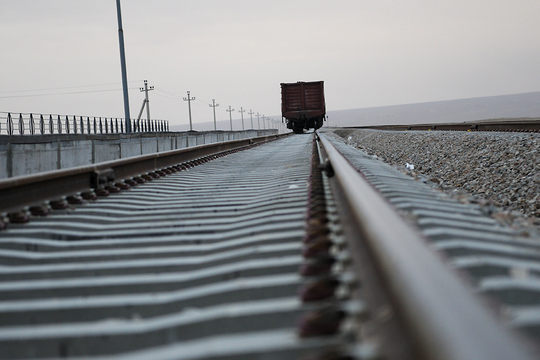 The United States and its allies have undertaken a sustained effort since 2008 to develop sea, ground, and air transportation routes to Afghanistan's north, through the territories of the former Soviet Union. This so-called Northern Distribution Network (NDN) now conveys large quantities of non-lethal supplies from Europe to the NATO troops in Afghanistan through Russia, the Caucasus and Central Asia.
There are three different transport routes comprising the NDN that are available to the United States: one leaves Riga and crosses Russia, Kazakhstan, and Uzbekistan; the second traverses the Caucuses, passing through Georgia and Azerbaijan before crossing the Caspian Sea and then rolling across Kazakhstan and Uzbekistan; the third route option goes from Riga to Kazakhstan, then through Kyrgyzstan and Tajikistan.
About 70 percent of cargo transiting the NDN enters through Uzbekistan's Hairaton Gate, explaining the increased importance of Uzbekistan in coalition thinking ("Central Asia and the Transition in Afghanistan," Senate Foreign Relations Committee Majority Staff Report, December 19, 2011). But what is often overlooked is that a full 100 percent of goods traveling along the NDN passes through Kazakhstan. All the cargo through each itinerary passes through Kazakhstan in some capacity, by boat, train or road. This is not true of any other country participating in the NDN, yet Kazakhstan's pivotal role in the NDN, which began in January 2010 (EDM, February 24, 2010), draws little attention since working with Astana generates less controversy than cooperating with some of the other governments along the NDN.
Although agreements with Kazakhstan and most other NDN states do not include the right to move troops, weaponry or militarily-sensitive materials, ISAF still depend on the non-lethal supplies – including cement, lumber, blast barriers, body armor and Humvees – that do pass through the routes. Arguably, the most crucial supply passing through the NDN is fuel. As of March 2011, 60 percent of all fuel that goes to US and NATO forces comes to Afghanistan through the NDN (Senate Foreign Relations Committee, December 19, 2011).
US and NATO officials are now seeking to expand use of the NDN. They want permission to transport lethal supplies along the routes, move goods in reverse direction (from as well as to Afghanistan), and are striving to reduce the expense of using the NDN. It currently costs NATO about $10,000 more to transport a twenty-foot container via the NDN instead of through Pakistan (Senate Foreign Relations Committee, December 19, 2011).
The government of Kazakhstan is, in principle, willing to help. Well before the NDN, Astana allowed NATO aircraft supporting Operation Enduring Freedom to use its airspace. By the end of 2010, more than 13,000 such overflights had occurred (Kazinfrom, November 20, 2010). In addition to its support for ISAF operations, Kazakhstan supports Afghanistan's development through various bilateral aid programs, including by providing Afghan students with scholarships to study at Kazakhstani universities.
But Kazakhstani diplomats now require that Astana's pivotal position regarding the NDN receive greater acknowledgement in Washington. They also want US help on trade cooperation, physical economic development, and establishing business-to-business partnerships (Kazakhstan News Bulletin, April 6).
The so-called "Nazarbayev-Obama agreements" reached in April 2010 include Kazakhstan's commitments to opening up its territory for the work of the NDN and US commitments to purchase goods in Kazakhstan for NATO troops in Afghanistan (Kazakhstan Today, April 12, 2010). In the view of Astana, by the middle of 2011, Kazakhstan fulfilled its commitments, but US purchases are at a very low level (Kazakhstan News Bulletin, April 6). Kazakhstani diplomats believe that the Pentagon buys and spends more on NDN-related items in Russia and Uzbekistan than in Kazakhstan, despite the fact that Kazakhstan is the key area through which all NDN routes converge regardless of their previous routes.
An indication of Astana's stiffening negotiating position was evident in the recent negotiations regarding the terms and conditions of using the NDN for reverse cargo. Uzbek and Russian authorities were quick to consent, but Kazakhstani officials initially delayed signing the agreements. By late February 2012, however, the Pentagon had secured the approval of Kazakhstan and other Central Asian countries as well as Russia to withdraw non-lethal cargo from Afghanistan through their rail networks. US officials are now seeking permission to withdraw armored vehicles through their networks as well (Senate Armed Services Committee, February 28).
The United States could also contribute to improving the infrastructure and remove other impediments to the flow of goods through Kazakhstan. According to a US Senate Foreign Relations Committee staff report, some 60 percent of the time required to ship goods from Bishkek through Kazakhstan to Russia is spent at two Kazakh border crossings. The Senate staff cites the need for "software" improvements, including "customs and legal reforms" ("Central Asia and the Transition in Afghanistan," Senate Foreign Relations Committee Majority Staff Report, December 19, 2011).
According to the Kazakhstani Foreign Ministry's press service, when US Secretary of State Hillary Clinton met Kazakhstan's Foreign Minister Yerzhan Kazykhanov at the December 7, 2011 OSCE meeting in Vilnius, Clinton "welcome[d] […] a proposal to establish a transport and logistics center in the Aktau Sea port" (Interfax, December 7, 2011). Helping develop the port of Aktau, especially its capacity for processing vessels and unloading containers, would be wise since it could serve as an alternative to the controversial airfield in Manas, Kyrgyzstan. As a multi-modal facility and Kazakhstan's only deepwater sea port, Aktau could potentially be a fulcrum of the NDN and, in the long run, an important factor in promoting regional economic development and stability.