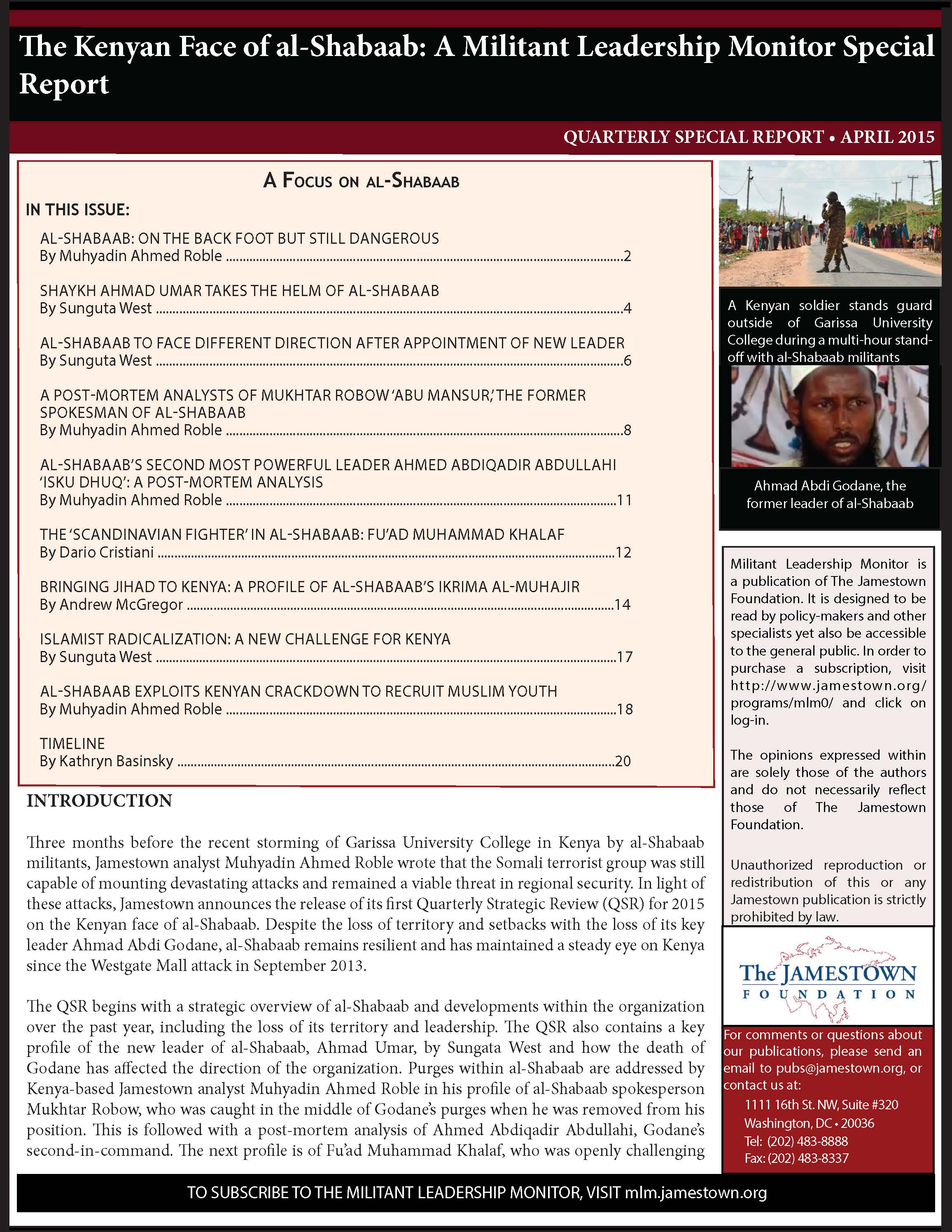 The Kenyan Face of al-Shabaab
Three months before the recent storming of Garissa University College in Kenya by al-Shabaab militants, Jamestown analyst Muhyadin Ahmed Roble wrote that the Somali terrorist group was still capable of mounting devastating attacks and remained a viable threat in regional security. In light of these attacks, Jamestown announces the release of its first Quarterly Strategic Review (QSR) for 2015 on the Kenyan face of al-Shabaab. Despite the loss of territory and setbacks with the loss of its key leader Ahmad Abdi Godane, al-Shabaab remains resilient and has maintained a steady eye on Kenya since the Westgate Mall attack in September 2013.
The QSR begins with a strategic overview of al-Shabaab and developments within the organization over the past year, including the loss of its territory and leadership. The QSR also contains a key profile of the new leader of al-Shabaab, Ahmad Umar, by Sungata West and how the death of Godane has affected the direction of the organization. Purges within al-Shabaab are addressed by Kenya-based Jamestown analyst Muhyadin Ahmed Roble in his profile of al-Shabaab spokesperson Mukhtar Robow, who was caught in the middle of Godane's purges when he was removed from his position. This is followed with a post-mortem analysis of Ahmed Abdiqadir Abdullahi, Godane's second-in-command. The next profile is of Fu'ad Muhammad Khalaf, who was openly challenging Godane's decisions, by Dario Cristiani. Canadian based al-Shabaab expert Andrew McGregor also provides a profile of Ikrima al-Muhajir, a high-level Kenyan leader within al-Shabaab. Sunguta West then discusses al-Shabaab's inroads in Kenya, giving details on al-Shabaab's continued focus on this important country. Finally, Kathryn Basinsky provides a unique timeline of key events related to al-Shabaab that offer a retrospective on key developments within this organization since 2006.