Lukashenka Addresses the Nation
Publication: Eurasia Daily Monitor Volume: 20 Issue: 56
By: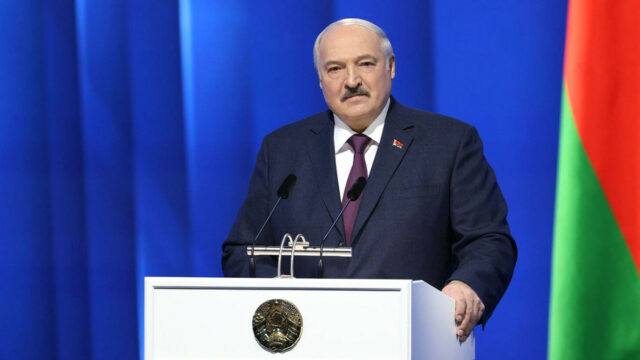 On March 30, Belarusian President Alyaksandr Lukashenka delivered his state of the nation address to the Belarusian parliament (Belta, March 31). The speech lasted over three hours and was followed by a more than 90-minute Q&A session. The four main themes of the Belarusian president's report were: the war in Ukraine in a global context, transition at the helm of power, historical memory, as well as the economy and social justice.
Lukashenka reiterated his view that the root cause of global problems is the United States' desire to expand its hegemony at a time of inexorable change in the world order. According to the Belarusian leader, all hot wars begin when those prone to corruption open their doors to "alien" soft power. "At first, the country is subjected to soft cultural expansion … and then it is trampled by the boot of a foreign mercenary" (Belta, March 31). This is what, according to Lukashenka, happened in Ukraine, which the North Atlantic Treaty Organization (NATO) initially infiltrated through military training centers. Thus, Russia had to retaliate, even though it initially opted for a diplomatic solution in the form of security guarantees from the West. Lukashenka noted that "recently, I discussed this situation with influential people from the leading Western countries, they claimed Russia's demand was not serious. But if that is the case, then such guarantees should have been given all the more." He once again shared the view that the war in Ukraine will stop as soon Washington decides it is time. However, counting on a defeat of a country with a nuclear arsenal—Russia—is delusional.
Lukashenka commented on the steep growth in Poland's military power as supported by the US, not least because Washington wants Warsaw to invade Belarus. On NATO's threat to Belarus, he quoted recently retired Colonel-General Eberhard Zorn, who served as the inspector general of the Bundeswehr (German Armed Forces). On September 8, 2022, Zorn reportedly stipulated, "Belarus may enter the war, in which case NATO member countries should launch covert operations against targets on its territory." Lukashenka then quoted similar pronouncements by Polish Minister of Defense Mariusz Błaszczak and Joseph McGee, the commanding general of the US 101st Airborne Division. All these pronouncements were reportedly obtained by Belarusian intelligence (Belta, March 31).
This information led Lukashenka, as he acknowledged, to ask Russian President Vladimir Putin to bring nuclear weapons back to Belarus—an issue that had been vigorously debated before Lukashenka's address (see EDM, April 4). Most commentators underscore that Belarus's attachment to Russia will become even stronger as a result. Artyom Shraibman of the Carnegie Endowment for International Peace suggests that Belarus will now become a legitimate target for the West in the case of a full-blown conflict with Russia (Carnegie Politika, March 27). Predictably, Timofey Bordachev of Russia's Valdai Club thinks that the deployment of nuclear weapons in Belarus will accelerate the formation of a new world order as "centers of power cannot understand the limits of what is possible to ensure their security until they run into the comparable will of another center of power" (Vzglyad, March 28).
Next, Lukashenka once again assured Belarusians that he is not clinging to power. His time, he acknowledged, is coming to an end. However, since certain forces want him out, he must do the opposite and stay for a while. When this statement was followed by applause, Lukashenka immediately warned against any misunderstanding. Yes, he is in fact thinking about leaving, but he is now agonizing over his family being potentially hounded when he leaves. Thus, he must "secure the country" before retiring (Belta, March 31).
Lukashenka's musings on historical memory boiled down to undoing the romanticization of the Grand Duchy of Lithuania and Rzeczpospolita and emphasizing the leading role of Orthodox Christianity in Belarusian history. He castigated local nobilities of these two polities for opportunistically changing their identity and for being medieval replicas of present-day oligarchs. He maintained that the "Russian World is ours too." Then, the Belarusian president acknowledged that "we celebrate two Christmases, three Easters [Catholic, Orthodox and Jewish Passover] and respect Kurban Bayrami [or Eid al-Adha, the Muslim Feast of Sacrifice]."
On the economy, Lukashenka boasted in achieving the greatest ever ($4.3 billion) excess of exports over imports and in food exports reaching a record $8 billion. He even complained that he has yet to receive a reasonable suggestion as to how to use the excess supply of electricity produced by the nuclear power plant (Belta, March 31).
Apparently, Lukashenka has managed to achieve a degree of consolidation within a significant part of Belarusian society, and Chatham House surveys support this idea (see EDM, January 5). When Pavel Matsukevich, an exiled opposition analyst, was asked if he still thinks that positive changes will arrive in Belarus with a Ukrainian victory, he said: "While the fall of Putin would be stressful for Lukashenka, it will not in itself bring down the regime. In 2020, it survived without outside help. … With the outbreak of the war, Lukashenka's position even strengthened. Before the war, he was pretty much the number-one problem in Europe for the Western world. Now he is in a secondary role. The West grapples with Russia, and Lukashenka seems to be on the sidelines watching how the giants are exhausting themselves in the fight. Lukashenka's task is not to get into a fight and catch the moment when a turning point is reached. Thus, he will end up on the winning side in due course" (Udf.by, March 1).
As this observation was conveyed before Putin announced his plans to store nuclear weapons in Belarus, the idea that Lukashenka has been "sidelined" may now be called into question. In truth, Lukashenka, as a politician, has been consistently underestimated by adversaries and outsiders for most of his political life. Yet, the Belarusian president has been quite adept at taking advantage of this in the past and may very well do so with the current state of affairs.