Lukashenka Comes Under Widespread Fire for Lax COVID-19 Response
Publication: Eurasia Daily Monitor Volume: 17 Issue: 43
By: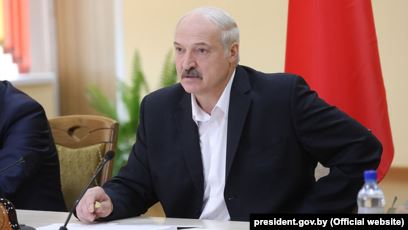 President Alyaksandr Lukashenka has come under growing public pressure and international criticism for not undertaking the types of pervasive quarantine and mobility restriction policies to limit the spread of COVID-19 that had become de rigueur across most of the West.
On March 27, the Belarusian Ministry of Health held a press briefing at which it reported that 94 individuals in Belarus had been found to be infected with the novel coronavirus, including 8 infected within the previous two days, and 32 who had already recovered. Not a single COVID-19 death had been recorded to date. The country has 2,221 vacant hospital beds to isolate the immediate contacts of those infected. All those coming from abroad are obligated to maintain two weeks of self-isolation (Sputnik.by, March 27). But no other limitations currently exist in the country, in striking contrast with all of Belarus's neighbors. According to the official data, Belarus has presently recorded one person infected with coronavirus per 101,000 people—fairly low on the European scale.
Lukashenka's attitude to the coronavirus threat was clearly reflected in his remarks on March 24: "Anything can happen to you, but most important is not to panic. I am particularly afraid that people will become psychotic as a result of media-inspired anxiety. Psychosis will then breed all other illnesses—that is what the specialists say… We are relying on our and on [Chinese] experience in order to pass the peak of this disease at a manageable level. If we endure until Orthodox Easter [April 19], then we will survive" (Tut.by, March 24).
The Belarusian president's ostensibly laid-back attitude has sparked an avalanche of criticism from the opposition media and on online social networks. The core of this disparaging commentary has been the effort to debunk Lukashenka's alleged naivete and ignorance of the actual health threat. Thus, the Belarusian Service of Radio Liberty (BSRL) placed side by side the videotaped pronouncements of German Chancellor Angela Merkel and of the Belarusian leader, emphasizing the alleged motherly responsibility of the former and witless nonchalance of the latter (Svaboda.org, March 24). The digital TV channel Belsat, which broadcasts from Poland, in turn derided what it called the "cynical disregard for safety and security of life and health of [Lukashenka's] fellow citizens" (Belsat, March 28). Whereas hundreds of social media posts essentially asked what made Lukashenka—a former director of a Soviet-era state farm—think that he was smarter than his colleagues in Europe. "The powers that be are guided by the assumption that those drowning should rescue themselves. Lukashenka has chosen a very risky strategy," Alexander Klaskovsky, a veteran opposition journalist, told a Polish newspaper. "If a steep growth in the number of infected occurs and deaths follow, that would be a threat to the regime, especially in conjunction with the upcoming presidential elections" (Rzeczpospolita, March 24). "One can assume there will be no multiple deaths. But that is because we will not be informed about them," Lev Margolin, a well-known Belarusian opposition economist, predicted in an interview with Frankfurter Rundschau (Frankfurter Rundschau, March 26). It should be noted that Margolin's ominous prognosis seems like a rather remote possibility since in a country of Belarus's size (with a population of less than 10 million), it would be exceedingly difficult to conceal multiple deaths from the disease.
At the same time, however, Lukashenka's seemingly unflappable demeanor in the face of the global pandemic has gradually been spurring an altogether different media response. For example, on the BSRL, commentator Yury Drakakhrust pointed out, "President Lukashenka advised his critics to go to and work on a collective farm, and the reaction was: Tsk! What can you expect from a Soviet-style dictator? But today, a French minister has proposed that waiters and barbers work in the fields" (Svaboda.com, March 27).
Moreover, Lukashenka's attitude is with ever-increasing frequency likened to that of United States President Donald Trump. Thus, the aforementioned Klaskovsky quotes Lukashenka's appreciative reference to Trump's previous suggestion that "if we do not return to work, more Americans will die from unemployment than would ever have died from coronavirus." Lukashenka referred to those remarks from his US counterpart during a meeting with the workers of a modern drywall-producing enterprise not far from Minsk. "Now you understand why I did not close the plant? Although there was a multitude of advisors: close the borders, the enterprises, put everyone in quarantine," Lukashenka declared (Naviny, March 27). Indeed, the authorities apparently view Belarus's 0.1–0.5 percent economic decline, which had already been predicted for 2020, as the greater threat that would be further exacerbated by a quarantine; whereas, the actual spread of the disease so far does not quite warrant such strict measures. " It is better to die on your feet than to live on your knees," Lukashenka declared, while entering the stadium in a full ice hockey uniform to participate in a match of the President's Sporting Club (YouTube, March 28). These words, famously first uttered by Emiliano Zapata, a leading figure in the Mexican Revolution, went viral across the Russian-language segment of the Internet.
To be sure, there is a long history of dismissing Lukashenka as "stupid and incompetent." The Belarusian analyst Andrei Lyakhovich once identified these very epithets as the most frequently used by the Belarusian opposition in their communication with their Western sponsors between 1994 to 1999 (Grigory Ioffe, Reassessing Lukashenka: Belarus in Cultural and Geopolitical Context, 2014, p. 131). Yet, 20 years later, they come across as outright counterproductive. In fact, criticism of Lukashenka's reaction to the pandemic is part of a larger global debate over responses to this crisis. It has reached such extreme emotionally charged proportions in Belarus in part because of the personality of the statesman in question. Illustratively, Vitali Tsyhankou from the BSRL reveals his utmost irritation at the mere thought that Belarus may not be a dictatorship anymore, even if this idea is presented as a joke (Facebook.com/vitali.tsyhankou, March 29). And Jaroslav Šimov, a son of Lukashenka's former economics minister Vladimir Shimov and also a Radio Liberty journalist (Russian service), calls those embracing Lukashenka-like attitudes "the deniers" (Simov, March 30), even though this qualification distorts the realities of the ongoing debate. It remains to be seen which side will gain the upper hand. But if Lukashenka's does, it would prove to be another unexpected vindication of his political longevity—at least in the eyes of his supporters.