The Kremlin Delegates Unpopular Closedown Measures to Governors
Publication: Eurasia Daily Monitor Volume: 17 Issue: 44
By: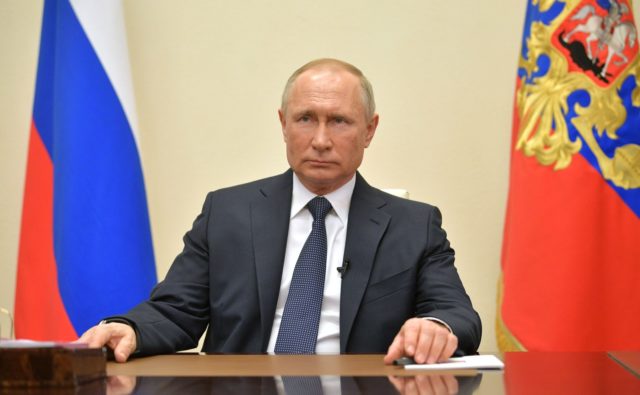 The chief surgeon of the main Russian coronavirus medical facility on the outskirts of Moscow, in Kommunarka, Denis Protsenko (44), has contracted COVID-19 and is in seclusion within his own facility (RIA Novosti, March 31). On March 24, Protsenko was in close contact with President Vladimir Putin (67), who visited Kommunarka (see EDM, March 26). While touring the medical complex, Putin donned a bright yellow full-body hazmat suit and respirator (Protsenko had on a white one); but both before going in and while discussing the COVID-19 outbreak afterward, Putin stood close and pressed hands with Protsenko (Kremlin.ru, March 24). The Kremlin has denied Putin caught the disease. But still, the president is now in seclusion in his Novo Ogaryovo (Moscow Oblast) countryside residence and ruling Russia remotely. Anyone Putin may physically meet, including his most trusted cohorts, could be an asymptomatic coronavirus carrier—and thus, a potential mortal health hazard to the president. On April 1, Putin for the first time chaired a Cabinet meeting remotely from Novo Ogaryovo. The government ministers were also each speaking via video connection, each of them from their own offices, not in one conference room. Putin announced this was a practical way to do government business while not threatening anyone's health. Russia's authorities have always had a reputation for remoteness from the masses they rule. But the COVID-19 outbreak has made this characterization that much more notable (Kommersant, April 2).
On April 2, Russian TV carried Putin's national address from Novo Ogaryovo on the novel coronavirus crisis. The president announced an extension of the previously declared March 29–April 5 holiday week all the way to the end of April. A partial shutdown of all nonessential businesses will continue until April 30 to curb the spread of the coronavirus. Employees must stay home while receiving full pay; schools and universities will be closed; students and senior citizens must also stay indoors. After announcing the extension of the partial shutdown, Putin rambled in his address without adding much of concrete substance, creating the impression that he is not fully in charge of the national health crisis response. Putin said the shutdown may be eased before April 30, "if things get better," without specifying. The Kremlin leader shirked from having to personally deliver bad news to the Russian population: he announced that all decisions on imposing punitive quarantine measures would be delegated to provincial governors. In his televised remarks, Putin delivered the only good news in the current devolving situation: Russians will receive five weeks of paid leave. All the rest is up to the governors (Kremlin.ru, April 2).
The coronavirus outbreak has so far not hit Russia as badly as the US and some other Western countries, or China, where the pandemic began. This may be due to the fact that Russia closed its borders and air traffic with China promptly. Or perhaps the outbreak has been manageable at the outset because the Russo-Chinese border is with the remote provinces of Northern China, which themselves saw few cases of COVID-19; whereas the disease epicenter—Hubei province and its industrial/business/educational hub, the capital of Wuhan—are more connected to Western economic/business/educational centers than to Russia's. Either way, the epidemiological coronavirus situation in Russia is not yet critical. The pandemic is worst in Moscow, according to Putin. But even in Russia's capital region, the healthcare facilities are still not strained or overwhelmed with COVID-19 cases. The partial shutdown, Putin contended, held back the spread of the novel coronavirus and allowed the authorities to prepare and mobilize resources (Kremlin.ru, April 2).
Provincial governors in the Volga region have been imposing quarantine restrictions by inserting curfew-style regulations, requiring people to have passes to leave their homes if they are part of the essential workforce, or to register with the authorities and receive special mobile text messages allowing them to go out and buy groceries (RBC, Newsru.com, April 1). Reportedly, the Russian government has been discussing (but not yet implemented) the possible closure of borders between different Russian regions to prevent the spread of the disease (Interfax, March 28).
Moscow Mayor Sergey Sobyanin announced that QR code passes would be issued to citizens, who must register on a municipal government website to be able to travel to work. One-time-use QR-code passes can also be procured to, for instance, go out to a neighborhood grocery store or to walk the dog. The Moscow Duma passed legislation allowing violators of the shutdown regime to be fined. Within the provincial governments of Moscow City and Moscow Oblast, staffers have been ordered to register to receive individual and automobile QR code passes. A combination of cell phone billing information provided by phone companies, credit card usage data provided by banks, and the vast network of Moscow surveillance cameras with facial recognition software will be used to track quarantine abusers; computer programs will issue them fines, which banks could bill to individual bank accounts automatically. But on April 2, when Putin refused to be the bearer of bad news, Sobyanin, who has larger political ambitions of his own, apparently decided not to do so either. The latter announced that the QR code pass system in Moscow will not be enforced for the time being. It is possible that the Moscow government has run into technical issues in imposing such a complicated surveillance and total control regime on the 40+ million population of the wider Moscow metropolitan area (Interfax, April 2).
March 28 and 29 were both warm and sunny days in Moscow, and crowds of Muscovites filled the officially closed parks to barbeque with family and kids. On March 30, however, the capital was hit by snow and cold, which chased the violators indoors. Moscow police officers have been patrolling the deserted streets and chasing down babushkas venturing out to shop for food. The city's law enforcement told reporters that if the weather improves, their officers will be overwhelmed and understaffed to impose an effective shutdown. The municipal police also complained of not being allowed to detain elderly indoor-regime offenders; officers cannot identify or report them if they refuse to produce a valid ID or give a false name or made-up home address (Kommersant, April 2). Sobyanin praised Muscovites for behaving well and keeping mostly indoors as ordered, and thus purportedly deserving some leniency. Nonetheless, the indoor regime remains in force and the QR code may yet be enforced "if the epidemiological situation worsens or people begin to mass violate orders to stay indoors" (Interfax, April 2).