Lukashenka Meets American Analysts
Publication: Eurasia Daily Monitor Volume: 15 Issue: 161
By: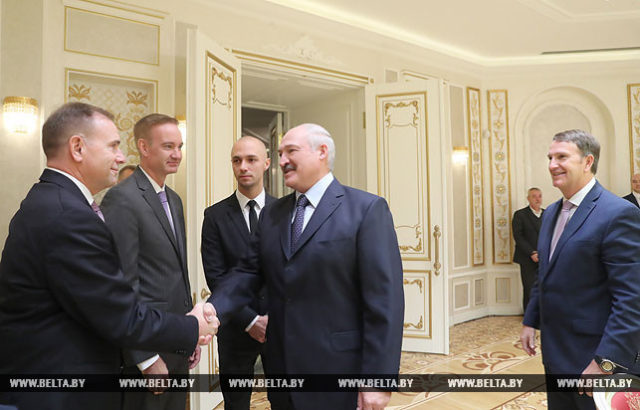 On November 5–6, a group of high-profile foreign policy analysts from the United States visited Minsk and met with Belarusian President Alyaksandr Lukashenka. The guests included retired General Benjamin Hodges, who in 2014–2017 commanded US Army forces in Europe; Michael Carpenter, a former Deputy Assistant Secretary of Defense; Bruce McClintock, an expert from the Rand Corporation; Glen Howard, president of the Washington-based analytical-research institution The Jamestown Foundation (the group's organizer); and Vladimir Socor, Jamestown's leading expert on Eurasia. The US delegation also met with Foreign Minister Vladimir Makei, held discussions at the Ministry of Defense as well as paid visits to a military cadet school, the High-Tech Park, and the Belarusian Museum of the Great Patriotic War. They also laid a wreath at the monument "Minsk—a Hero-City," thus paying tribute to those who liberated Belarus from the Nazis (Belta, November 5).
The state-run press agency Belta publicized several statements by President Lukashenka that he made during his meeting with the US guests. Notably, he called the Russian military presence in Belarus a made-up problem. "We are in a military-political alliance with Russia. There is absolutely no difference if there is a military base here or not. We are not deploying this base here not because we want to show you […] that we are sovereign and independent. We are not deploying it, because there is no need to," declared the Belarusian leader. "We have lately developed our own rocket industry and produced high-precision missiles. Therefore, I do not see any need to involve […] Russia to help us perform our functions. This is why we are categorically against the deployment of a base, especially an air force base. The estimated time of arrival of any aircraft from Russia, if needed, is three to five minutes. Why do we need a base here? Why do we need to become a target for a potential aggressor by deploying an air base?" Lukashenka asked rhetorically (Belta, November 6).
Interestingly, this explanation hews closely to General Hodges' reasoning for why the US does not need a military base in Poland: "If Eastern Europe wants to enhance NATO's [North Atlantic Treaty Organization] deterrent effect, a potentially divisive military presence is not the right way to do it," he wrote this past summer. His piece continues, "I don't think it is wise to move ahead with a policy that would feed Russian fears, real or not." And finally, "A base in Eastern Europe is unnecessary. The current exercise and deployment program and other important measures […] are part of a robust effort to ensure an adequate deterrent against a possible Russian attack" (Politico, June 4).
Such a shared desire to defuse, not boost the already high-level tensions in Europe may have contributed to the spirit of mutual understanding between Lukashenka and his US guests. Indeed, Hodges averred he was "impressed by the level of openness, transparency, and readiness of the Belarusian leadership to make contact" as well as by the potential and the ability of Belarus, which borders on three NATO member states as well as Russia and Ukraine, to play a key role in ensuring stability in the region (Belta, November 6). According to Carpenter, "[I]t is inadvisable to put Belarus in a position where the country needs to make a false choice between advancing relations along the eastern vector or the western one" (Belta, November 6), a remarkable statement considering how many political commentators from both East and West suggest the opposite, i.e., you are either with "us" or with "them." And Howard opined that the meeting exceeded his expectations (Belta, November 6).
Yet another important statement by Lukashenka during the meeting pertained to his recognition of the role the US plays in regional security. "We are convinced that the security of the entire continent depends on the unity of countries in the region and the preservation of the military and political role of the US in European affairs. We do not exaggerate. Unfortunately, we will not handle any issues, including the Ukrainian conflict, here without the US," the president said (Belta, November 6).
It would be nothing short of amazing if Lukashenka's meeting with the US analysts had not generated boilerplate negative responses from the intransigent arm of Belarus's opposition, on the one hand, and Russian ultra-patriots and purveyors of the Russian World mentality, on the other—both groups supposedly hostile to each other but, nevertheless, equally interested in thwarting a US-Belarus rapprochement. But naturally, it did. "Minsk is persuading the West that Belarus's sovereignty vested in President Lukashenka is genuine. And it seems like the West is willing to accept it and to salvage Lukashenka from Russia, even if this is fraught with forgetting about human rights, democracy and, in general, about the future of Belarus," declares Pavel Usov, a Warsaw-based Belarusian analyst (Belprauda, November 6). As for the Russian "patriotic" outlet Regnum, it again criticized Lukashenka's alleged willingness to betray Russia while referring to his US guests as "experts on anti-Russian operations." More provocative labels were attached to the individual participants. Thus, Ben Hodges is referred to as "a hybrid war specialist," whereas Michael Carpenter is, more ominously, called "a specialist on the liquidation of pro-Russian politicians" (Regnum, November 6). Neither of the aforementioned groups of critics is happy about the potential mutual return of ambassadors to Minsk and Washington.
Despite the noticeable improvement in Belarus's relations with the West and the personal invitation Lukashenka received from the president of France, the Belarusian head of state ultimately decided against traveling to Paris to attend the centenary celebration of the end of World War I. In his stead, Lukashenka sent Mikhail Myasnikovich, who chairs the upper chamber of the Belarusian parliament. Earlier, Lukashenka resolved not to go to Brussels for the EU's Eastern Partnership's summit. It may be that Alyaksandr Klaskovsky's explanation is on target: "Lukashenka prefers to enter Europe on a white horse, not to get lost in the crowd" (Salidarnasts, November 8). Perhaps, the opportunity for the Belarusian leader to pay a visit to the West more on his own terms will sooner or later present itself.