Lukashenka's Eccentric Conversation With Russia and the World
Publication: Eurasia Daily Monitor Volume: 14 Issue: 13
By: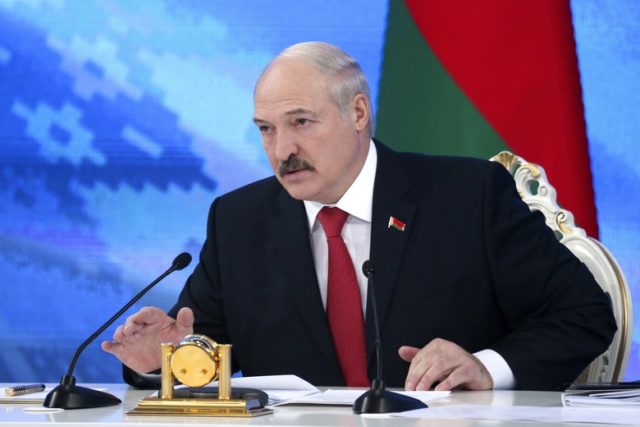 President Alyaksandr Lukashenka held a record-long press conference for the Belarusian press corps, on Friday, February 3 (TV.rain.ru, YouTube, February 3). It lasted 7 hours and 20 minutes. Lukashenka's central message was in response to a dramatic worsening of Belarus's relationship with Russia (see EDM, January 18, 20, 31). He assigned blame for the still unresolved conflict over the pricing of natural gas to a venal collusion between the Russian leadership and Russian oligarchs, including but not limited to Gazprom. In the opinion of Yury Drakakhrust, of Radio Liberty, Lukashenka's long and colorful quotations from his dialogues with Vladimir Putin resembled a comic fight between the cartoon cat and mouse duo Tom and Jerry. Lukashenka-Jerry is clever, cunning, and slightly condescending, while Putin-Tom is a klutz. At one point, tired of Putin's scheming and procrastination Lukashenka reportedly told him pointblank: "Listen, Volodya, don't spoil my evening"—this is when Putin sheepishly backed off from the already-agreed-upon deal about gas prices, according to which Russia's budget was supposed to compensate Gazprom for lowered prices on natural gas for Belarus (Tut.by, February 4).
Regarding Russia's decision to penalize Belarus for its intransigence on gas prices by curtailing its deliveries of duty-free oil to Belarusian refineries, Lukashenka exclaimed, "Why take us by the throat? Yes, we will survive without Russian oil. We will buy it elsewhere. Sure, it will not be cost-effective. But freedom and independence are cost-effective, and they cannot be measured by any money or numbers whatsoever!" Thus, though couched in economic terms, Lukashenka's message was about defending Belarus's independence. Andrei Piontkovsky, a fierce critic of Putin, believes that Lukashenka became aware of some plans to conduct a palace coup in Belarus, perhaps during the planned military exercises this year (Zapad 2017), and decided to preempt those plans by appealing to the entire world (Rusmonitor, February 4).
Lukashenka's other verbal attack on Russia pertained to Moscow setting a special border zone regime with Belarus in violation of their mutually agreed common migration space. Because the Chairman of the Russian Federal Security Service resolved to set up this zone 11 days prior to Lukashenka's decree to allow for five-day visa-free travel for citizens of 80 countries, Russia's border zone decision was no retaliation; rather, it was a hostile political move.
One more reproach dealt with a lingering practice on the part of Russia's agricultural import control agency to blacklist Belarusian food processors. Lukashenka even proposed launching a criminal investigation of the agency's boss, Sergei Dankvert. The latter's prompt response to the accusation of impropriety was to ban meat exports from the Minsk Oblast for the alleged attempt to sell 10,000 tons of Ukrainian foodstuffs under the guise of meat produced in Belarus (Tut.by, February 3).
Lukashenka's other most memorable statements included his declared commitment to putting "fairness" above the law; his defense of his foreign minister, Vladimir Makei, whose steps to improve relations with the West were initiated by the president of Belarus himself; his professed attitude toward Donald Trump; and his overall treatment of the topic "Russia and Trump." To Lukashenka, Trump is no pro-Russian or pro-Belarusian but a pro-American president. "He is not as foolish as some think!" remarked Lukashenka. "He may be inexperienced—yes, he makes certain steps that seem that way from where we are… I myself used to be a novice; but there are many smart people around him. Eighty percent of them are Jews [sic]—you cannot say they are stupid." This last remark has circulated especially widely in the Russian media (e.g., EADaily, February 3). Lukashenka also related how he reasoned with Putin: Do not harm Trump by making believe that you indeed appointed him. According to Lukashenka, expecting that Trump's election would do miracles for Russia is baseless.
The press service of the Russian president responded to Lukashenka's accusations by stating that Russia had extended its helping hand to Belarus even at Russia's own expense. Thus, only from 2011 to 2015, the Russian budget received $22.3 billion less than it could because of duty-free oil sold to Belarus (Tut.by, February 3). Bombastic Russian politician Vladimir Zhirinovsky, who for the most part conveys what the Kremlin itself refrains from saying, simply stated that if Belarus wants to pay Russian prices, it should become part of Russia (Tut.by, February 4). Dismissals of Lukashenka's passionate appeals can be found all across Russian media. A popular justification for such dismissals points to Russia's experience of being an unusually benevolent empire that used to invest in its colonies more than in the metropolis itself. After the dissolution of the Soviet Union, Russia embarked on changing its relations with the other former Soviet republics—from being a benefactor to being a partner, thus implying a relationship that yields mutual benefits. Belarus is the last redoubt of Russia's one-sided benefaction, these Russian commentators allege; for a long time, Belarus has been shielded from the aforementioned change to a more balanced association, but everything comes to an end (Vzglyad, February 3).
The members of Belarus's Westernizing opposition, its liberal and nationalist wings alike, predictably dismissed Lukashenka's appeals as a ploy. One seasoned opposition journalist opined that Lukashenka is tired and almost ready to retire (Belaruspartisan, February 3). Even an inkling of Lukashenka's recognition as the national leader is a sacrilege in those circles. One recent social media post by a dissenting voice in the opposition suggested that Lukashenka is now behaving like an "enlightened monarch" who is so assured of himself that he can afford to engage people of multiple persuasions. Therefore, the post continued, Lukashenka's political opponents should be ready to meet the president halfway (Bobrovich, February 4). But this argument was immediately met with almost unanimous condemnation by the Belarusian opposition.
If, however, Belarusian liberals turn for inspiration—as they often do—to their Russian comrades-in-arms, the opinion of one important voice in Russia's liberal community would displease them. According to Piontkovsky, "despite all his mistakes and even crimes, Lukashenka will be listed by all history textbooks as the father of Belarusian independence" (Rusmonitor, February 4). Apparently, in that capacity, he will meet Putin on February 9 or shortly thereafter (RIA Novosti, February 2). The clock is ticking.