Lukashenka's Gambit in Relations with Moscow
Publication: Eurasia Daily Monitor Volume: 6 Issue: 152
By: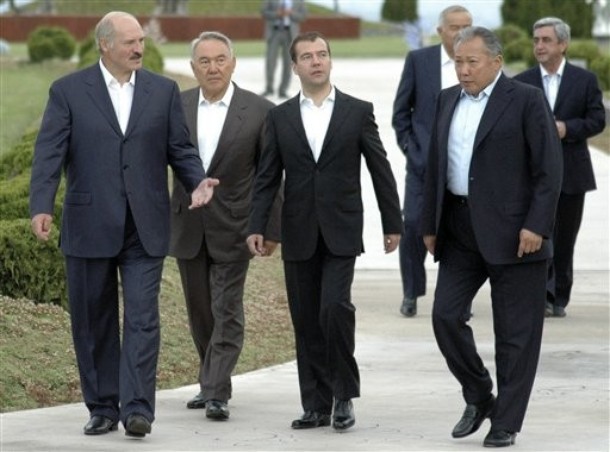 On July 31, the Belarusian President Alyaksandr Lukashenka participated in an informal summit of the Collective Security Treaty Organization (CSTO) held in Cholpon Ata on the shore of Lake Issyk-Kul in Kyrgyzstan. However, he refused to sign any documents on the Russian proposal to create the Collective Operational Reaction Forces (CORF) and Belarus has yet to take up its scheduled term as the rotating chair of the CSTO, which embraces, along with Russia and Belarus, Armenia, Kazakhstan, Kyrgyzstan, Tajikistan, and Uzbekistan. The trip by Lukashenka was described in the official media in Minsk as a "working visit" to Kyrgyzstan (SB-Belarus' Segodnya, July 31). It appears once again that the Belarusian president is emphasizing his distance from Moscow, but it is a risky gambit.
Russia and Belarus have had serious differences since late 2002, and they were exacerbated in 2005-06 when the Russian company Gazprom expressed its wish to raise prices for exported gas to its neighbor to world levels. Lukashenka was outraged and made overtures to the E.U. that culminated in the country joining the Eastern Partnership in May of this year (EDM, May 18). The current dispute has a number of facets linked to gas prices, Russian loans, Moscow's desire to gain control over profitable Belarusian companies through their privatization, as well as Lukashenka's reluctance to recognize the independence of South Ossetia and Abkhazia.
In late May, when Russian Prime Minister Vladimir Putin visited Minsk, he offered Belarus a "stability loan" but with the proviso that it be paid in Russian rubles. When Minsk refused this offer (the IMF agreed to add an additional $1 billion to its earlier loan of $2.5 billion), Putin then expressed an interest in the privatization of Belarusian companies producing dairy products. At present, 95 percent of Belarusian milk exports are sold to Russia. Belarus' retort was to hold talks with the E.U. about meeting its standards for milk imports, once again a brusque rebuff to Russia (www.europeanvoice.com, June 24).
Consequently, Russia deployed the head of its trade and sanitary inspection authority (Rospotrebnadzor), Gennady Onishchenko to inspect Belarusian dairy products. Onishchenko is well known for his outrageous public statements and recently advised the Russian soccer team's fans to boycott the September 9 World Cup qualifier in Cardiff, Wales, because of the dangers of contracting swine flu (BBC News, August 4). However, no one in Wales thus far has died of the disease.
Onishchenko maintained that about 1,200 of the dairy products that Belarus exports to Russia did not meet various standards, including proper labeling, and banned their import, depriving Minsk of exports yielding $1 billion in annual revenue. Lukashenka reacted to that by failing to attend the CSTO meeting in Moscow in June, at which Belarus was due to assume the chairmanship (Russia had to serve as the "technical chair"). Moreover, he declared that in his absence, all decisions made, including those on the new CORF, were illegitimate. Russian president Dmitry Medvedev complained bitterly that Lukashenka had not even informed him about his prospective absence (Moscow Times, August 3).
Subsequently, Moscow ended the milk war promptly (Reuters, June 17) -thus indicating its irrational nature- but then raised the issue of gas prices and froze the final $500 million of an agreed $2 billion loan (Belorusskaya Delovaya Gazeta, July 31). According to the Russian side, Belarus could face bankruptcy as early as 2010 because of its lack of cash. Given this growing rift, the question arises as to why Lukashenka decided to attend the informal summit, having boycotted the official summit just a few weeks earlier.
The answer appears to be that Minsk cannot sever ties with Moscow completely because of its economic dependence in the energy sector, as well as its close military and security links, and its desperate need for current and future loans. Belarus has two bargaining chips left vis-à-vis the Russians: recognition of South Ossetia and Abkhazia and signing the CSTO agreement on the CORF. At Choplon Ata, Lukashenka declared that the Belarusian people must decide on these issues. Nor was there any one-on-one official meeting between Medvedev and Lukashenka (Komsomolskaya Pravda v Belorussii, August 4).
The presidents of the CSTO countries agreed to observe the active phase of the CORF exercises (seen by some observers as a Russian-led NATO), which will take place on October 14. According to Russian sources, all countries other than Uzbekistan (i.e. including Belarus) have agreed in principle to sign the agreement (RIA Novosti, July 31). This fall, Russian and Belarusian forces are scheduled to hold large-scale military exercise -Operation Zapad (West) (www.charter97.org, Aug 3), and an opportunity will thus arise for Medvedev and Lukashenka to meet.
However, once Belarus relents on the two issues, the authority of the president, as well as his country, will be weakened. South Ossetia and Abkhazia could conceivably apply to join the Russia-Belarus Union, rendering it less a partnership than a Russian-run body. Belarus has no strategic interest in the two Georgian republics and recognition would undermine the Eastern Partnership Project that also includes Georgia.
Moreover, if Belarus signs the CORF agreement and takes up its chairmanship of the CSTO, it is also approving implicitly at least, Moscow's leadership in a new military bloc. That might deal a serious blow to its new partnership with the E.U. Thus, Lukashenka's maneuvers represent a dangerous gambit, no matter how adroitly he has played the game to date.