Russia Oversees Tajikistan's Efforts to Find Partners in South Asia
Publication: Eurasia Daily Monitor Volume: 6 Issue: 152
By: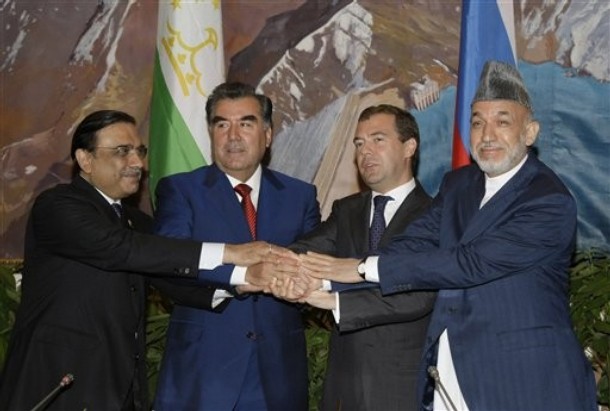 While Moscow's decision to open another base in Kyrgyzstan received intense coverage in the international media, Russian President Dmitry Medvedev's recent visit to Tajikistan was largely overlooked. Along with the Presidents of Pakistan and Afghanistan, Asif Ali Zardari and Hamid Karzai, Medvedev visited Dushanbe last week to discuss cooperation in the hydropower sector and regional security. Together with Tajikistan's President Emomali Rakhmon, Medvedev participated in the four-party meetings, showing that Russia is playing an active part in Tajikistan's efforts to develop its relationships with its southern partners.
Zardari's main goal in Dushanbe was pushing ahead with the Central Asia-South Asia (CASA) 1,000 mega watt (MW) energy project whereby Tajikistan will be able to export electricity to Pakistan though Afghan territory (www.ca-news.org, July 31). During the summer months when Tajikistan produces excess electricity, CASA's 1,000 MW will allow the country to sell its excess to the south. The World Bank and Asian Development Bank are among the major international donors to show interest in investing in the project.
The four leaders called for additional international investment in the CASA 1,000 MW project. All four would benefit if the project is implemented successfully. Russia owns 75 percent of Sangtuda-1, a hydropower plant potentially vital for electricity exports. Sangtuda-1 failed to generate sufficient revenues in the local market, leaving Tajikistan indebted to Russia. Tajikistan's current debt has reached $30 million for the electricity produced by the plant (Vremya Novostei, July 30). Russia is likely to benefit from energy exports, as a result of implementing the CASA 1,000 MW project. Meanwhile, Pakistan and Afghanistan will reduce their own electricity shortages. According to Tajik experts, the project is advancing slowly, but it has great potential.
However, with Russia's interest in Tajikistan's future energy capacity, it is mostly Moscow rather than Dushanbe leading the direction of cooperation with the southern states. Russian investments into Tajikistan's energy market will impact on other aspects of bilateral cooperation. The energy sector's interconnection with regional security cooperation is particularly significant. In return for Russian investment into Sangtuda-1 and potentially the Rogun dam on the Naryn River, Rakhmon is expected to comply with the rules set by the Collective Security Treaty Organization (CSTO), in which Russia is the leading player. The four-party meetings were not part of the CSTO activities, but Russia took an active part in discussions on security cooperation between Tajikistan, Afghanistan and Pakistan. At the CSTO informal summit in Kyrgyzstan that took place shortly after the Dushanbe meeting, Rakhmon avoided criticizing Moscow's decision to open a new military base in Osh.
Since the CASA 1,000 MW project is linked to the situation in Afghanistan, the Russian leadership attaches more importance to energy issues in Tajikistan in the context of the CSTO (Jamestown interview with Tajik expert, August 5). One of the CSTO's main aims is the prevention of terrorism and its spread from Afghanistan into member states' territories. Although the organization has never shown its efficiency in dealing with terrorist threats in practice, it nevertheless binds its member states to comply by the rules it sets.
The prospects for economic collaboration between Tajikistan and Pakistan are thus strictly tied to securing Russian consent. Rakhmon is taking a considerable risk by trying to secure Russian investments and avoid political pressure from Moscow. Tajik labor migrants in Russia complicate matters further, forcing Rakhmon to comply with Moscow's demands. Finally, Rakhmon sees the future development of the hydropower sector as a way of gaining greater regional influence.
Transportation routes through Pakistan and access to Pakistani ports was another important discussion point. Rakhmon would prefer to build relations with his southern neighbors without Russian guidance. Over the past few years Dushanbe has resisted recognizing Russia as the most likely sole investor in Rogun.
In an attempt to rebel against Russia's growing influence, Rakhmon has resorted to populist methods. Only a few days before Medvedev's visit, Rakhmon announced that he would strip the Russian language of its official status (Vremya Novostei, July 30). Though the proposition was mostly rhetorical, it was daring in nature. Furthermore, Tajik officials are considering the possibility of introducing a rental fee for Russia's 201st military base located in Tajikistan. Similarly, earlier this year, Rakhmon criticized Medvedev's agreement with Uzbekistan's President Islam Karimov to stop the construction of new dams in upstream Kyrgyzstan and Tajikistan.
Rakhmon usually quickly reneges on most of his rhetoric against Russia. On this occasion he also backtracked on his decision relating to the official status of the Russian language after his meeting with Medvedev. However, the Dushanbe gathering served as yet another reminder that the country's foreign policy is dependent on Russian regional interests.