Turkish-Russian Grand Bargain in Energy Cooperation
Publication: Eurasia Daily Monitor Volume: 6 Issue: 152
By: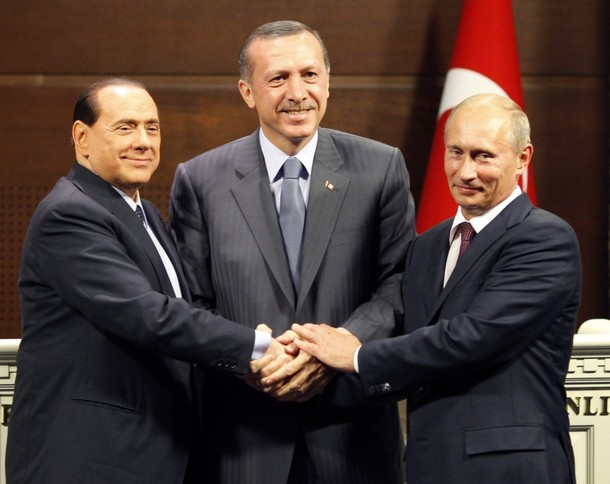 Russian Prime Minister Vladimir Putin's August 6 visit to Ankara marked a new era for "enhanced multi-dimensional partnership," between Ankara and Moscow. Putin and Recep Tayyip Erdogan signed some twenty agreements covering energy, trade and other fields. Italian Prime Minister Silvio Berlusconi also attended part of the talks between Erdogan and Putin, considering the involvement of Italian companies in some of these projects. The most remarkable dimension of the various joint projects concerns energy cooperation, most notably Turkey's expression of support for Russia's South Stream project (Anadolu Ajansi, www.cnnturk.com, www.ntvmsnbc.com, August 6).
In oil transportation, Russia committed to participate in the planned Samsun-Ceyhan pipeline (SCP), connecting the Turkish Black Sea city of Samsun to the Mediterranean terminal Ceyhan. Turkey has solicited Russian participation in the SCP, which will bypass the congested Turkish Straits. Moscow has proven reluctant, and has instead promoted another bypass option through Burgas-Alexandroupolis between Bulgaria and Greece. Meanwhile, Turkey took further steps to make the SCP attractive for the Russian side, by linking this project with the Turkish-Israeli-Indian energy partnership (EDM, November 25, 2008).
Erdogan expressed his pleasure with the Russian decision to commit its crude. Ankara can consider this development as its greatest success in this grand bargain, given that Turkey has worked to convert Ceyhan, where the Baku-Tbilisi-Ceyhan pipeline also terminates, into a global energy hub. However, Putin did not rule out interest in Burgas-Alexandroupolis, and instead emphasized that the two pipelines might be complementary in meeting the growing demand for export routes. This statement raises questions about how committed Russia will be to the SCP, given that Russian companies own the majority of shares in the other Burgas-Alexandroupolis option.
In terms of gas cooperation, Turkey will allow Russia to conduct explorations and feasibility studies in the Turkish exclusive economic zone in the Black Sea, as part of Russian plans to construct South Stream. Since this move comes against the background of Turkey's decision to sign the rival Nabucco pipeline agreement last month, it raises many questions, as to how it will affect Nabucco, which Turkey considers a "strategic priority," as well as European energy security issues. Despite the questions surrounding its feasibility and high costs, as well as its negative implications for Nabucco, Erdogan maintained that both projects contribute to diversification efforts.
It appears that the "grand bargain" was between the SCP and Blue Stream. Ahead of the meeting, Yuri Ushakov, the Deputy Head of the Russian Government Staff said that "Turkey made concessions in South Stream and we made concessions in SCP," but added that he had doubts over the SCP's feasibility (Anadolu Ajansi, August 5). A statement from Berlusconi's office also claimed that he had helped broker a rapprochement between both countries on these two issues (Hurriyet Daily News, August 6). However, domestically, there are concerns that in this "exchange" of concessions, Turkey did not gain much. The SCP's importance was inflated, because it was developed by business interests close to the government (www.turksam.org.tr, August 7). Another gas deal concerned Ankara's request to renew the contract under which it purchases Russian gas through the Western pipeline via the Balkans. Erdogan announced that the contract (which expires in 2011) will be renewed for 20 years. Turkey had complained about the high prices and the leave-or-pay conditions in its gas deals with Russia. Putin said it was renewed on favorable terms to Turkey, but the contract's details are unclear.
Erdogan also said that they discussed the extension of Blue Stream II to transport Russian gas to Israel, Lebanon and even Cyprus. Blue Stream, running underneath the Black Sea, is the second route carrying Russian gas to Turkey. Moscow previously raised the possibility that it could use Blue Stream II in order to transport gas to Europe, but this option was rejected, since it contradicted Nabucco and Russia sought to use Turkey only as a transportation route. Now, Ankara wants to revive it as part of a North-South corridor. Based on the leaders' statements, it appears that the existing capacity of Blue Stream might be improved and gas could be transferred to the Mediterranean through this pipeline.
However, although Erdogan praised this development as another major success, there is no guarantee that Russia will grant "re-export rights," which indicates that if Blue Stream II is implemented, Moscow will continue to view Turkish territory as a mere conduit for its gas, which raises the question: how will Turkey benefit from the agreement? Russian priorities also involve Turkey's first nuclear power plant tender, which was awarded to a Russian-Turkish consortium. As the original price was too high, the tender has long awaited cabinet approval (EDM, January 26). Meanwhile, the Russian side lowered the price, and offered a compromise. Prior to Putin's visit, it was expected that with further "bargaining," a final deal might be reached, but apparently it failed. Nevertheless, Ankara and Moscow signed protocols regarding energy cooperation, including the use of nuclear energy for peaceful purposes, early notification of accidents, exchange of information on facilities, and to continue talks on the nuclear tender.
The most controversial development is perhaps Ankara's support for South Stream. Erdogan reiterated his belief that Nabucco and South Stream are complementary, yet turned a blind eye to several Russian officials' (including Putin) statements to the contrary. It is assumed in Ankara that growing European energy demand will accommodate both projects; but this ignores the competition between both projects over the same downstream markets. Moreover, the Turkish side fails to appreciate the challenges Russia is facing in investing in its domestic gas industry, and acts on the assumption that "Russia has enormous reserves," while failing to realize that Russia is also planning to tap into the same upstream producers, namely Central Asian and Caspian gas, just as the Nabucco project envisages (www.ntvmsnbc.com, August 6).
Putin also added that a consensus was reached on Russia building gas storage facilities in the Salt Lake. Taken together with the announced joint investments between Turkish and Russian firms, including Gazprom, it is unclear whether the Turkish government recognizes the consequences of these decisions. Russia has effectively used the practice of co-opting the gas infrastructure of transport and consumer countries, as part of its efforts to monopolize downstream markets. It is unclear how this penetration into the Turkish grid might affect Ankara's future energy policies.